An Evening with The Macallan and The Men's Collective at The Down Town Association
02.08.2012
The Macallan, along with The Men's Collective, hosted a scotch-and-food pairing night on February 7 at New York's historic Down Town Association. We sat down with two of the founders of The Men's Collective before being treated by Macallan Brand Ambassador Charlie Whitfield to an evening of single-malt pairings, tapas-style.
Established in 1859 as one of the first social clubs in the country, the Down Town Association built its permanent location at 60 Pine Street in New York's Financial District after temporarily going dormant as the Civil War began. With its looming marble-and-wood lobby, a grand staircase spanning all four floors, and various libraries, bars, game rooms, and dining rooms, the Down Town Association set the tone for the evening's whiskey-centric festivities.
"We wanted to celebrate the idea of being a gentleman," said Martin Hayward, co-founder and COO of The Men's Collective, a social club that focuses–one event at a time–on the finer things in life with other like-minded members. Started in January 2011 with friends William O'Donnell as CEO and Brian McKew as Managing Partner, their men-only, high-end luxury social club took off immediately with brand partnerships centering around a single theme (O'Donnell and Hayward are in the advertising industry; McKew hails from a technology consulting background). The club's inaugural event partnered with Nat Sherman and involved a night of cigars, history, and etiquette, while another evening devoted itself to Bordeaux wine and a discussion on tailored style from clothier Louis Purple.
The club began as a personal project of sorts as the men got together one day over beers. "It was as much of a question of 'Why isn't anyone doing this?' as much as it was the realization that if we didn't do it, no one would," explained O'Donnell. Seeking to create small events for men that had no ulterior motive of selling or promoting anything than the central idea of "being a gentleman", the partners quickly grew a following in New York City. Currently, membership demographics consist of men aged 28-45 in wide-ranging professions: writers, lawyers, musicians, finance types, and so on. While it's currently free to join and become a member, plans are in place to eventually move to a paid model, and the Collective hopes to expand to other cities soon. The Collective's vision doesn't stop there, however: after realizing that women didn't have an equally sophisticated, high-end social club, they quickly established a Ladies' Collective (currently in the works, with an all-female board at the helm).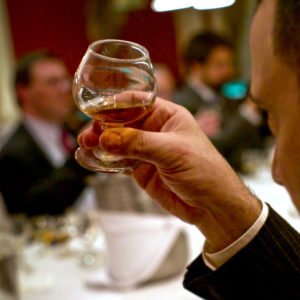 Indeed, as our evening at The Down Town Association began, a few women milled about, just as eager to start the tasting as the men were. The Macallan's ever-affable Scot, Charlie Whitfield, did not disappoint, presenting a table laden with scotch-filled drams. Every place setting had four glasses, each a different expression. Discussing the distillery's history, process, and unique style, Whitfield also gave a lesson in tasting whisky that extended beyond appreciating his particular Speyside single malt: using terms like "nose" (smell the scotch), "legs" (the way the scotch traces down the sides of the glass), and "chew" (move the scotch around one's mouth to pick out flavors), attendees learned how to appreciate the smaller details, no matter what the expression or distillery. Without further ado, our scotch and food pairings, created by The Down Town Association with Whitfield's help:
1. Sherry Oak 12-year paired with prosciutto-wrapped goat cheese and dried fig, dressed with balsamic vinegar and olive oil. Flavors to note: the whisky's dried fruit (especially raisin) and cinnamon spice notes, along with the food pairing's fig flavors and gamier goat cheese notes.
2. Fine Oak 15-year paired with roasted mushroom on bruschetta, drizzled with truffle oil. Whitfield showed us a trick for better catching the scent of the whiskey: put your palm atop the glass and quickly tip it to get some on your hand. Rub till dry. Waft hands for scent. Flavors to note with this pairing include the whisky's floral, citrusy, chocolate and vanilla-tinged notes along with its lighter start and finish, as well as the food pairing's simple mushroom flavor accentuated by the earthier (but still light) truffle notes.
3. Sherry Oak 18-year paired with filet mignon on a potato pancake smeared with horseradish cream. Complex, robust, and iconically representative of The Macallan style, this whisky bore the same dried fruit, spicy notes as the 12-year, but with richer, deeper tones that ended with a dangerously smooth finish. Not to be outdone, the paired food selection also carried rich flavors in the filet mignon, made less heavy in the end by the horseradish cream.
4. Fine Oak 21-year paired with thinly sliced smoked salmon on rye, topped with pickled red onion. "I keep saying the next one is my favorite, and I think this is my favorite…but maybe I can't decide," our dining companion uncertainly declared, and we can't blame him. Deliciously complex with its depths of flowery, orange-tinged flavors and touches of light spice and whiffs of vanilla, this expression paired perfectly with the perky notes in the smoked salmon and pickled onion.
"There's no right way to drink your whisky," Whitfield told us. "You can put a bit of water in it to open it up, a bit of ice if you'd like…there's a bit of snobbery in the whisky world when it comes to drinking, but it all comes down to personal preference–though if you put Dr. Pepper in a glass of 30-year, I may come to your house with an axe!"
We'll drink to that.
Photos courtesy of The Men's Collective, 2012. All rights reserved.