Big Turnout at NYSE's "Paint Wall Street Pink" Event
01.27.2012
The Young Professionals Committee of Susan G. Komen's Greater NYC Chapter threw a successful bash this past Thursday, January 27 that began at the NYSE and ended with a bang at Cipriani Wall Street. Markets Media Lifestyle caught up with Sandy Kozlowski, Committee Chair, and Steve Simmons, Committee Treasurer.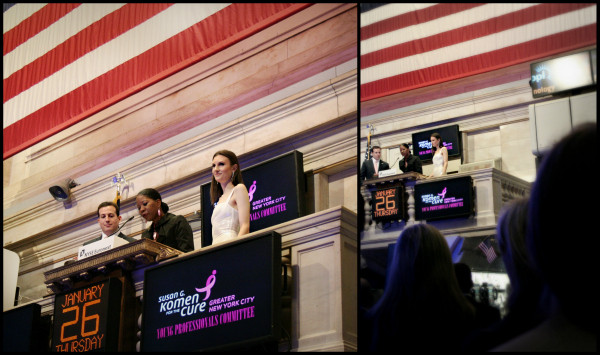 Cocktails, hors d'oeuvres, and socializing kicked off the evening on the exchange floor, as attendees, all young professionals, milled about, rang the bell (with photos, of course), and focused in on the cause: raising funds for breast cancer awareness, research, and community support. The evening continued on to nearby Cipriani Wall Street, with DJ Jason Fioto presiding.
"After losing my grandmother to cancer, I wanted to do something more, to somehow bring me closer to her", said Sandy Kozlowski, the multitalented chair of the Young Professionals Committee (Ms. Kozlowski is also a Director at CTPartners, a recruiting and leadership consulting firm; prior to CTPartners, she was an associate at the law firm Heidrick & Struggles).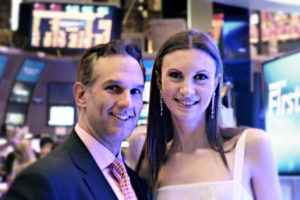 "After meeting [Komen founder Nancy Brinker] and working with her on Komen national projects, it seemed to be a no-brainer that in New York City, there should be a young professionals' committee for people ages 25 to 40-plus," Kozlowski continued. "It's a disease that affects so many young people and their families, and there wasn't anyone to go to for the purpose of raising awareness and raising funds."
Steve Simmons of Castle Capital Group, who has worked with the Young Professionals Committee since 2007 and is currently its treasurer, explains that "given how staggering the numbers are–we ought to be as proactive about this as possible. It's not something you want to think about, but the disease is out there. There are men out there who can get it too–one out of every one thousand! And there are certainly men out there with women in their lives who are or were affected by breast cancer."
The Young Professionals Committee–or YPC, as they call it–aims to start at the grassroots level before expanding to other Komen chapters nationally and, it hopes, eventually at an international level. To do this, its plan is to focus its fundraising efforts on specific projects rather than on the more general idea of research and awareness.
"For younger people, it's harder to just say , 'you're donating money to breast cancer'. It sounds so nebulous. What is your money actually doing?" Simmons says. "We're being much more targeted: there are programs we're specifically supporting–for instance, we're working on a mobile mammogram bus, so that we can say, 'Hey, the money you donate will go to this project'. It's a lot easier to get people to wrap their arms around a tangible project."
Beyond fundraising, Kozlowski wants the YPC to provide a haven for those who are committed to helping others. "It's a community where people reach out to each other–people are breast cancer survivors, or have family members who've been affected by breast cancer, and some people join simply because they care about the mission. Young people haven't had that before the YPC, and we want them to have it whether they're in Denver or Orange County–a place to go and help others, help each other."
The New York chapter's Young Professionals Committee is the first of its kind for the greater Komen organization, and with the city's wide set of industries and burgeoning younger population, the committee has seen an explosion of growth and success.
"The nice thing is, for us, being in New York, is that we have the financial sector to work with, and very often people are more than willing to be involved, to donate money and time," Simmons says.
"Even beyond that," Kozlowski continues (these two seem to be at the level of finishing each others' sentences) "there are just so many industries here in New York–there's marketing, there's media, there's fashion, there's the legal sector. So what we have in this event tonight is like a snapshot of young New York–there's a diversity of professions and industries and backgrounds"
The committee also focuses on activities that go beyond what Kozlowski calls "Sunday morning, 9 a.m." –the typical sorts of volunteering events that can turn off a 27-year old after a long Saturday night. Indeed, with last night's successful NYSE and Cipriani Wall Street fundraising party, the Komen Young Professionals Committee seems to know exactly how to get the young and the restless going.
Photos by Jill Damatac, Markets Media 2012. All rights reserved.