Bitcoin Futures Boosted by ETF Launches
10.25.2021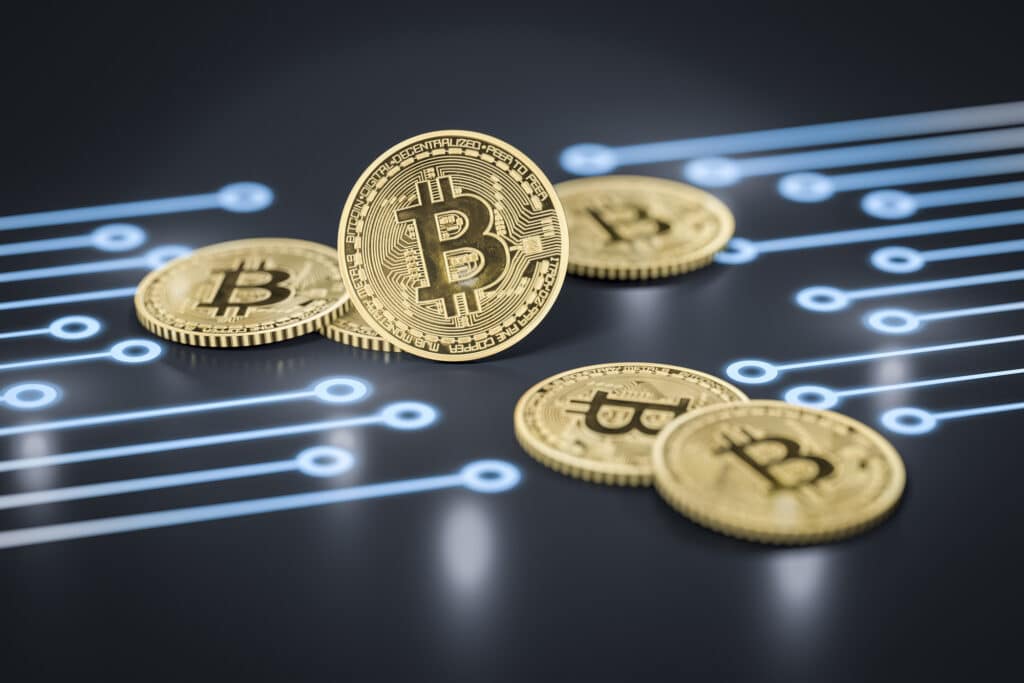 Open interest in bitcoin futures at CME Group increased by more than 50% as two exchange-traded funds tracking the contracts listed on US exchanges.
Valkyrie Funds launched its Bitcoin Strategy ETF on Nasdaq on October 22 following the ProShares Bitcoin Strategy ETF which listed on the NYSE on 19 October. Both funds were approved by the US Securities and Exchange Commission as they invest primarily in bitcoin futures contracts listed on CME Group and do not directly invest in bitcoin.
Throwback to launch day for the Valkyrie Bitcoin Strategy ETF with @Nasdaq. #BTF #bitcoin
(BTF disclosures: https://t.co/M0KCAkr0lQ) pic.twitter.com/ZubOZhVuEr

— Valkyrie (@ValkyrieFunds) October 25, 2021
Leah Wald, chief executive at Valkyrie Funds, said in a statement that the ETF is a major leap forward for the crypto asset class. Valkyrie is an alternative financial services firm that specializes in both traditional finance and cryptocurrency.
"The ETF enables investors to participate in the digital asset markets through a regulated, transparent product that trades on a trusted, reliable exchange and can be bought and sold as easily as any other investment currently available," she said.
Valkyrie said in the statement that this ETF is the first in a planned suite of funds designed to enable investors to participate in the blockchain and digital asset space.
Bitcoin ETF demand so strong we could bring '2 or 3' new ones to market: Valkyrie CEO https://t.co/30q7vJZUBj via @Yahoo

— Paul Ebeling (@Redroadmaster) October 24, 2021
Tim McCourt, global head of equity index and alternative investment products at CME Group, said in a statement: "The introduction of funds, like the Valkyrie Bitcoin Strategy ETF, mark an important milestone for crypto derivatives, and will be highly complementary to futures, creating new opportunities for a broad array of institutional and retail investors."
With the launch of the first ETF based on CME Bitcoin futures on Oct. 19, participation in CME Cryptocurrency products continue to ramp up, culminating in open interest records across Bitcoin, Micro Bitcoin and Ether futures. https://t.co/O9FUftjHUP pic.twitter.com/cUwhkwCjoI

— CME Group (@CMEGroup) October 22, 2021
Open interest in bitcoin futures at CME reached 17,120 contracts on 22 October, compared to 11,282 at the beginning of that week according to the exchange.
CME bitcoin futures open interest just ripped through $5 billion pic.twitter.com/7VDN0rdAMX

— Frank Chaparro (@fintechfrank) October 22, 2021
KBW analyst Kyle Voigt said in a report that the Bitcoin futures ETF launches present incremental revenue opportunity for CME Group which has listed Bitcoin futures.
The analyst estimated that CME's full-sized and micro bitcoin futures generated approximately $6m of revenue for the exchange in the second quarter of this year, which was 0.5% of total group revenues which will increase if bitcoin future ETFs gain meaningful traction.
#Bitcoin hit a new ATH last week as the first futures ETF launched.

Open interest and volume in the underlying CME contracts increased 265%.

LTHs have taken strategic profits, but most are still waiting for higher prices.

Read More in The Week Onchain

Data @glassnode pic.twitter.com/T2Lswoa03s

— MS TRADE (@mstrade) October 25, 2021
However, Voigt highlighted that exchange-traded products that gain exposure to the underlying asset through futures positions provide imperfect exposure to the underlying asset. Voigt gave an example of USO, the largest oil ETP, which gains exposure to oil prices by holding crude oil futures.
Ben Johnson, Morningstar's global director of ETF research, warned in a report that investing in an ETF that tracks bitcoin futures and the issues related to maintaining that exposure. One issue is a strict limit on the amount of futures contracts that the ETFs can own which could lead to the suspension of new share issuance.
1/2 – Keeping an eye on $BITO's capacity:

Assuming ~50% of $BITO's volume turns to net new assets by day's end, it'd own ~3,205 futures contracts.

The current limit for soon-to-expire October contract is 2,000.

It'll go up to 4,000 beginning with the November contract.

— Ben Johnson, CFA (@MstarETFUS) October 20, 2021
As a result ProShares has filed for an exemption from CME position limits
NOTABLE: Barron's article confirms what I've been hearing too, that ProShares is filing to be exempt from CME position limits AND they can use swaps if need-be. Both would obv be huge help to maintain exposure if $BITO keeps getting bigger. pic.twitter.com/Fwu2Lntotb

— Eric Balchunas (@EricBalchunas) October 23, 2021
Trading
Eric Balchunas, senior ETF analyst for Bloomberg, said the ProShares Bitcoin Strategy ETF has become the biggest new ETF launch of all time by trading volume.
$BITO officially over half a billion in volume. Almost all of it is small trades. Unknown how much natural vs some flipping. The spread is a penny wide and the price is moving in line with its INAV (which is good). pic.twitter.com/v8r9q7O2AH

— Eric Balchunas (@EricBalchunas) October 19, 2021
Balchunas continued that the Valkyrie launch was the fifteenth most successful of all time.
One note tho: Valkyrie launch w/ $80m traded was the 15th most successful of all time (out of 3500 launches) in terms of natural volume, so hardly a disappointment IMO. It just happened to come out after the most successful launch of all time.

— Eric Balchunas (@EricBalchunas) October 23, 2021
Another issuer, VanEck, has also made an SEC filing to launch its Bitcoin Strategy ETF "as soon as practicable."
Johnson added in his report: "I would not be surprised that a month or two months from now we see a minimum of a half dozen different bitcoin futures-based ETFs out there on the market competing for investors assets."