CEO CHAT: Manish Vyas, Tech Mahindra
05.08.2020
Trading from home – the new norm.
Now in the second month of working from home thanks to the COVID-19 pandemic, remote working is hitting its full stride. And traders have kept pace executing orders and meeting client needs.
While it has been seamless or as close to perfect for larger and more technology-focused companies, it has proven more difficult for smaller, less capital intensive and Main Street businesses. Tech Mahindra, a global leader in IT services and business process outsourcing solutions, works with some of the world's biggest financial services and technology companies to support their digital transformation and manage their network applications. During the coronavirus pandemic, companies have been forced to disperse their employee populations to remote working environments and lean heavily on their tech consulting firms to support critical functions so they can manage their operations as seamlessly as possible.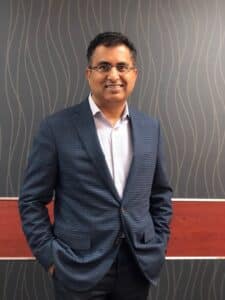 Enter Tech Mahindra.
Manish Vyas, CEO of Network Services and President, Communications, Media and Entertainment Business, at Tech Mahindra knows these are unprecedented times with a global pandemic that has forced billions of people to stay home. With companies having to quickly set up remote working environments for the majority of their employees, Vyas, who has led large and diverse global programs in his nearly three decade career, spoke with Traders Magazine and said he and his team are busier than ever, supporting continuity in operations so companies can continue to maintain their businesses and serve their clients
TRADERS MAGAZINE: What is Tech Mahindra doing for financial firms to get through the COVID-19 crisis?
Manish Vyas: The COVID-19 pandemic is creating unprecedented challenges for financial firms globally. Companies are faced with servicing their clients but having to do so with the majority of their employees working from home, a practice that is still relatively new for many companies that cater to face-to-face interaction.
While working remotely may be an unfamiliar practice for some, as a global digital transformation firm, our business model is based on working to serve our clients remotely, so this is nothing new to us. We are utilizing our experience and providing support for a continuity of essential solutions to make sure that everything operates in a seamless manner. Our breadth of automation services including Artificial Intelligence, Infrastructure and Cloud Services, Network Services, and Cyber Security – is operated by our proprietary Back office Automation BPS technology (Business Process Services).
Our customers have implemented our Robotic Process Automation (RPA) in back-office functions, which enables scalability to create a highly responsive virtual workforce. We're able to track action and decision which helps the increase or decrease of any supply chain demand, and numerous other business practices that financial institutions are experiencing during these challenging times.
TM: Who is using their services and how difficult has it been to get people onboarded or using it?
Vyas: Tech Mahindra is currently providing business solutions for Retail Banking (credit cards), Financial Services (retirement and wealth management) and Insurance companies. Since the COVID-19 outbreak, we have seen a sharp increase in our business solutions requests. In this capacity, we've been able to manage this rise in demand and have successfully deployed many virtual consultants all over the world in response to the global pandemic. Our "people and technology model" is not only supporting businesses through business continuity challenges, but will also be critical during the post-COVID period, as companies will look to implement permanent work-from-home strategies and bolster back office automation practices, which will be the way of the future. In addition, we have partnered with several Fintech companies and key niche players in this space to help leverage the unique challenging needs of our customer partners.
TM: And what about support?
Vyas: Tech Mahindra Business Process Services offers NextGen Service Desk which provides our customer end users with highly personalized, proactive, and intuitive services. Our smarter digital service desk delivers customized virtual agents and chatbots that are continuously improving the knowledge base for all of our customers around the globe. This highly sophisticated virtual assistance is more efficient and always available on any device, anywhere in the world, 24/7.
TM: What other technologies is Tech Mahindra implementing during the COVID-19 crisis?
Vyas: The COVID-19 outbreak is causing hospitals to be inundated with patients, causing much stress on the medical staff, who also risk contracting the virus with an influx of patients and a lack of resources to treat them. Telemedicine has become an essential part of the healthcare system to help care not only for COVID-19 patients, but also for those with other illnesses and diseases. Tech Mahindra supports healthcare providers with services that include real-time remote access to medical data, healthcare collaboration, image guided/robotic aided procedures, proactive patient monitoring, and helping healthcare providers develop the networking capabilities to provide telemedicine to their patients.
TM: What has this pandemic taught you about leadership and management?
Vyas: I have always believed that all organizations need to spend time analyzing their supply chains and making contingency plans to avoid any long-term disruption and mitigate business risk. With the coronavirus outbreak, firms around the world were scrambling to stay ahead of this. We know that the speed and agility with which organizations react can be the difference between losing tens of millions of dollars, delaying production and closing operations or keeping businesses afloat, continuing production and having employees continue working. Business leaders need to understand the fundamentals of crisis management, at least on the theoretical level. Their careers rise and fall on their ability to rally their teams, project deliberate calm and empathy, take decisive action, communicate effectively and keep their employees safe. We've tried to do that at Tech Mahindra, and I am proud of how our company has handled this crisis, making sure that our most valuable asset, our employees, remain safe and employed as well as assisting all of our clients in maintaining their operations.