CME Has Third-Most Active Quarter
04.28.2021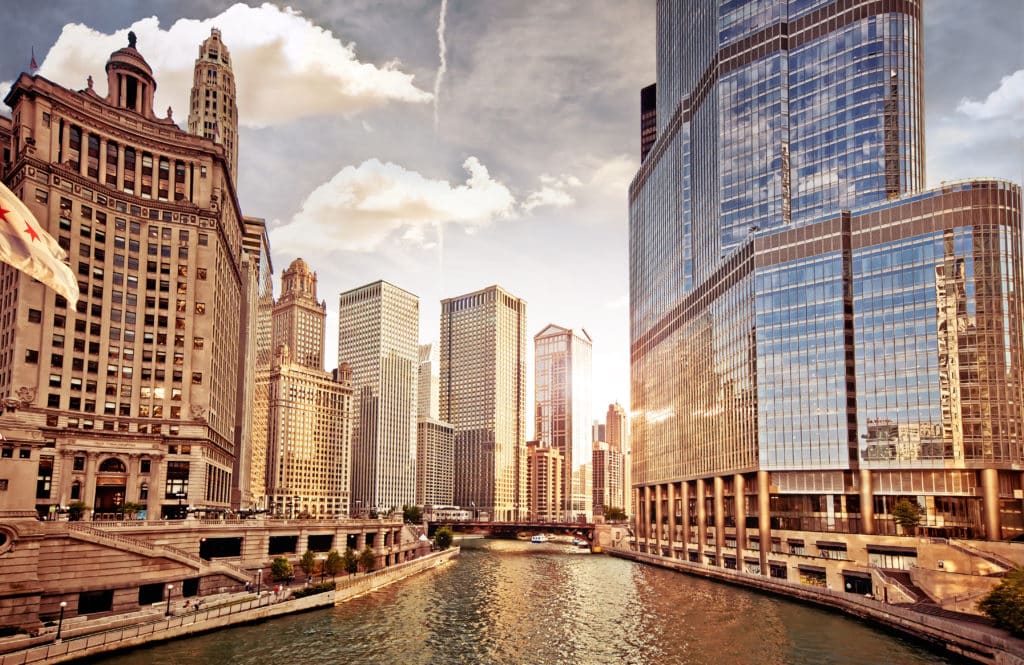 Terry Duffy, chairman and chief executive of CME Group, said the exchange had a solid rebound in volumes, including interest rate contracts, in the first three months of this year which represented its third most active quarter ever.
Duffy said on the results call that volumes averaged 22 million contracts per day in the first quarter, with approximately 6 million per day from Europe and Asia. Open interest climbed above 100 million contracts as clients looked to manage risks associated with the potential for a post-pandemic economic recover according to the exchange.
"We had record activity in the first quarter of 2020 at the start of the pandemic when we averaged 27 million contracts per day," he added "Importantly, we had a nice rebound from the back half of the year in 2020."
CME had 35% sequential increase in average daily volume from the final quarter of last year and interest rate contracts also rose 65% over the same timeframe to more than 10 million contracts per day. There were quarterly annual daily records in Micro E-mini, 30-Year U.S. Treasury note, Ultra 10-Year, Secured Overnight Financing Rate (SOFR), Bitcoin, and Hot-Rolled Coil Steel futures.
Sean Tully, global head of financial and OTC products at CME Group, said on the call that interest rate futures increased due to rising rates, particularly on the long end of the curve.
Couldn't have said it better myself! Micro Bitcoin futures launch @CMEGroup Sunday night at 6PM ET for May 3 trading session! https://t.co/4guKUb5z7V

— Tim McCourt (@TimMcCourtCME) April 28, 2021
"We excited about our micro Bitcoin futures launch next week," Tully added.
CME has announced it will expand its suite of crypto derivatives with the introduction of Micro Bitcoin futures contracts on May 3. Micro Bitcoin futures will be one-tenth of a Bitcoin compared to standard Bitcoin futures which comprise of five Bitcoins.
Tully continued that the initial margin requirement for standard Bitcoin futures is typically more than $105,000 per contract, in contrast to approximately $2,000 for the mini Bitcoin futures, which remains at 38% of the notional amount of the contract.
CME also launched ether futures in February which Tully said are trading at more than 1,000 contracts per day.
Julie Winkler, chief commercial officer of CME, said on the call that the firm introduced over 85 new products last year, despite the work from home environment.
BrokerTec integration
Duffy continued the CME had continued to deliver against its growth objectives, introducing several innovative new products, completing migration of BrokerTec to CME Globex and agreeing to form a joint venture for post-trade services in OTC markets.
CME acquired BrokerTec in November 2018 as part of its purchase of NEX. BrokerTec's dealer-to-dealer platform was fully integrated into the proprietary CME Globex platform in February this year. After the migration BrokerTec launched Relative Value (RV) Curve spread trading, allowing clients to trade cash US Treasury benchmark spreads in a single order for the first time on its platform.
Tully said volumes for US Treasuries on BrokerTec were flat between the fourth quarter of 2020 and the first quarter of this year. "We're very pleased with that result given the challenge of participants adapting to the new platform," he added.
He continued there are a handful of market makers for RV Curve and about 17 customers submitting orders. Tully said: "We have executed more than $2bn of volume and we are doing about $120m a day."
Tully continued there are three large independent software vendors who are expected to fully complete their development for the new functionality over the next month which will lead to a significant ramp up in volumes.
"The migration also included our repo business and we're running all-time records in the first quarter," he added. "Our European repo business is doing almost $300bn a day and about $219bn a day in US repo."
Retail trading volume
Winkler said retail trading volume was quite strong in the first quarter and March was in the top three, only behind March and April of last year when volatility was unprecedented
"When we compare the first quarter back to quarter four, the retail business was up 21%," she added. "All of our regions are showing double digit growth for retail."
CME added more than 50,000 new retail traders during just the first quarter, 24% more than in the fourth quarter.
Winkler said: "We certainly had a strong quarter and there is definitely a lot of interest about the upcoming Micro Bitcoin launch that we have coming up in May."
IHS Markit
CME and IHS Markit have announced that they have agreed to combine their over-the-counter post-trade services into a new joint venture.The new company will include trade processing and risk mitigation operations. It will incorporate CME Group's optimization businesses Traiana, TriOptima and Reset and IHS Markit's MarkitSERV.
Duffy said: "It will be a leader in trade processing and risk mitigation services, and provide our clients more efficient access to services. It will be a great platform to launch new solutions across a broad set of asset classes, including interest rates, FX equity and credit."
He anticipated that regulatory approvals should be received after mid-summer.
"The joint venture will allow us to innovate and bring to market analytics, workflow tools and solutions that allow our clients to manage risk much more efficiently," he added. "Customers will be able to connect to one entity versus multiple entities across asset classes so we are very excited about that in terms of financial implications."
CME reported revenue of $1.3bn and operating income of $725m for the first quarter of 2021. Net income was $574m.