EEEEEATSCON: The Full Food Lineup
10.01.2018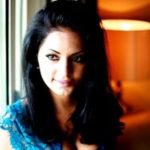 By Rupveen Arora (Mademoiselle Wanderlust), Head of Lifestyle
Ask Mademoiselle. Follow on Instagram
If you're even an amateur foodie, one event that has everyone patiently waiting is finally here! The Infatuation presents EEEEEATSCON at Forest Hills Stadium in NYC on Saturday, October 6. (This food festival has been held two years now in LA)
Purchase your tix here: https://www.axs.com/events/353319/eeeeeatscon-tickets?skin=foresthills
In case you require some assistance on how to shape the day of this coveted food festival, see the "Cheat Sheet" courtesy of www.theinfatuation.com below:
12:08pm: You made it to EEEEEATSCON, and you decide to start your day with something you don't find much of around NYC: real breakfast tacos. You head to King David Tacos, order one with chorizo to eat now, and get one more with bacon, egg, and cheese for later.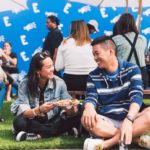 12:16pm: Next, you walk over to Broad Street Dough Co. and get a red velvet donut, which is also technically a breakfast food.
12:29pm: Oh look, you've found Walter's, the Westchester hot dog institution, and you've decided to try a double hot dog covered in mustard.
12:56pm: There's mustard on your face, and you're staring at a butterfly that landed on your finger. How nice. Oh wait, there's a panel at The Wine Roomstarting in four minutes.
1:01pm: You've made to The Wine Room, and there's still mustard on your face, but you forget to wipe it off because you're busy drinking and learning about wine with a panel of really smart people.
1:46pm: You just learned some things. Also, your teeth are a little red. Time for a fried chicken bing burger at Maketto, a Washington, DC restaurant you've been wanting to check out.
2:02pm: That was a good burger. And now you're thinking about moving to DC while you pick out a seat at Adam Rippon's panel, "Eat Like a Champion."
2:54pm: Panel over, you pick up a filet mignon shawarma sandwich at Tanoreen, then get a cocktail at the Tequila Don Julio Bar.
3:24pm: Your cocktail reminds you of the beach, which makes you think about seafood, and this leads to your getting a mini lobster roll from Saltie Girl (a seafood spot from Boston).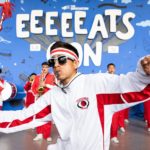 4:00pm: You're in a room with wine, and it looks familiar. Oh right, it's The Wine Room, and there's another panel going on.
4:50pm: Having sampled more wine, you're now ready to eat cheese and dough. You walk over to Rubirosa, buy a personal tie dye pizza, and dream of a world where pizzas grow on bushes and the person who has the most bushes gets to rule the Earth.
5:05pm: Someone walks by eating a taco that looks really good. You aren't sure where it's from, so you decide to get tacos from both Casa Enrique and Tacoway Beach.
5:25pm: A friend from LA told you to check out Jon & Vinny's, so you walk over for a plate of spicy fusilli. While you're eating it, a brass band starts to play in the distance.
5:27pm: You're drawn to the brass band like a moth to a flame or a moth to a lightbulb (moths like bright things), but you get sidetracked and wind up eating dumplings at Dumpling Galaxy.
5:42pm: As you consider putting two different dumplings in your mouth at once, you realize you haven't been to the Emily + Shake Shack collaboration yet. You check your watch. There's still time.
5:45pm: You run over to Emily + Shake Shack and order an Emmy Shack (their EEEEEATSCON-exclusive burger).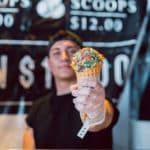 5:50pm: EEEEEATSCON is ending in 10 minutes, which makes you a little sad – but you also have an Emmy Shack in your hands, and it has a special sauce you want to smear on all of your food for the rest of time.
6:00pm: You make a mental note to check out all the restaurants you didn't get a chance to try at EEEEEATSCON, although you wonder (briefly) if you'll ever need to eat again. Then you fall asleep on the E train on your way home, dreaming about dumplings and breakfast tacos.
A few local NYC favorites in attendance  are Rubirosa, Miznon, Her name is Han, and my personal favorite, L'Artusi! Additionally, spots from LA, D.C, Boston and even Westchester, NY will be in attendance.
Live music performances, industry leaders and FOOD CHOICES… what more could you possible want this weekend! Happy EEEEEATING!