Exchanges and CCPs 'Ring the Bell for Gender Equality 2022'
03.08.2022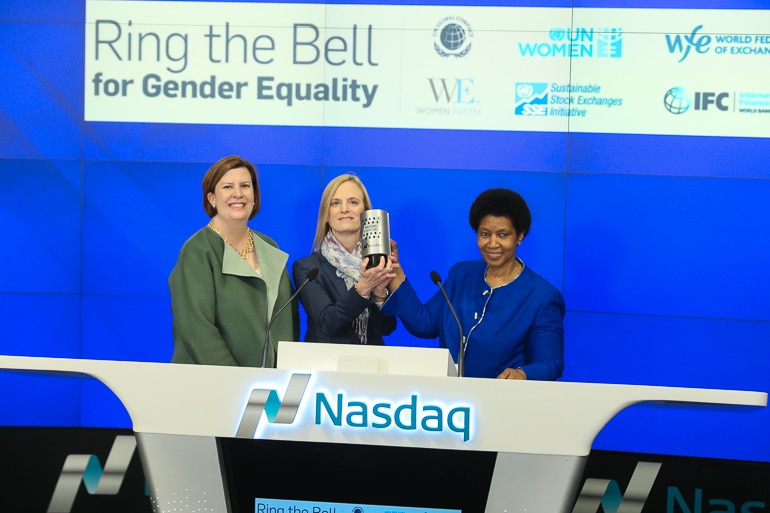 The World Federation of Exchanges is pleased to announce that a record 121 exchanges and CCPs will be involved in events this week for the annual 'Ring the Bell for Gender Equality' initiative.
🎊Sounding our Gong for the celebration of International Womens Day! #IWD2022 #Euronext🎊 pic.twitter.com/A6wIDoKmDv

— Euronext Amsterdam (@euronext_nl) March 8, 2022
This marks the eighth consecutive year of the initiative where exchanges and CCPs globally ring opening or closing bells to celebrate International Women's Day 2022 (Tuesday 8 March 2022), promote gender equality, highlight the benefits of a diverse and inclusive workplace, and recognize the contribution of women in building a better future for all.
#WFEFocus March issue out now, filled with the inspiring stories and reflections of the 21 accomplished women selected for our annual Women Leaders award, chosen by a panel of distinguished judges.
Read More: https://t.co/IAFzjUin7K

— TheWFE (@TheWFE) March 2, 2022
At this time, the industry commends the World Federation of Exchange 2022 Women Leaders, a distinguished global cohort, who are selected from every corner of the world each year as role models.
Nandini Sukumar, CEO of the WFE said: "Exchanges and CCPs celebrate the role of women in the workplace and look forward to even greater progress in the years ahead. By ringing the bell, public markets are giving voice and visibility to women everywhere.''
The Ring the Bell events, both in-person and virtual, started on Tuesday 1 March and will last for two weeks.
Source: WFE
@WomeninETFs ring bells across European exchanges for International Women's Day #IWD2022 #BreakTheBias "Gender Equality for a Sustainable Tomorrow" Below at the @LSEplc with Julia Hoggett, CEO and Lida Eslami head of #ETFs / #ETPs https://t.co/x6brv2Dn9L pic.twitter.com/ARe18XI5XJ

— Women In ETFs (@WomeninETFs) March 8, 2022
🔔 Together with 115+ stock exchanges around the world, we rang the bell for Gender Equality to celebrate #InternationalWomensDay.
During the event, we questioned special guests from Luxembourg's financial centre on the main challenges of creating a more gender balanced future. pic.twitter.com/SC6LZ7epna

— Luxembourg Stock Exchange 🇱🇺 (@LuxembourgSE) March 8, 2022
🗞️The Spanish stock exchange opens the trading session by ringing the bell for gender equality.
🔗https://t.co/ddl3YwAx4n pic.twitter.com/Ir6QlwjOYw

— BME (@GrupoBME) March 8, 2022
.@Stadt_FFM student Elina was our star guest speaker at today's #IWD2022 bell-ringing event at @boersefrankfurt and delivered a strong message of what will be important for her – and her generation – in the years to come. 💪🏻💙 https://t.co/KxwYnbiNLb

— Deutsche Börse Group (@DeutscheBoerse) March 8, 2022