The Hamptons' Early Spring Vibe: Cool, Calm, Local
03.05.2012
Three weeks before springtime's official start, we ventured out into the chilly, windswept hamlet of posh Southampton on Long Island's South Shore. Ostensibly, our goal was to give a brand-new 2012 BMW 650i a test spin, but quite unexpectedly, we ended up surveying what a summertime hot spot is like in the near-dead of early March.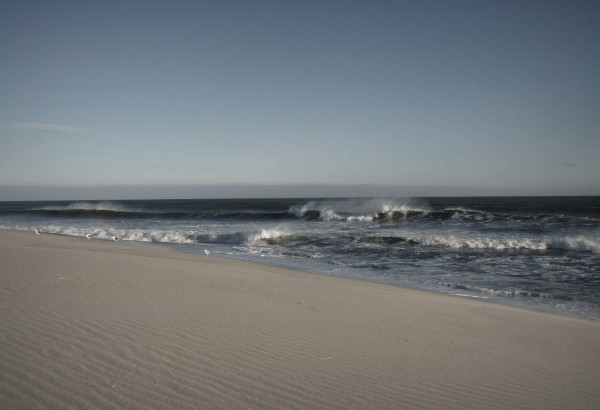 Bare, but not square: Southampton's Coopers Beach is gray, calm, and perfect for a post-vineyard late winter's stroll.
A far cry from the chic warmer-weather crowds that fill the beaches, restaurants, cafes, and bars, Southampton in early spring is a quiet, chilly, windswept version of itself, with only a few cars at a time ever meeting at its intersections. Stores have abbreviated hours; some are shut altogether for the season. Still, the town exudes that air of relaxed luxury: shops along Jobs Lane beckon with the latest spring styles; couples and families strolling along the well-tended sidewalks bear the easy attitude of living in comfort, in a soon-to-end respite from summertime's younger, louder visitors.
During an afternoon at Little Red, a tastefully appointed brasserie-style restaurant and watering hole near Agawam Lake, locals gather around the dark mahogany bar, taking in a craft brew–their Double White wheat beer is a thing of beauty, like a Hoegaarden on overtime–or a wine from one of the many vineyards nearby. Specialties such as their house-seasoned fresh potato chips come standard with any bar order (we had to have two baskets–it was that good), and three menus are standard: lunch, in-between, and dinner. From their in-between menu, the grilled cheese sandwich stands as an unforgettably rich exercise in understatement: creamy, melted slabs of Brie hold in grilled hunks of tender roast duck, with a layer of braised cabbage acting as a mildly tangy punch to the whole decadent stack. The house burger holds its own, too: a thick patty, savory and cooked medium-rare, with house-made pickles and smartly crisp pomme frites, change the meaning of "bar food". Well-turned out food and nicely crafted bar offerings aside, the cool weather crowd in this, the oldest English-settled town in New York, is similarly warm and welcoming: bartenders know their customers, the customers know each other, and all are friendly enough to converse with weekend interlopers.
There is no summer season stress at this time of year, no pronounced effort to create quantity over quality, and it shows even in the vineyards, where fields lay bare, their brown-gray emptiness revealing their own stark kind of beauty. At nearby Water Mill's Duck Walk Vineyards, the tasting room is quiet, seemingly all the better to appreciate the light streaming into the airy, high-ceilinged room; because the owners aren't busy keeping everything together, as they would be in the summer, a chat is actually possible. A tasting becomes a lesson, and the lesson turns into a conversation, and soon enough, a deeper appreciation for the vineyard's history and the winemakers' passions settles in.
Beaches, equally quiet and isolated, present themselves as the ideal afternoon walk, especially Cooper's Beach, still as pretty as ever despite gray clouds and the similarly gray sea. Be prepared, of course, to bundle up in a scarf and hat rather than baring all. Yep, it's freezing, but the silence, the sea, and the wind tend to conjure up a bit of introspection, all the better for the hot cocoa or glass of local cabernet sauvignon awaiting your return at the nearby bed & breakfast. At this time of year, there are plenty of deals to be had, and innkeepers, less taxed by the constant turnover of travelers, are somehow softer, more attentive–and it shows in the breakfasts, too.
A trip out here in the early chill of March is about so much more than just cheaper rooms and better service, though–it's also about getting a more authentic slice of local Southampton, the slice that doesn't consist of upscale, visiting Manhattanites inevitably turning up the volume on an otherwise quietly luxurious town and its stretches of sea and vineyard.
Where To Go in Southampton, New York:
Stay at A Butler's Manor, where husband-and-wife team Chris and Kim Allen provide a posh, yet comfortable setting for a chilly weather getaway. The full breakfast is nicely prepared, and creature comforts in each uniquely decorated room abound (flat-screen TVs for all, nearly unheard of in a B&B). Rooms are $190 per night currently until April, when rates rise to $250 per night.
Go to Duck Walk Vineyards, home of a wide variety of wines, both red and white. The tasting room is large and well-stocked; try out their Blueberry Port, a dark, berry-laden, chocolate, vanilla, and nutmeg-tinged dessert wine. It's rich, but not cloying; full-bodied, but not heavy. Pick up a bottle of the 2007 Cabernet Sauvignon, too–there are a limited number left, and it's not one to miss.
Eat at Little Red, the in-town satellite of Southampton stalwart Red Bar Brasserie. Dine and drink at the friendly bar for a more casual atmosphere; the dining room, while not stuffy, is also a nice option for a more private meal. And please, we beg you: have the grilled cheese sandwich.
Visit both Southampton Fudge Company for a sweet treat–their maple-walnut fudge and vanilla chocolate swirl are enough to make you recall summers as a ten-year-old–and Golden Pear Cafe for a quick bite or a morning cup of coffee. Both have a lovely local vibe to them, and they're neighborhood favorites, too.