Go Outside: Springtime in NYC and London
04.25.2012
With the arrival of spring comes the first of many outdoor events. Check out our guide to nearly-warm weather activities in New York, Chicago, and London.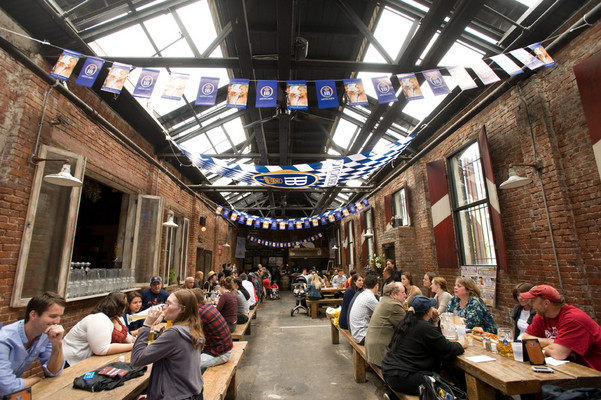 Williamsburg, Brooklyn's Radegast Beer Hall is a must after a Brooklyn Brewery tour
LONDON
The 2012 Olympics–and its droves of tourists–will arrive soon enough. Enjoy the relative quiet around the city while it lasts.
1. Hit the beer gardens. As can be expected, the great city that propagated the extensive use of gardens in an urban setting also has an extensive list of beer gardens. When weather's cooperative, get an early start to summer and check out beloved gems such as Garden Gate in Hampstead Heath, The Avalon in Balham, The Gun in Docklands, or Stein's, a Bavarian beer garden overlooking the Thames, in Richmond.
2. Cheer on the London Marathon. If you're not already running in it, take advantage of the nice weather (we'll presume so, of course), find a shady spot under the trees at Greenwich Park or St. James's Park along Blackheath Avenue, and be a good little spectator (while getting in proper cheering form for the Summer Olympics).
3. Check out the Oxford and Cambridge Boat Race, riverside style. On Saturday, April 7, boat crews from two of the world's most prestigious universities put their brawn to the test in this annual 4.25-mile race. Starting at Putney Bridge and ending in Chiswick Bridge, you'll have your choice of pubs from which to watch while grabbing a few pints. Of course, be prepared to battle the crowds near the finish–get there early, or stay in the middle, by Harrod's Depository or Hammersmith Bridge, where the winner is often decided.
NEW YORK
Yes, there is Philharmonic in the Park this year! Until then (and all other summertime park goings-on), feel free to make do with these outdoorsy activities.
1. Shake Shack at Madison Square Park. This seems like an obvious idea, but hear us out: this is best enjoyed in the springtime, when summer throngs–a mishmash of tourists, students on summer break, and blanket-to-blanket crowds of picnics and sunbathers–make a simple burger in the sunshine a bit of a hot, long-lined ordeal.
2. New York Road Runners at Central Park. If you've slacked off a little after your New Year's resolution, kick-start your summer self with a workout through The Loop. Should you like the tiered, self-paced group style, join up and enjoy a summer's worth of runs in the leafy shade.
3. Hit the beer gardens. There have been quite a few cropping up to accompany Astoria's legendary Bohemian Hall. A warning: while The Standard Biergarten is often a see-and-be-seen packed house of the city's beautiful, we wouldn't exactly call its scant selection of 3 beers a "garden", so come here solely for the "views". Meanwhile, Eataly's Birreria, a rooftop beer garden, seems to have the right idea, though its strict reservation policy seems a bit misguided (we've been turned away here as a reservation-less party of 8 despite the place being completely deserted on a Tuesday evening). Stalwart classics such as Loreley in the Lower East Side continue to serve up a wide variety of steins in their lively, warm atmosphere (look out for their 11 p.m. noise curfew though–you've got neighbors!), and Williamsburg's Radegast Beer Hall is a must-visit–its cavernous brick interior, along with its outdoor garden and fantastic menu–makes for an excellent post-Brooklyn Brewery stop.