Chilean Patagonia's The Cliffs Pairs Quiet Indulgence With Pristine Coastal Beauty
06.14.2012
Patagonia's interior, rife with majestic lakes, volcanoes, and rainforests, beckons to travelers seeking a uniquely natural, untouched destination; to the west, its oceanside exterior holds riches just as roughly, coolly gorgeous–and, surprisingly, relatively unknown.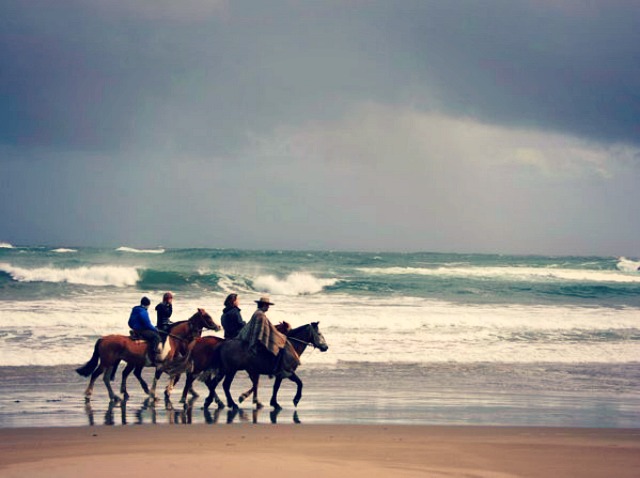 Spread over 8,000 acres of private, unfettered Chilean rainforest, The Cliffs Preserve is bounded on the west by the mighty Pacific's raw cliffs and beaches, intersected by hiking paths and bike trails throughout. It's a retreat from the world, yes; but on a deeper level, it's also a retreat from the usual tourism circuits in this part of the globe: there are no German settlements to visit here, no whitewater rafting as in the interior, no vibrant local events or resorts for mingling. The Cliffs, it turns out, seeks to inspire something less complicated and more elevated, all at once: an unsullied connection with the natural world.

Opened in 2007, the preserve eschews the usual routes taken by Patagonian excursions and destinations, opting instead for simpler joys: hikes along windingly lush coastal trails, horse-riding on moody, foggy beaches, fly fishing on penguin-populated rocks, biking on seaside rainforest paths. Unlike its latitudinal counterparts on the Argentinian coast, where mass whale-watching supports a booming tourism industry, trips on the water are by small boat, with The Cliffs' expert tour guides showing the way–and the teeming oceanic and coastal wildlife–without need for much fuss or ado.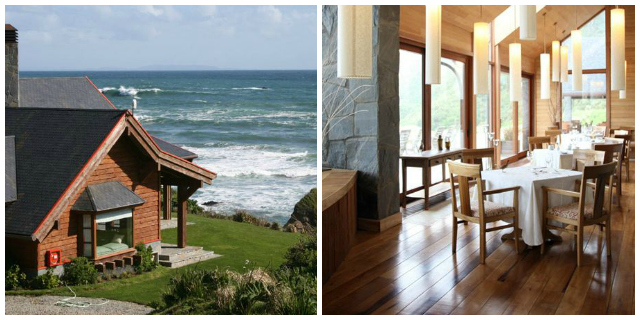 Accommodations are just as elegantly, sumptuously easy: The Cliffs villas are strung in a small group along a rocky shoreline, each with four suites or two (750 square feet per suite), and all with first-class amenities and unmatched views of the sea. On decks carved into the hills, each villa's wood-burning hot tubs overlook the Pacific. Look out into the ocean carefully enough while in the Jacuzzi, and a whale or two is likely to swim by, spouting along the way.
Standard luxury creature comforts are on site, of course, ranging from accoutrements meant to cope with the moody Patagonian weather to room comforts found in other first-class hotels (and, as always, ever-important WiFi).  At The Cliffs' 20,000 square-foot wood, glass, and stone lodge are a full-service spa and exquisitely tended restaurant, where local and national Chilean cuisine is created alongside international classics. Service is known for being first-rate, with staff often available and always knowledgeable.
What seems to be most telling about The Cliffs' intentions isn't so much its mission (to provide first-class accommodations to those seeking a quiet commune with nature) or its execution (gorgeous, gorgeous, and more gorgeous): unexpectedly enough, it's the preserve's relationship with local towns, farms and fisheries, which provide much of its services, resources and food to power The Cliffs. Commitment is a key indicator: in the nearby town of Los Muermos, the hotelier funds an orphanage, while closer to the sea, it has built a complex of homes for families of local fishermen.
Much more so than volume-driven tourism destinations, The Cliffs seems to have tuned in to what it means to be a traveler, instead: to appreciate and nurture its surroundings, ecologies, and local communities, making it all the better for future visitors to see.
Reservations can be made by telephone or online. For additional information, please visit http://thecliffspreserve.cl