Scotch and Scent: A Sensory Affair with The Macallan and Roja Dove
01.06.2012
When sipping a renowned single malt (in this case, The Macallan 18-year), one doesn't necessarily consider much beyond its taste: the opening spark of spice, the lingering intensity on the tongue, and the soft bloom of the finish. It is also less likely for most drinkers to think of neuroscience, or, in our case, of Marcel Proust, that vastly long-winded, equally loved and equally despised French writer from the 1800s.
Before you think that we digress: it was Proust, wilting away from chronic illness in his bedroom in Paris, who came up with this insightful little nugget:
"Taste and smell alone, more fragile but enduring, more insubstantial, more persistent, more faithful, remain poised for a long time…waiting…and bear unflinchingly, in the tiny and almost impalpable drop of their essence, the vast structure of recollection"
Within the man's tortuously lengthy ponderings (this writer is only now glad to have suffered through them as a student) are revolutionary ideas on the senses—ideas that precede modern neuroscience, which has since then proven a direct biochemical relationship within our brains between taste, smell, memory, and emotion.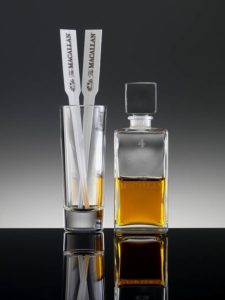 Proust's wanderings and today's scientific theories are regularly proven by more pleasurable experiences, too: we spent an afternoon with Charlie Whitfield, Brand Ambassador for The Macallan. The Scotsman took Markets Media Lifestyle through a private sensorial trip involving a glass of their 18-year Sherry Oak (intriguingly rich), a glass of their 15-year Fine Oak (this writer's favorite), and, last but not least, a curious-looking, large wooden box bearing 12 small bottles of infused scented oils exclusively made for The Macallan by renowned master perfumer Roja Dove.
For the uninitiated: Dove represents the height of fragrance expertise. His interest in scent was piqued as a child after noticing his mother's perfume (and subsequent memory–how Proustian) lingering in a room. During his time as a medical research student at Cambridge University, the 21-year old Dove wandered into the famed Guerlain Boutique, sparking a career with the French perfumer that spanned 19 years, becoming their "chief nose", as perfumers are often called. With his own boutique in Harrod's in London (with an upcoming one in New York's Bergdorf Goodman) and frequent academic engagements, the Englishman and his expertise are deeply respected in many circles.
"Roja trained as a master perfumer for 15 years," Charlie Whitfield explains as we settle in for our olfactory hour, "which makes it a bit scary when you think about it–doctors train for seven or eight years to be able to save lives–and Roja had to train for 15 years to earn the title of Master Perfumer".
Roja Dove (left) and The Macallan's Charlie Whitfield
So, what does all of this have to do with a Speyside single-malt scotch? Plenty, as it happens. In an effort to create a unique educational tool for whisky newbies and aficionados, The Macallan turned to Roja Dove, and from there, The Macallan Aroma Box was born.
"It's funny: when we first approached [Roja Dove] and he met our whisky maker, Bob Dalgarno, he actually admitted that he hated whiskey. But after speaking to Bob and learning the whole history and craft of making whisky and the use of special casks to mature The Macallan, his love for it grew."
The resulting sensory experience begins with a look at the Aroma Box, which holds twelve individual bottles of oil infused by Dove with the best, often rare, and sometimes fantastically expensive ingredients–as is his philosophy–such as sandalwood (which must be aged for 50 years), orris (to produce a kilo costs £28,000), and rose de mai, (found only in the Grasse region of France).
The first six infused oils we experience–using pressed paper containing no glues or additives to interfere with the scent–are meant to deconstruct common scent and flavor elements found in most scotch whiskies. Arranged in pairs, the oils contrast the diverse facets, removing the enjoyment barrier faced by many first-time drinkers. For Whitfield, that barrier is one that he's encountered many times.
"There are always a lot of people–and I was one of them when I first started drinking single-malt scotch–who can be overwhelmed. At a tasting, there are always suggestions of flavors and aromas that you're supposed to be experiencing in the whisky, and I was always pretty much just getting the alcohol and some very strong taste."
With each pair of oils, the nose takes in various characteristics: the first pair contrasts a rich, heavy, deeply viscous scent with a peppery, green, and volatile scent. The second pair showcases the earthy, warm, drily musky tones found in scotch, followed by a gorgeously cooler, sweetly floral oil (this writer wants it as a perfume, please). The third pair contrasts the fragrance profile of a mature whisky versus an immature whisky: the former is subtle, with an aloof, crisply polished, almond-like scent, while the latter is sharp, lively, with strong fruit-like notes.
After the first six introductory oils, one can already glean a better understanding of the depth of flavors within scotch whiskies. The Aroma Box took us a few steps further, breaking down the profiles of a Macallan Sherry Oak (rich, dried fruits with a spiciness and hint of smoke) versus a Macallan Fine Oak (lighter, vanilla-like, with strong fruity and floral notes).
Whitfield took us through each of the following six oils, which were then divided into two trios. The first trio, representing the notes found in the Sherry Oak, began with a smoky, spicy scent, followed by an intense, dried fruit essence, and finished with a softly sweet, orange and chocolate scent. We dropped those three into a snifter and, moving on, did the same for the second trio. Representing the Fine Oak range, these scents strongly hinted of natural vanilla, pungently sweet tropical fruits, and finished by a coolly light spice.
The best part in this experience came in the actual tasting: Whitfield encouraged a whiff of the scents, a whiff of the corresponding scotch, and then a sip; this writer could have done this all day, as the scent of the essences, the nosing of the scotch, and its actual taste filled the brain in a wash of sensation. Sensory experience, indeed.
One can imagine how this would be an instant and massive hit with first-time drinkers and long-time fans alike: with the added dimension of scents deconstructed to their essence, a deeper understanding and appreciation of whisky–and perfume, of course–is earned, enjoyed, and, as Monsieur Proust would do, remembered.
In our upcoming Markets Media Magazine for January/February, we showcase our in-depth interview with The Macallan's Charlie Whitfield. Stay tuned!
Eager to participate in The Macallan and Roja Dove's sensory experience? Visit www.themacallan.com to join their list and be alerted of events in your area. And, as always…please drink responsibly!