SGX Commits S$20m To Sustainability Plan
12.16.2020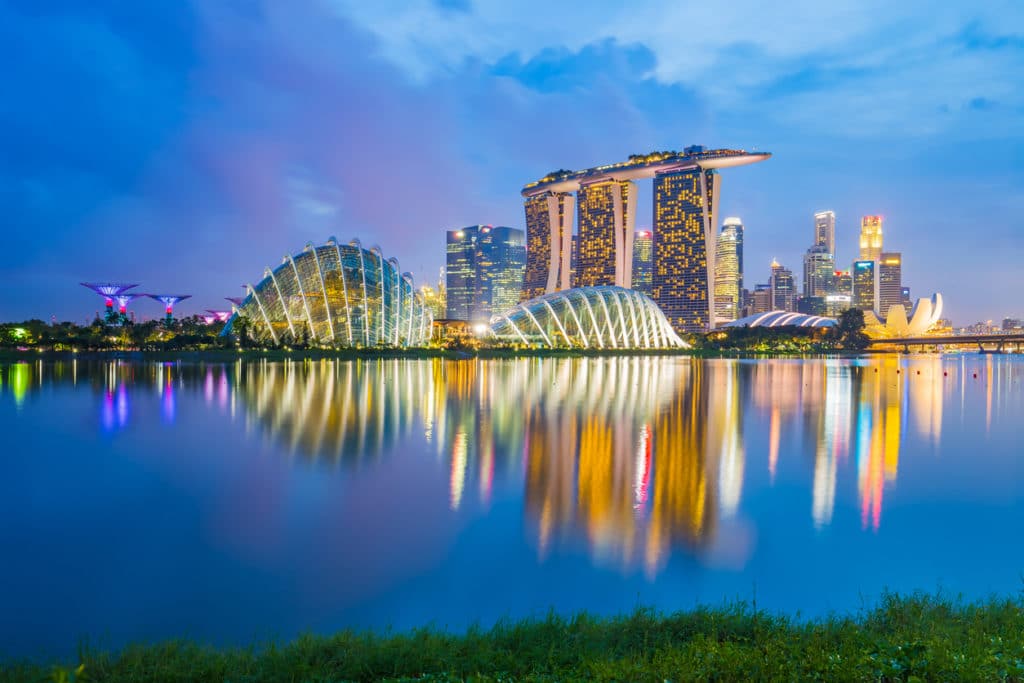 Makes a bigger push in sustainability and takes the lead in driving improvements in the ecosystem through collaboration
Aims to provide the market with access to ESG information and solutions for investment decisions
Singapore Exchange (SGX) is investing S$20 million ($15m) in a multi-pronged expansion of its sustainability capabilities and initiatives. Half of this amount will go towards new ESG-focused products, services and platforms, while the other half will be channelled into capacity building for the financial ecosystem, strengthening internal capabilities and increasing CSR commitments.
All sustainability initiatives will be housed under the newly launched platform – SGX FIRST (Future in Reshaping Sustainability Together). It is Asia's only multi-partner, multi-asset exchange-led sustainability platform and can be found at sgx.com/first.
The programme will build on SGX's three key roles:
As the market operator and frontline regulator within the ecosystem
As the leading provider of a broad suite of investment and risk management products
As an active supporter of community services and an employer of over 1000 staff globally
Given its role in regional capital and financial markets, SGX can help facilitate collaboration within the ecosystem to catalyse change. Capitalising on its network, assets and expertise, the initiatives span across asset classes including fixed income, equities, commodities and indices.
Through our recently announced partnership with @SGX, we are now expanding the footprint of the @Nasdaq Sustainable Bond Network across the Asia-Pacific region.

Learn more: https://t.co/2reUfw8aSV pic.twitter.com/0nooxP4zE2

— Nasdaq (@Nasdaq) December 16, 2020
Fixed Income
SGX is the exclusive partner in Asia for the Nasdaq Sustainable Bond Network Initiative. This network aims to be the leading source of information on green, social and sustainability bonds, both listed and unlisted, to help global investors conduct due diligence, selection and monitoring of these bonds. The network covers over 4,500 bonds to-date, predominantly originating from USA and Europe. SGX plans to enhance data access and transparency of sustainable bonds in Asia Pacific by bringing regional issuers onto the network, providing a valuable component of global data onto the network and quality data to regional clients in collaboration with Nasdaq.
"Through our partnership with SGX, we are able to further expand the footprint of the Nasdaq Sustainable Bond Network into the Asia-Pacific region," said Bjørn Sibbern, President of European Markets at Nasdaq. "Since its launch a year ago, we have developed the network into a leading global solution that helps issuers showcase their sustainable bonds. At the same time, we provide investors with a comprehensive tool to evaluate and compare the impact from the capital raised by the bonds."
Equities
SGX has also expanded its existing indexing partnership with FTSE Russell, Morningstar Sustainalytics and MSCI to provide ESG ratings on companies listed on SGX. Over 30 of the most recognisable SGX-listed companies are initially covered, with plans to expand coverage in 2021.
Mandatory sustainability reporting was implemented since 2016 and all companies required to publish ESG reports have done so. Singapore Exchange Regulation (SGX RegCo) has shared with SGX-listed companies recommended areas for improvement based on its first review of the published sustainability reports. It has also encouraged companies to adopt the Task Force on Climate-related Financial Disclosures (TCFD) recommendations and will update its sustainability guidance to highlight the importance of climate reporting.
With the addition of third-party ratings, investors can form a more comprehensive view of companies for investment decisions and companies will be encouraged to embrace sustainability as an integral part of their business.
More ESG-focused investment and risk management products will be rolled out in the next three years. Building on Scientific Beta's strengths in ESG and leadership in multi-factor indices, asset owners and managers can look forward to innovative approaches in quantifying sustainable development for investment purposes.
By January 2021, subject to regulatory approvals, SGX will launch four futures contracts in partnership with FTSE Russell, based on the FTSE Emerging Markets, FTSE Asia ex-Japan, FTSE Emerging Markets Asia and FTSE Blossom Japan ESG-themed indices. The FTSE ESG indices have risk/return characteristics similar to benchmark market-cap weighted indexes, maintain industry neutrality, and deliver added benefit of improved ESG metrics. By striking a balance between improved ESG scores and a good representation of the underlying stock market, these risk management tools will help facilitate ESG integration into investment strategies and provide a hedging instrument for ESG-tracking investments.
#SGXNews – #SGX strengthens commitment to #sustainability with S$20 million plan: https://t.co/wsJPBMvKpw

All SGX's sustainability initiatives will also be housed under the newly launched platform – SGX FIRST (Future in Reshaping Sustainability Together) https://t.co/xLCjS4xRic. pic.twitter.com/ETmpuHnAEk

— Singapore Exchange (@SGX) December 15, 2020
Indices
New sustainability benchmarks and ESG-related indices will also be layered alongside existing flagship multi-factor indices offered by the SGX Group including Scientific Beta and Index Edge products. Currently, more than 30% of assets tracking Scientific Beta's indices already have ESG options and all its indices have advanced ESG and Climate Risk reporting. Scientific Beta will develop new climate change risk solutions for institutional investors in the next 12 months. Investors will be able to tap on these indexing solutions for responsible investing that aligns to Paris agreement climate change goals.
Corporate Sustainability
SGX is a component of several global ESG indices including FTSE4Good Index, Bloomberg ESG Data Index and MSCI World ESG Leaders Index.
It currently purchases Renewable Energy Certificates (RECs) for its Singapore operations through its subsidiary Energy Market Company (EMC)'s Powerselect platform. Corporate events are made carbon-neutral through the purchase of carbon offsets.
To further manage and reduce its environmental footprint, SGX has embarked on a corporate carbon profiling exercise across all its offices and subsidiaries worldwide.
Internal capabilities will also be strengthened with the appointment of SGX's first Head of Sustainability and Sustainable Finance.
"SGX is a pioneer of mandatory sustainability reporting and one of the top five international listing venues for sustainability bonds. We want to and can push the sustainability agenda further. As a market operator and regulator, we can influence and drive greater commitment to sustainability and greener financial markets. An essential element in creating sustainable capital markets is knowledge; through the SGX FIRST platform, we aim to equip investors and issuers in this region with greater ESG knowledge and provide them with better access to a wider range of ESG-related information. This will complement the new risk management and investment products centred on ESG factors that will be developed in the next few years. With stronger collaboration within the ecosystem, we can make a difference in sustainability starting from Singapore, in Asia and eventually across the world," said Loh Boon Chye, CEO of SGX.
Ms Gillian Tan, Assistant Managing Director (Development & International) of the Monetary Authority of Singapore, said, "MAS welcomes the launch of SGX's sustainability initiatives and the FIRST platform today. SGX can play a critical role as the gateway for global investors to access the significant opportunities presented by Asia's transition to a low carbon sustainable future. Building on its strengths as one of the most international multi-asset class exchanges with strong Asian product offerings, SGX's planned roll-out of a suite of new ESG investment and risk management products across different asset classes will help accelerate sustainable development in Asia."
Source: Nasdaq