Stoppard's Season
10.09.2014
By May Zhee Lim, Markets Media Life Correspondent
Theatergoers in New York have a lot to thank Roundabout Theater Company for this season. Apart from their wildly successful revival of Cabaret, the theater company is also bringing us two plays by one of the greatest living playwrights: Tom Stoppard. Indian Ink, the newer of the two, is premiering in New York for the first time, directed by Carey Perloff, who was also responsible for the American premiere of the play in 1999.
Indian Ink covers the expanse of two different continents and eras in history through the last letters of English poet Flora Crewe to her younger sister, Eleanor. Flora traveled through India in the 1930s and mingled freely with communists and artists; her sister lives in present day England (set in the 1980s) and is a staunch conservative. Flora's life is shrouded in mystery and controversy, and Eleanor tries to decode her sister's past through her letters. But it is in a painting by Indian artist Nirad Das that Eleanor learns the most about her sister, and the appearance of the artist's son sets things into motion.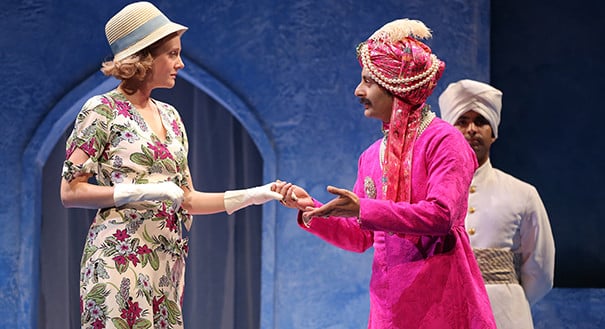 A winner of a Tony and the New York Critics Award for Best Foreign Play, The Real Thing follows the troubled relationship of playwright Henry and his wife Charlotte, who is the lead actress in his play. In a case of art imitating life, his play also happens to be about a hopeless marriage, not unlike his own. After he leaves Charlotte for Annie, he wonders if life might be imitating art instead. This becomes a springboard for the play's exploration of passions, fidelity, and relationships. The Real Thing boasts an all-star cast with Ewan McGregor, Cynthia Nixon, and Maggie Gyllenhaal playing the central characters Henry, Charlotte, and Annie respectively.
Stoppard's plays are thematically rich, delightfully witty, and always inventive in its use of stage space. In the masterful hands of the creative team behind both productions, the audience can expect nothing less than the full Stoppard experience at either show.
Indian Ink is now showing at The Laura Pels Theater. Tickets are $89 and can be purchased here.
The Real Thing is on preview at the American Airlines Theater and will officially open on October 30. Show times and tickets are available on Roundabout Theater's website.