NYC's Taste of Tribeca Returns On Saturday, May 19
05.14.2012
This Saturday, May 19, the 18th annual Taste of Tribeca festival celebrates the booming food scene in lower Manhattan, with more than 70 of the neighborhood's premiere restaurants and chefs serving up delicious samples of their food to over 7,000 event goers.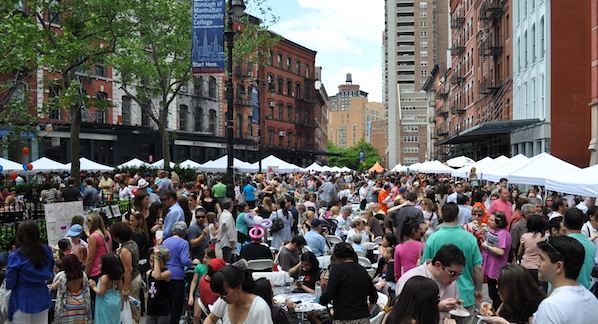 "It's remarkable to see how a small festival 18 years ago that included just 25 restaurants has blossomed into the premiere downtown food event," said Faith Paris, co-chairperson of the Taste of Tribeca.   "Taste of Tribeca now has over 70 restaurants participating, which shows both the culinary growth in the neighborhood and the way the community has come together in support of its public schools."
With all proceeds from Taste of Tribeca benefitting the arts and enrichment programs at two local public schools–PS 150 and PS 234–the event features signature dishes from renowned Tribeca restaurants, a cook-off between master chefs, live entertainment sponsored by City Winery, wine tastings, and a host of new beverage offerings.
Indeed, attendees can expect to be feted with a cornucopia of haute cuisine offering's from downtown Manhattan's top chefs, such as James Beard Award Best Chef nominees Marco Canora of Terroir, Kurt Gutenbrunner of Blaue Gans, Marc Murphy of Landmarc, and Marc Forgione of Forge. Restaurants at the feast include some of the city's favorites, such as Robert DeNiro's Tribeca Grill, Capsouto Freres, Sarabeths, Max, Flor De Sol, and Nobu. Ever expanding, Taste of Tribeca continues to attract neighborhood chefs both new and famous: this year, the festival expects to see more than a 10 percent increase in restaurant participation. Some noteworthy newcomers include Kutsher's, Super Linda, and Tre Sorelle.  Prior to the festival, some of the restaurants will be hosting mini-events to support Taste of Tribeca: this past May 10th, Sarabeth's hosted a 7-course wine dinner, which came with a ticket to the main feast on Saturday. On Tuesday May 15, Macao Trading Company is hosting a cocktail event with specialty drinks and appetizers for $80, which also comes with a Taste of Tribeca ticket.
Taste of Tribeca is on Saturday, May 19 and will be held on Duane Street in Tribeca. Tickets for both the main festival and all preceding events can be purchased online; prices range from $45 per person to $950 per person.