Vallarta Adventures
10.14.2014
By Shannon Ostrowsky, Markets Media Life Correspondent
It's about that time when we appreciate the transition of seasons, relish in pumpkin spice everything, yet mentally start to prepare for what may be another brutal winter. If you are already thinking about a tropical escape for this winter, Puerto Vallarta, Mexico is the ideal oasis for the adventurer and beach bum.
Puerto Vallarta, a small historical town with cosmopolitan flair, is nestled within the Sierra Madre Mountains that tower over the pleasant waters of the Pacific. Quant, cultural neighborhoods and a vibrant nightlife are all within walking distance, including competing restaurants offering $1 margaritas and beers.
As much as I love $1 margaritas (who wouldn't?), most of my journey in Puerto Vallarta was spent covering territory with the company, Vallarta Adventures. From zip lining to snorkeling, paddle boarding and making the most amazing guacamole I've ever had, Vallarta Adventures provides the well-balanced and imaginative expeditions while we, the tourists, are left with making lasting memories.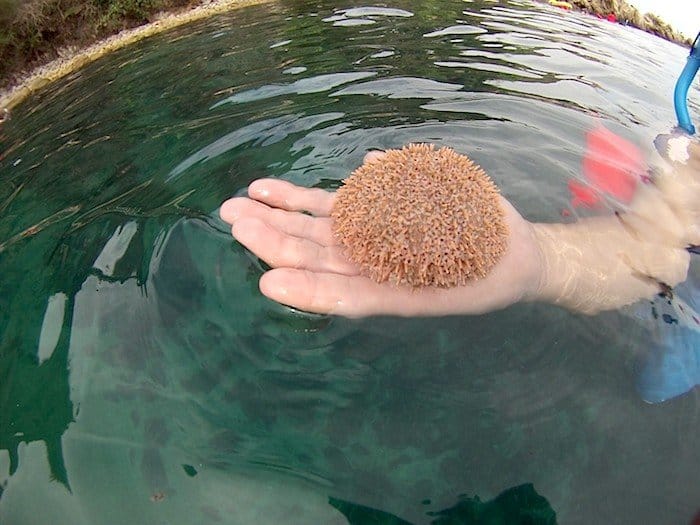 Las Caletas Beach Hideaway, the first excursion I did with the company, started off with a half an hour boat ride to the beach, with lively entertainment to keep passengers preoccupied as we awaited our afternoon getaway. Upon arrival, you immediately sense the tropical, spa like retreat with little bungalows hidden within the trees, an enlarged tent-like sanctuary offering massages and half an hour yoga taught both in English and Spanish, rows and rows of hammocks in areas for privacy and relaxation, and a rack of paddle boards, snorkeling gear and canoes situated beach side by the water. A buffet-style lunch was provided, and a schedule of activities kept me busy as I bounced from yoga to a cooking class then back to the beach to go paddle boarding again and again.
To appease my adventurous side, zip lining was a true test of my endurance and limits, spending a majority of the time hiking from one zip line to the other in brutal humidity with a helmet and heavy gloves on. I zip lined upside down, I flew superman-style 60 miles per hour right above the trees, showered myself with mud as I went off-roading with my brother, climbed ladders and skateboarded across lines, and finished with the quickest and scariest waterslide I had ever been on. It wasn't just going on a bunch of zip lines and calling it a day; Vallarta Adventures truly did what it was meant to do, turning the ordinary into the extraordinary.
I rounded up my week with an excursion to Yelapa, a gorgeous, little town accessible by boat. After snorkeling in the isolated cove of Majahuitas, the relaxation that ensued in Yelapa was positively dreamy, with some clouds in the distance teasing us with shade and the ocean breeze kissing our skin. A ten-minute, moderate hike through the fishing village led us to the refreshing Cola de Caballo waterfall, a relief after the uphill trek in the middle of a steamy afternoon. Heading back downhill toward the sprawling beach, a lagoon-type retreat home to beachside huts, bars and locals selling handmade gifts, the views were enough to take your breath away, and the water was the absolute perfect temperature. We didn't want to leave, and my parents were even discussing retiring there.
Overall, the employees from Vallarta Adventures were charming, knowledgeable of the area, reassuring, and just overall good company to spend my vacation with. The Puerto Vallarta locals were energetic and the food was out of this world. The liveliness of Puerto Vallarta at night is distinct as you walk down the boardwalk past happening clubs and laidback bars. Between Vallarta Adventures by day and sampling local cuisine and bar hopping by night, Puerto Vallarta is your final destination for a beachside getaway with a little spice.
Photos by Shannon Ostrowsky