Vertical Takeoff
07.12.2012

For more than a decade, The Standard brand has built its name by curating a holistically stylish and modern hotel experience. Nightlife-laced glamour, a cleanly elegant architectural aesthetic, and a certain youthful boldness infuse its locations in Hollywood (the first Standard), downtown Los Angeles, Miami Beach, and New York's Meatpacking District (straddling the High Line). The philosophy of The Standard has significantly influenced the current 'boutique' hotel movement, with the Philippe Starck-designed Hudson Hotel and Alex Calderwood's similarly ubiquitous, equally brand-driven Ace Hotel making similar marks in the collective consciousness of the young and urbane.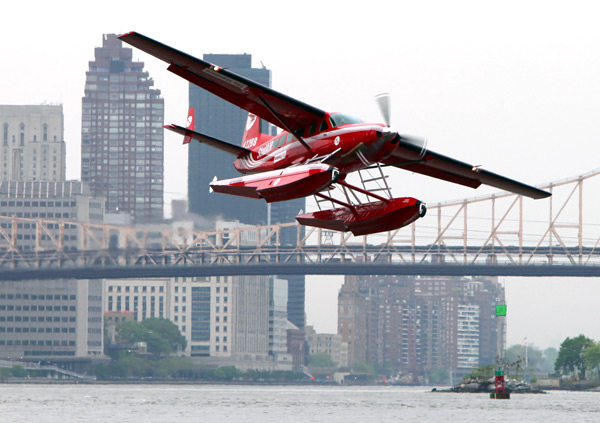 Hotelier André Balazs brings StndAIR, his cherry-red seaplane, back for its second summer season, ferrying New York City's sun seekers to the Hamptons and beyond
Not one to rest on his laurels, Mr. Balazs raises the standard once again with StndAIR. Balazs Properties' upscale eight-passenger seaplane made a strong debut last summer, and in its second year,  it is quickly becoming a high-end transport of choice to the Hamptons. Aside from scheduled trips to the East End, the plane can be chartered to any port of call within 300 miles, including Martha's Vineyard, Nantucket, Provincetown, Cape Cod, Lake Saranac, and, of course, Montauk, the Hamptons' chilled-out surfing cousin. Custom, off-peak flight plans to any of these destinations can be created for chartered trips of as many as eight people.
Operated by Shoreline Aviation, "Willa", StndAIR's Cessna 208 Caravan Amphibian, takes about 45 minutes to fly between New York and East Hampton. Regularly scheduled Thursday and Friday flights take off from the East 23rd Street Skyport Marina and land at East Hampton Airport or Shelter Island's Crescent Beach. Westbound returns depart Sunday and Monday evenings.

While in flight, StndAIR provides an experience replete with its usual élan: guests are invited to enjoy a glass of rosé (André Balazs Reserve Sunset Beach Rosé, of course) with some Swedish fish. Passengers also get a complimentary pair of sunglasses from Warby Parker, an innovative eyewear company that gives the fledgling airline a social enterprise twist. For every StndAIR passenger, Warby Parker's "Buy A Pair, Give A Pair" program donates a pair of prescription eyeglasses to a person with little to no access to eye care while assisting organizations that train third-world entrepreneurs on how to make and sell affordable eyeglasses. With this partnership, luxury meets philanthropy in a most surreptitious — and stylish — way.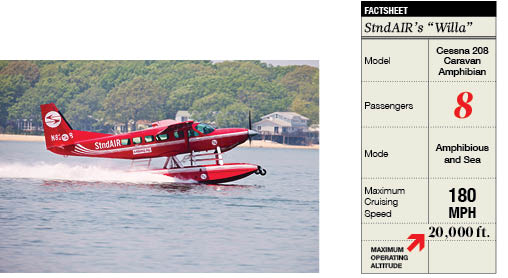 Peak flights (Thursday, Friday, Sunday, Monday) are $525 each way, and off-peak flights start at $99 each way. Luggage allowance is 20 lbs—small pets welcome, but no golf clubs or bags with wheels—and a photo ID and a 15-minute arrival before the flight is all that's needed. For additional information, visit www.stndair.com or call 1-855-STND-AIR.