Who Doesn't Like a Single Malt?
04.13.2015

By Rupveen Arora (Mademoiselle Wanderlust), Head of Lifestyle
---
I have been frequenting the Flatiron Room for some time now and recently had the pleasure of attending a private whiskey tasting. Needless to say, I was elated by not only the interesting selection to experience the decadence of some of the unknown whiskeys, but also the tutorial given on the distillation process from fermented grain.
The ambiance was quite rustic and romantic set with the perfect dim lighting, live jazz on the velvet curtained stage, a whiskey selection of over 1,000 bottles, staff that service your every whim, specialty cocktails that would earn five stars from any mixologist, and my personal favorite, a breathtaking chandelier that once hung in the Smithsonian.
This spot, located on W. 26th Street between Broadway and 6th Avenue in Manhattan, is highly recommended for any occasion: a first date, a night on the town with your pals, a solo step-in for a bad day to drown your sorrows in pure indulgence, or simply a stop-in to enjoy some live entertainment.
Tommy Tardie, the owner of the Flatiron Room, is a delight to chat with. The original whiskey connoisseur, I inquired on many (no questions are dumb) different levels of aging, taste, price range, palates, and he was quick to dive in and impress me with what I already knew I loved about this fine distilled beverage. Something one may not know, whiskey is simply the umbrella term which has many levels underneath, including, single malt, bourbon, rye, and so on.
Here's how it went:
Markets Media Life: Thank you for your time. To begin with – tell us a bit about your mission objective? What inspired you to start this venture?
Tommy Tardie: I wanted to open a place where I was the target audience — a space that my wife and I would want to spend time. We're past the traditional bar or club scene, jostling at the bar just to get a drink and music so loud you can't have a conversation. A traditional restaurant, on the other hand, didn't have the engagement or the entertainment factor. So why not create a space that had all the elements I was looking for? I decided to create a place that has all the elements we look for when we go out at night. That now exists at The Flatiron Room.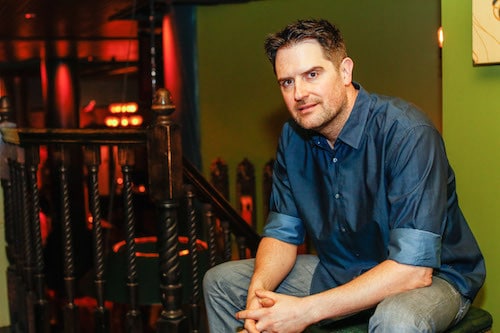 MML: What is the uniqueness of The Flatiron Room?
TT: The Flatiron Room is certainly unique. We can best be characterized as a mature, elegant (yet unpretentious) venue where grownups can come to have a fun and engaging night out. We have a lot of interesting things going on at any given moment:
– Live jazz music takes center stage seven nights a week. We keep the volume just loud enough to be entertaining without overpowering your conversations.
– Our upstairs tasting room frequently hosts whiskey classes for individuals and corporations.
– It's hard to miss our massive wall of whiskeys. We have over 1,000 different varieties as well as a unique 'Bottle Keep' program, where guests can purchase their whiskey by the glass or by the entire bottle. If you choose the latter, we store it for you in our locker system.
– People are always surprised at how good our food is. I think they see the expansive liquor menu and assume that it takes priority over everything else. I'm happy to say our chef (Susan Burdian) was just recognized by the James Beard Society. Her food is outstanding.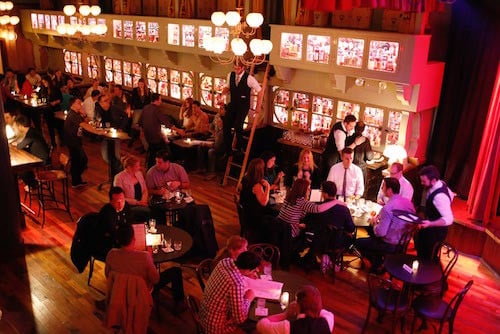 MML: What has been the response since you opened in 2012? Who are your clients typically?
TT: The response has been extremely positive. Going into it we took a lot of risk by introducing a new concept. Of course we hoped people would understand what we were trying to create but our expectations have far been surpassed. People get it — they respect the environment and help create the atmosphere we are looking for.
I would say our typical audience is professionals in their 30s and 40s. Many are in finance, tech start-ups, and there are quite a few advertising people. Entertaining clients and friends seems to be a commonality with our guests. The Bottle Keep is a great tool for them to impress whoever they are with.
MML: Is the venue event-driven?
TT: Events are a huge part of our business. We host various types of events, from small, intimate whiskey tastings in our private room to large corporate events. It doesn't matter if your group is 20 people or 200. Our in-house events team is amazing at making everyone feel special. The majority of our corporate business comes through referrals which, for me, is the best compliment we can get.
MML: What are your specialty cocktails aside from the whiskey?
TT: We have a variety of cocktails that are categorized as Classics, like the Blood & Sand, Rusty Nail or Mint Julep. We have seasonal cocktails which change based on the availability of fresh ingredients, and "Flatiron Favorites" which are created by our team of bartenders. These include the BlackBerry Gimlet, Blood Orange Sour and our Pear Highball. Safe to say that there is a drink to satisfy any thirst. And , be assured, we only use the freshest ingredients and premium liquor.
MML: I'm seeing a major explosion around whisky in the past few years. What has caused this aside from simply educating one on the fine adult beverage?
TT: Whiskey is certainly going through a renaissance. Many of our customers look to whiskey as more than just a drink — they identify with it as a hobby. Our sold-out whiskey classes are a true testament to this. People are seeking more knowledge and a better understanding of it. Why? Because whiskey has a rich colorful history, it's a romantic spirit, and people feel a certain satisfaction saying "I'm a whiskey drinker".
The category itself is so broad and diverse. Whiskey includes bourbons, ryes, single malts, single grain, blends and even new makes. Having such an expansive category allows people to identify with a specific taste that appeals to them. Some may love bourbon but hate rye while others may prefer heavily peated Scotch. Giving people options is good. Once someone has found the style or taste they like, we have a whiskey drinker for life.
MML: What impact does social media have on your business expansion?
TT: We are fortunate to have a strong presence on Social Media and rely on it to keep in communications with our guests. It's a nice unobtrusive way of letting them know what we are doing and how progress is going on the new space.
MML: What are your future plans?
TT: I'm working on another restaurant now and expect it to open later this year. Without tipping my cards too much, it'll be located a little farther uptown and have a lot of the same elements as The Flatiron Room, with a few new surprises. I'm excited and think our audience will really enjoy it.
MML: What is your message for Markets Media readers?
TT: #1, make a reservation. We tend to fill up quickly, even on Sundays and Mondays, so don't leave it to chance. We never crowd the space so that inevitably results in people getting turned away. A reservation will guarantee you a seat where you can properly enjoy all we have to offer.
For those looking to try their hand at drinking whiskey — go with the Discovery Tasting Flight. This is a great way to test your palate and see what type of whiskey appeals to you. You'll sample bourbon, rye, Irish, Japanese, a Speyside Scotch and a heavily peated Scotch. After this you'll have a good idea of what you like and what to order next.
MML: I always like to ask, what is that sets you apart? Your differentiator? Your "je ne sais quoi"?
TT: Our je ne sais quoi is, without question, the people behind our operation. Someone can spend millions on building out a space, stocking it with the finest whiskies from around the world, developing a world-class menu and having top-notch performers —but this does very little to guarantee success. It's the management team behind the company that makes or breaks a business. An advisor once told me something I live by: "A good management team can turn an average idea into a successful business; a bad management team turn a great idea into a failed business."
MML: And of course, I'd be remiss if I didn't inquire as to your favorite whiskey and bourbon?
TT: The million dollar question! I wish I had a simple answer, but in truth it changes based on my mood, the time of day, the temperature, the season. Fortunately for me, I have 1,000+ whiskies to choose from.
—-
Thanks Tommie and Flatiron Room for doing what you do and doing it oh-so-well. Whiskey isn't just the gent's drink one may believe it to be. Women are jumping on that bandwagon and happily so. Don't be fooled, a strong woman with an appreciation for the finer liquid sustenance offered at any bar, would know to opt for a delectable, wonderful single malt, Neat.
Photos via The Flatiron Room