2012 Luxury Car Review: Maserati Quattroporte Sport GT S
12.05.2011
Love at first sight, sound, and feel: the Quattroporte GT S dares you to not fall for it–and wins.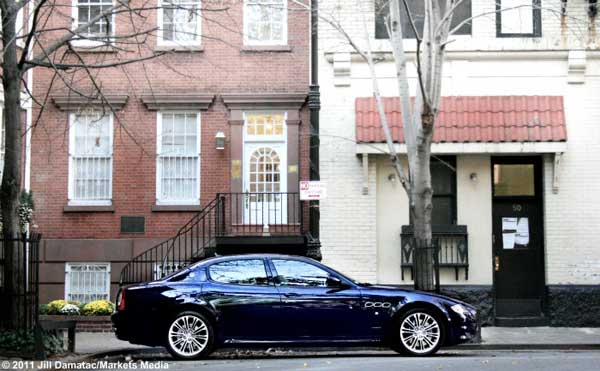 Maintaining objectivity wasn't easy during our test drive of Maserati's 2012 Quattroporte GT S. The Italian automaker's flagship model, having gone through four generations and several redesigns, seems to have hit its stride with this latest iteration, and the stares it got on the morning of our review served to prove the magnetism of its sleek, shark-like design and its legendary name. Combine the looks with the Quattroporte's seething 433-horsepower engine unleashed in sport mode, and it soon becomes clear that there is no such thing as objectivity–not in the presence of this bewitchingly powerful sports car wrapped in a luxury sedan's body.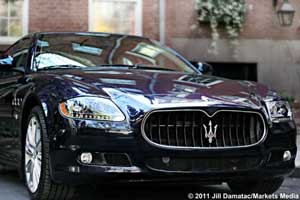 Accompanied by Maserati of Manhattan's Peter Lehmann, our test drive began benignly enough, with plenty of stares all around, from passing cars, to teenagers walking by, to grown men halting in their tracks. Its exterior, full of taut curves and lean lines suggesting muscle under skin, seems to have come alive with a subtly sportier redesign by Carozzeria Pininfarina. Where the previous versions of the Quattroporte appeared promising but came up with somewhat bland results (avert your eyes from the 1994-2001 generation), its present exterior design, elegantly flowing yet assertively muscled in the right places, now speaks boldly for the growling Ferrari-made engine underneath. The striking grille, playing on the contrast between its chrome touches and deep black insets, combines with the larger headlights and foglights for greater visual impact. 20-inch wheels, made larger for the GT S, add to the Quattroporte's powerful initial impression. In other words: the more we looked at the outside of the car, the more difficult it became to stop looking and get inside the car (it's amazing how something as seemingly innocuous as three side air intake grilles can mesmerize for what seems like hours).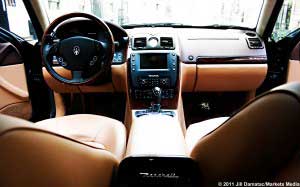 Get inside we finally did; once there, objectivity became somewhat easier. Our test model's seats, made by Poltrona Frau in buttery leather and Alcantara suede, were a warm toffee shade and boldly embossed with the Maserati logo. Seats, formed in a modified bucket shape, are easily adjustable with electronic controls: after a bit of sliding back and forth, they comfortably accommodated our 6'4″ and 5'4″ test drivers. Glossy Wenge wood, wrapped around the steering wheel and adorning the dash, is complemented by maroon brown leather. Maserati's philosophy, which emphasizes the Quattroporte's mechanics and the overall driving experience, manifests itself in the dashboard control panel. In keeping its gadgetry to a modern, relatively Spartan, minimum–in this category of vehicle, that means a premium Bose sound system, satellite GPS, and Bluetooth connectivity–the driver and passenger are meant to be more in touch with the car and the ride. As pleasing as this philosophy may be, however, its execution in the Quattroporte is a bit wanting. The dashboard control panel struck a slightly dissonant chord with the rest of our test model's rather lush insides: made of matte black plastic, the panel is better suited for the Quattroporte's Piano Black interior option, where its appearance is less conspicuous. A panel that coordinates with the Wenge wood and butterscotch leather interior would have done our test model more justice. A small quibble, of course; still, this reviewer couldn't help but feel that more effort could have been made towards an element as visible and everyday as a dashboard control panel.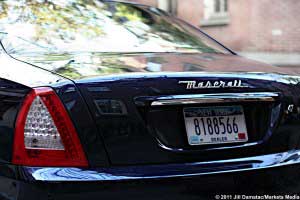 All small quibbles and attempts at objectivity soon went out the window as we rocketed down the Henry Hudson Parkway (gloriously devoid of cars at 10 a.m. on a Saturday). Set on Sport mode, the 4.7-liter V8 made its presence felt, growling like a tethered dog frothing under the seats and floor. Steering and handling is stiff, responsive, and instantaneously quick in Sport, and the single-setting racing-style suspension is tightly wound. In manual mode, the gears shift at a higher RPM–cue paddle shifters behind the steering wheel–resulting in a brilliantly visceral sensation as the car accelerates (and leaves its passengers speechless in the wake of its roaring engine). To handle the engine's power, the Quattroporte is equipped with a set of powerfully effective Brembo brakes–a necessity with this kind of sporty setup. When not in Sport mode, the Quattroporte GT S handles nearly as quietly and as smoothly as other luxury sedans in its category (though those other cars could also be accused of being too pillowy and not mechanical enough in feel). The engine politely restrains itself, its rumble and growl muted to a faint hint; the suspension loosens noticeably, giving a cushier ride and the handling a softer feel. Don't mistake this normal setting for a less exciting trip, however; in this mode, acceleration, while less like a manual sports car, is much more like a jet engine at full throttle: the Quattroporte retains every ounce of the Ferrari engine's breathtaking power, merely making its launch from zero to sixty suave and gentlemanly rather than fiercely stiff and immediate. In the end, we inevitably fell in love with this irresistibly stylish sedan, inside (minor design shortcomings and all) and outside. The 2012 GT S sets itself apart from the competition with its bolder design cues, sleekly muscled-yet-elegant looks, its engineered focus on the driving experience, and, of course, that nearly maniacal engine roar. With this Quattroporte, there is no objectivity…just pure bewilderment.
2012 Maserati Quattroporte GT S, MSRP $135,200.
4.7 liter V8 engine, top speed 177 MPH
0-60 mph acceleration: 5.1 secs
For more information, visit www.maserati.us or visit Maserati of Manhattan, 1 York Street, New York NY 10013. (877) 775-2717