3 Apps You Can't Live Without
10.01.2013
OnDemand Massages

You walk in your front door after a long day of work, you're exhausted, stressed and achy. On top of that, you find out your dinner meeting was cancelled. What better way to relax and enjoy your extra 2 hours of free time than by booking a last minute massage from a licensed therapist to enjoy in the comfort of your own home? With Zeel –the on demand massage service app — you can enjoy the luxury of a last minute, high-quality Swedish or Deep Tissue massage in your home, hotel room, or basically wherever you prefer in the greater New York City area and Long Island. You can use Zeel as an amenity and treat your employees to chair massages in the office. Security through the app is handled on both sides of the spectrum. All therapists employed through the Zeel app are interviewed to ensure that they are licensed, qualified, and experienced to give massages to the customers, and all customers identities are checked through the app as well. Booking your massage is simple, and can be done from anywhere. The app stores your credit card information to make payment hassle-free! Now go grab your phone and open up Zeel, and fill out all of the information for your massage. Did you receive your text confirmation? Is your preferred therapist knocking on your door yet? Now lay down, close your eyes, relax, and enjoy your spur of the moment massage.
SwingTip Golf Swing Analysis App-cessory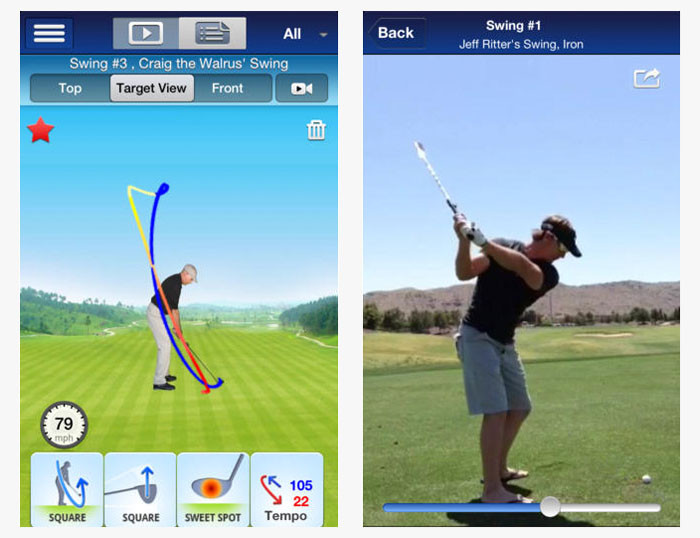 You love to golf, but your swing could use some minor improvements. Practice helps, but won't necessarily bring you to the pro-level. You need a golf coach to bring around with you to all 18 holes, but don't want your friends to see, and a fully grown professional human coach is just too large to carry around in your back pocket. That's why you need SwingTip Golf Swing Analysis App-cessory. Just attach the SwingTip App-cessory to the top of your clubs, and swing. As you swing, 3D motion sensors capture and analyze your form. The bluetooth sensors instantly send your data–what happened, why it happened, and how to fix it–to the app on your mobile device, where you can see where you went wrong with your swing and how you can improve it. With auto-video capture, power & plane analysis, and 3D swing-impact metrics, your mobile device will quickly be turned into a personal golf coach. Watch an animation of your swing, receive tips from golf coach Jeff Ritter, and share your favorite swing videos on Facebook. Show off your now perfect swing at your next golf outing, and smile as your competition watches in awe.
Foursum Golf App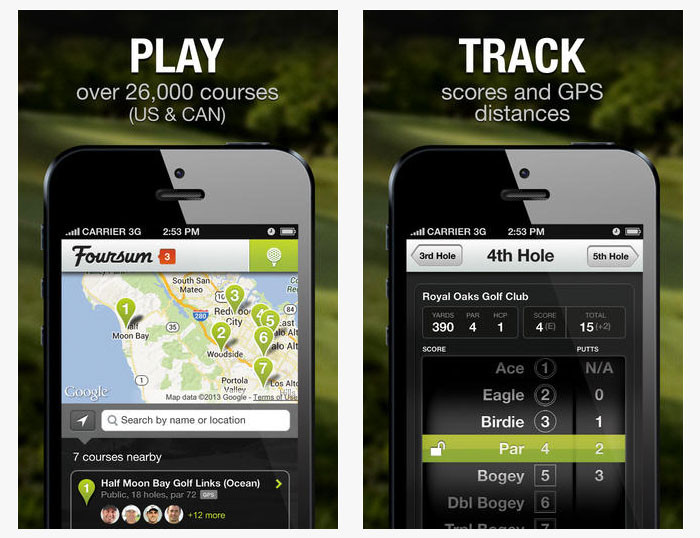 It's social networking, but for golf. You can invite and follow friends through the app, keep updated on their activities, and compare performances. The Foursum app includes over 26,000 courses, allowing users to choose a course by name or geotag location. You can also browse course information and scorecards written by other users. The app tracks ball placement allowing you to analyze your swing, and calculate the distance to the hole. Foursum isn't just for beginners, it allows all level golfers to learn advanced statistics and analytics, and make the game of golf more social. Your mobile device will become your favorite companion, accompanying you on all outings for a sport where the device is usually frowned upon. Foursum is perfect for social media obsessed golf addicts.