Add Some Spice to your Christmas Cocktail
12.09.2013
A spiced drink that Americans usually associate with Christmas is eggnog. However, in many European countries, nothing says Christmas like mulled wine. Not traditionally a Christmas drink, it wasn't until Charles Dickens popular story "A Christmas Carol" that people started associating mulled wine with the holiday.
The warm wine drink with ancient roots takes on many other names across the world. In Russia, the drink is known as Glintwein, in Germany as Glühwein, and in Sweden, you can enjoy the traditional Glögg. Mulled wine is made by serving hot red wine mixed with various fruits and spices. The spiced drink can be bottled, enjoyed at a bar, or made from scratch to sip in the comfort of your own home. Any way you choose to enjoy it, the warm mixture of fruit, cinnamon, cloves and wine make for a holiday drink that will remind you of cozying up next to the fireplace.
There are a multitude of mulled wine recipes, each with roots from a different European country. Below are some delicious Glühwein, Glintwein, and Glögg recipes to enjoy with family and friends this Christmas.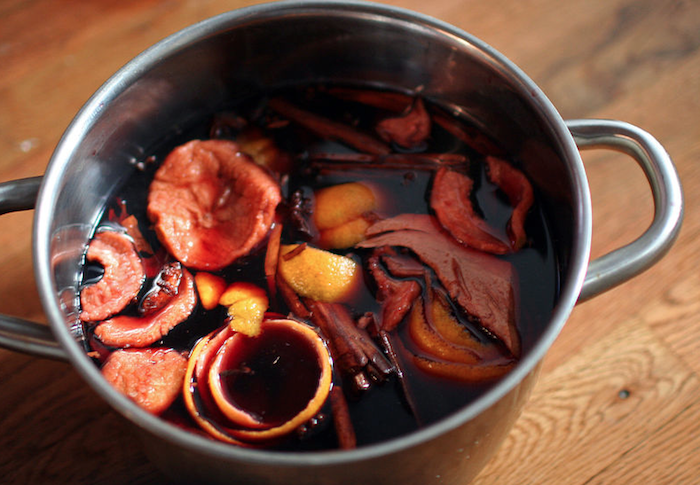 German Glühwein Recipe
¾ cup water (or orange juice)
¾ cup white sugar
1 cinnamon stick
1 orange
10 whole cloves
1 (750 ml) bottle red wine
Combine water, sugar, and cinnamon stick in a saucepan. Bring to a boil, reduce heat and simmer. Cut the orange in half and squeeze the juice into the simmering water. Push the cloves into the outside of the orange peel and put the peel into the simmering water. Simmer for 30 minutes or until thick and syrupy. Pour in the wine and heat until steaming but not simmering. Remove the cloved orange peels. Serve hot in mugs or glasses that have been preheated.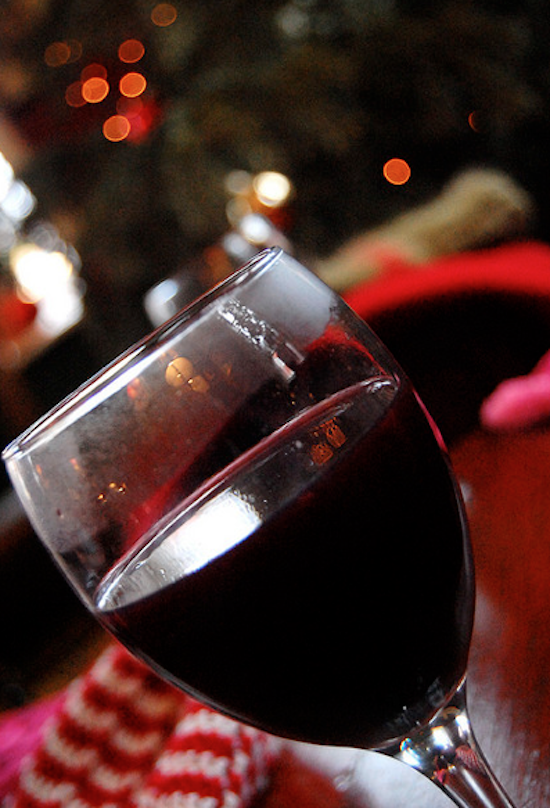 Russian Glintwein Recipe
1 bottle dry red wine
2 oranges
½ lemon
200 red berries (raspberries)
4 tbs honey
1-2 cinnamon sticks
2-4 stars of anise
5 cm piece of fresh ginger root
Slice the lemon and 1 orange. Take a strip of peel off the second orange using a vegetable peeler. Squeeze the orange, slice the ginger root, and break the cinnamon sticks into large pieces. Combine lemon, orange, zest, berries, juice, and spices in a large pan. Add the wine and set on medium heat. Stir until the honey dissolves and bring to hot temperature. Dont let it boil. Pour into glasses or tea cups and serve.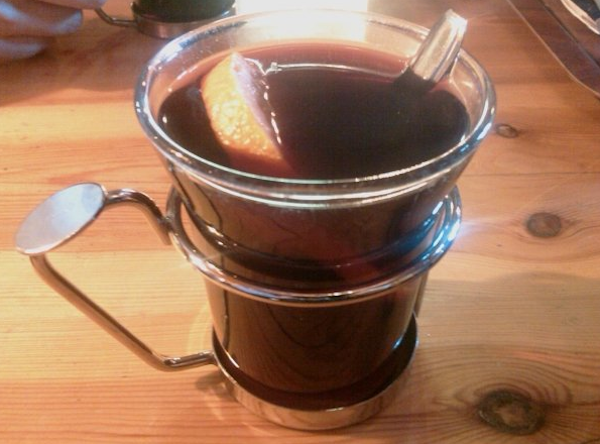 Nordic Glögg recipe
1 bottle red wine
½ liter brandy or vodka
10 cardamom pods
1 cinnamon stick (broken down)
½ orange peel
½ lbs sugar
5 cloves
½ cup raisins
½ cup almonds
5 dried figs
Heat wine, brandy, spices, fruit, and nuts in a pot. Do not boil, let it simmer for 45 minutes. Strain to remove all additions. Serve hot with sugar.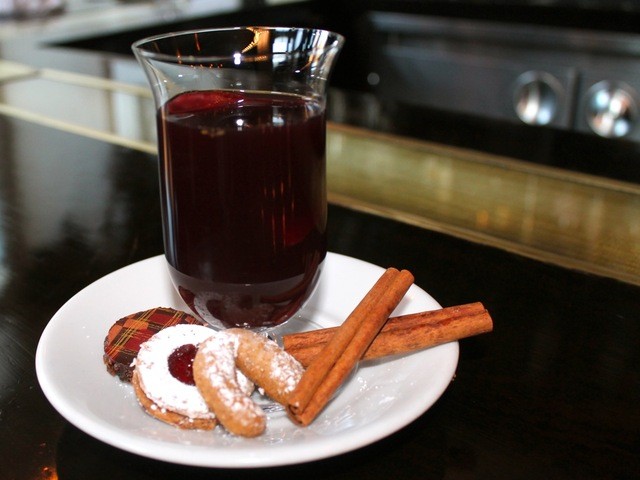 Glühwein–Cafe Sabarsky
You don't have to travel to Europe to try mulled wine. Enjoy Cafe Sabarsky's rendition of the warm holiday Glühwein cocktail. Here's the recipe to warm you right up.
Glühwein
1 bottle of Zweigelt wine
1 orange (sliced in half with rind)
1 whole vanilla bean
Zest of 1 lime
Splash of port wine
Cinnamon stick
Spices, 1 tsp of each: juniper berries, allspice, star anise, pink peppercorns
Place all ingredients in large pot and simmer for 30 minutes. Before serving, add honey until desired sweetness is reached (approximately 5 tbsp for whole pot).