Bombshell Bikini's for this Summer
04.17.2014
I recently sat down with an upcoming designer who not only makes a woman want to be in the best shape of her life to don her sexy swimwear but makes you want to be as polished as you can be while in her presence. Rene Sweeney is the new name on the market for this summer's best-dressed bods on the beach. A good friend of mine who not only has a style of her own, she leaves women wondering how she puts her chic ensembles together. The thing I notice up close and personal is her flare for coupling the most modern pieces with the most beautiful vintage finds (a combo I typically indulge in myself). Say hello To Rene and welcome her and her beautiful line: Lela Pearce, inspired by her grandmother to the scene of fashion and finance (Mademoiselle's passion to marry the two).
Markets Media Life : Thank you for your time. To begin with – tell us a bit about your mission objective?
My objective is to create a brand of luxury swimwear that women want to wear not only because it makes them feel sexy but because they love the unique styling of the pieces.
MML: What is the uniqueness of your firm/work/company?
Lela Pearce Swimsuits are unique in that they offer a perfect blend of vintage eras ranging from the 50's-80's. The idea is that you look at one of my suits and you know it's vintage inspired yet you can't pinpoint what era. I love taking looks from the past and jumbling them together to get this amazing and unique look.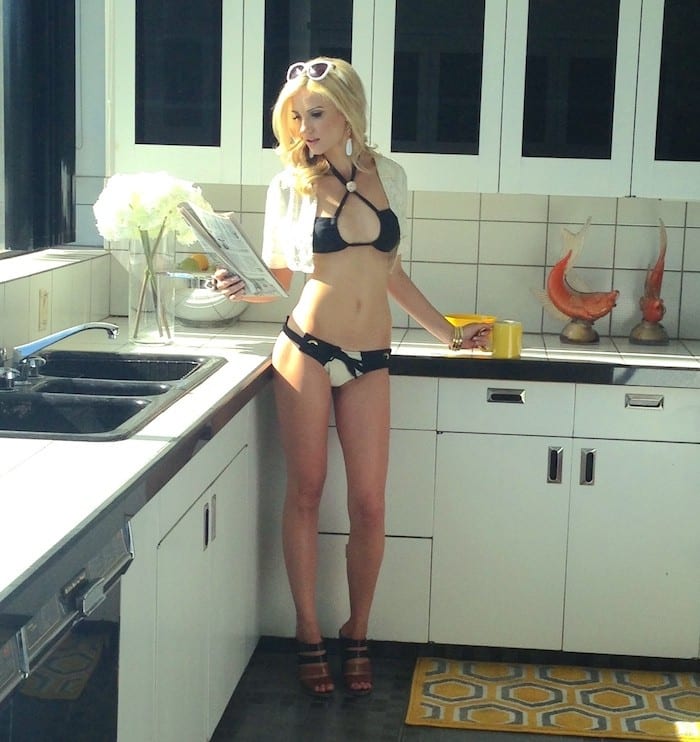 MML: What has the response been so far?
The response has been great! International fashion blogger 'PeaceLoveShea' got a hold of one of my 'Farah' crochet tops and the line has been gaining momentum ever since. Surprisingly most of LP business comes from overseas in the UK, after being featured on a British celebrity. I can't tell you how exciting it is to know that something you designed it helping make a customer feel beautiful and confident. There's no better feeling for a designer!
MML: What inspired you to start this venture?
My line is actually named after my grandmother Lela. She has been and will always be one of the most inspirational people in influencing my personal style. I grew up playing dress up with her fabulous vintage clothing and accessories so it is only natural that I have a love of clothing from this era. It's my hope that my swimwear can portray the elegance, beauty and sheer fabulousness that my grandmother embodied. She was both fashionable and sassy and I take her into consideration with each design J
MML: What are your nationwide resources and annual growth statistics?
Well being that I am a newbie to this industry it's really hard to predict that right now. My goal is to work as hard as I possibly can to share my vision and passion and hope that other people love it and understand that vision.
MML: What impact does Social Media (SM) have on your business expansion?
Social media has been the main (and only really) means of advertising and getting the brand out there. The social media machine is such a powerful thing I can't understand why anyone wouldn't want to take full advantage. It's a free way of reaching the masses and it allows you to target such specific groups of people. I couldn't imagine building a business (especially not apparel) without social media. Right now Instagram specifically has been a key platform for me to reach potential customers.
MML: What are your future plans?
My future plans are to work hard, work with passion and to grow this line organically. This year it's about getting my brand and name out there and next year will be about growing that base and foundation even stronger. Money is of course the most important aspect of a successful business but there's something to be said about someone who also really enjoys the process along the way.
MML: Your message for The Markets Media readers?
Please take a look at my website www.lelapearce.com and my social media. I think you will be pleasantly surprised by what you see! The full collection will be online the beginning of May so don't be scared to check back in to see what new pieces will be added.
MML: I always like to ask, What is that sets you apart? Your differentiator? Your "je ne sais quoi"
The quality, attention to detail and the style of Lela Pearce Swimwear sets it apart from other pieces you'll find on the market. It's eclectic yet luxurious and my pieces are all meant to be interchanged too. That means you can buy 1 top and 2 bottoms and have 3 different looks and also find the cut/fit that works best for your body. I love having options so I wanted to express that in my line.
MML : In this business of fashion, (I know all too well how easily people knock you off), how do you handle it, press through and continue doing what you do?
You know just recently I actually had my first experience with this. I was looking at a large online swimwear retailer and noticed a particular swimwear bottom by a very well know swimwear brand that copied my design almost exactly. My first initial reaction was anger since I knew that they were probably taking advantage of the fact that I'm a newer designer, but my next thought was "Wow, I should be flattered!". They do say that imitation is the sincerest form of flattery, right?!
Indeed, I agree, imitation truly is the sincerest form of flattery. Why not dress your form in one of Rene's uber sexy and timeless classics this summer? I know I will.
Please visit her page at: facebook.com/LelaPearceSwimwear
Photo courtesy of Lela Pearce Swimwear
---
Mademoiselle Wanderlust is a regular contributor to the Markets Media Life section.