By May Zhee Lim, Markets Media Life Correspondent 
The New York Botanical Garden makes it easy to get excited about Halloween with their exhibits and events in the Haunted Pumpkin Garden. The garden opened on September 20, and will stay open until Halloween. Even if you consider yourself too old to be spooked by ghost stories or larger-than-life skeletons, the garden has other delights in store. Thousands of pumpkins and gourds (thousands!) in all fanciful shapes and sizes are on display, as well as artful carvings and designs that may inspire you to try out pumpkin carving yourself.
Should that happen, you may want to reserve a spot in the pumpkin carving workshop with Ray Villafane, a sculptor known for his spectacular pumpkin creations and regular appearances on Food Network. Visitors get a chance to observe his artistry during the Pumpkin Carving Weekend (October 18 and 19) when he makes Halloween creatures out of giant and oddly shaped pumpkins.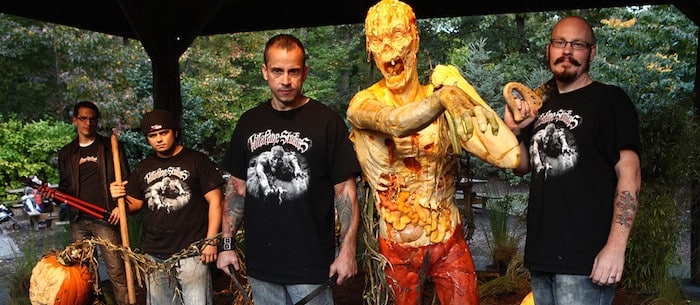 Parents will want to bring their kids to the Everett Children's Adventure Garden, where they can play inside the Pumpkin House or put on a scary show at the Pumpkin Puppet Theater, and maybe even join in on the Halloween Parade on weekends. The best time to go is during Spooky Nighttime Adventures, when the garden turns into the ultimate Halloween ground, complete with a Trick-or-Treat trail, costumed characters, and giant jack-o'-lanterns illuminating your path after dark!
This weekend the garden is also presenting a special segment called "Gone Batty! Live Bat Encounter!" Visitors can expect to see bats from around the world up close and learn from an expert about the benefits of having bats around, and what we can do to help conserve this mammal.
The complete schedule of events and ticket information can be found on the New York Botanical Garden website.
Images via New York Botanical Garden