Brofman, Bartók, and Bruckner
10.21.2014
By May Zhee Lim, Markets Media Life Correspondent
On the New York Philharmonic program this week, music director Alan Gilbert will lead the orchestra in Bartók's Piano Concert No. 3 and Bruckner's Eighth Symphony. Gilbert is excited to be working with one of the most talented piano virtuosos in the world, Yefim Bronfman, on Bartók's third piano concerto. It was Bronfman's recording of this concerto that earned him a Grammy award in 1997, and it came as no surprise when both Bronfman and Gilbert decided – after regular collaborations – that they would set their artistic sights on Bartók.
Produced in 1945, well into Béla Bartók's last years, Piano Concert No. 3 remains one of the major works of the 20th century. The concerto is divided into three movements. The first evokes Hungarian folk melodies, and is thought to encapsulate Bartok's homesickness; the second, an adagio, is in the style of Bartók's "night-music," capturing the sounds of nature at night to convey its quiet energy; and the third is a return to the folk theme with the full ebullience and energy that denote Bartók's final movements. According to Gilbert, Bronfman's wide range and technical flexibility makes him "the perfect partner for both the powerful, percussive aspects and the more lyrical and refined sensibilities in Bartók's music."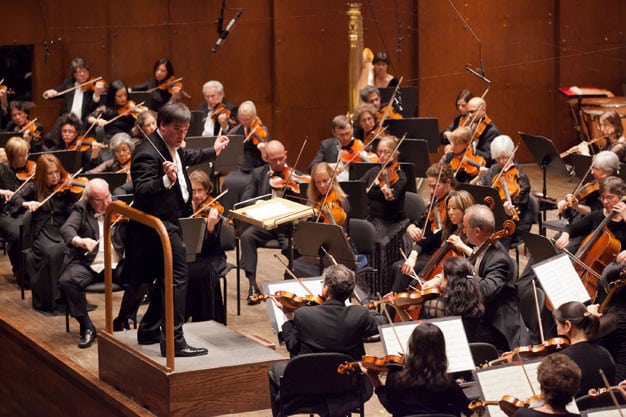 The Eighth Symphony is Anton Bruckner's largest, considered by fellow composer Hugo Wolf to have surpassed his other symphonies in spiritual dimension and magnitude. The symphony slowly and majestically unfolds, slowing our ears to the pace of its rich sonorities and heightened basses, before lifting us into awe-inspiring climaxes. Such sublime moments are plentiful in the 81-minute symphony. As Gilbert promises, Bruckner's masterpiece will allow the audience to "escape today's frenetic world" and find refuge in Bruckner's "timeless landscapes of sound."
The performances on Thursday, October 23, and Tuesday, October 28 are at 7.30pm at the Avery Fisher Hall. On Saturday and Sunday, October 24 and 25, the performances are at 8pm. Tickets can be purchased on the New York Philharmonic website.