City Guide: Chill Out
12.12.2011
"Work hard, play hard", goes the saying, and with that should come a third axiom: rest hard. Now, with our brand new City Guide: Chill Out series, you'll never be at a loss as to where, exactly, you can go for that much-needed downtime…because napping at your desk does not count. In today's series, we show you where to chill out in New York, Chicago, and London.
CHICAGO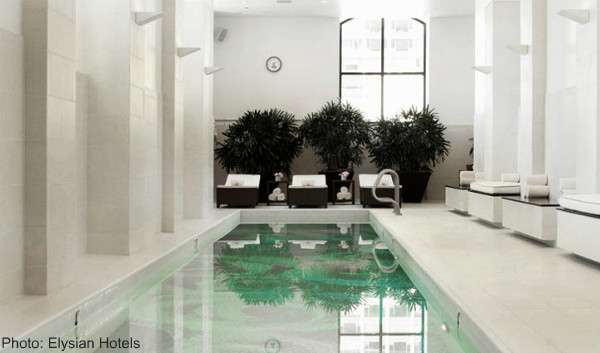 The Elysian Health Club & Spa

Walk into the lobby, and you will easily see why this hotel is the recipient of the 2011 Condé Nast Traveler Reader's Choice Award for #1 hotel in the U.S.; visit the spa for a treatment, and you will more likely feel why The Elysian is so special. Also on Conde Nast Traveler's Hot List for spas, 60-minute massages as well as hot lava rock massages are on the spa menu, while facials range from herbal and homeopathic to high-tech. The Men's Atelier, billed as "a private space for gentlemen within the spa and health club", offers a traditional wet/hot towel shave, a barber on-site, and even a "Fitness Manicure & Pedicure".
The Elysian Spa & Health Club, 11 East Walton. Call (312) 646-1300 or visit www.elysianhotels.com.
The East Bank Club

Get your sweat on–and your calm on–here. Renowned in the city for its superb facilities and services, which range from personal training, golf lessons, nutrition, aquatics, and children's programs (think New York's Chelsea Piers or Asphalt Green, but…well…better), the East Bank Club also has a full-service luxury spa. Treatments such as massage, nail care, and skincare are extensive, while certain bonuses for women–microdermabrasion, waxing, a hair salon–are also on offer. 
The East Bank Club & Spa, 500 North Kingsbury Street. Call (312) 527-5800 or visit www.eastbankclub.com.
LONDON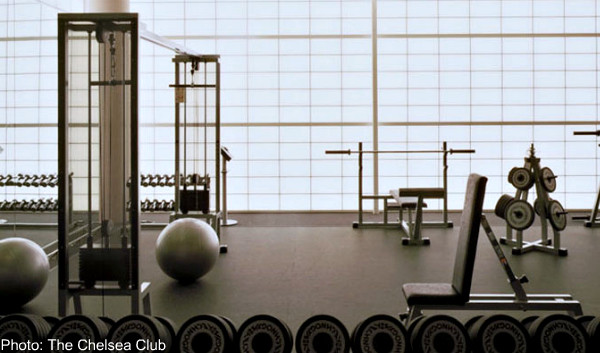 Antara Spa and Fitness Center at The Chelsea Club

Connected to the Fitness Club's 25-meter pool (one of the few in London), high-tech gym, and its wide range of classes, the club's quietly upscale spa promises to ease its clients, no matter which football team they support. Housed within Chelsea Football Club's complex in central London, Antara bears no hint of the team's branding, instead focusing fully on its holistic practice. Indeed, each therapist is trained for one year in India to master Ayurvedic treatments, which range from varieties of Ayurvedic massages to traditional Moroccan Hamman and Turkish steam baths (this ends with a massage, as well). A sauna, steam room, and plunge baths are standard, as is the first-class service.
Antara Spa and Fitness Center at The Chelsea Club, Stamford Bridge, Fulham Road. Book an appointment by calling +44 (0) 20 7915 2215, or visit www.thechelseaclub.com/antara-spa.
Spa Studio at The Lanesborough Hotel

Quieter and subtler than other London hoteliers, The Lanesborough's courteous staff and tranquil atmosphere extend into its Spa Studio, which offers a broad array of indulgent treatments such as a La Prairie caviar body massage and pure platinum or pure gold facials, also offers full massages with herbal oils and poultices, marine treatments, body scrubs, steams, and clay body masks. For men, a spa menu offering known as The Lanesborough Gentleman promises to soothe sore backs with a hot stone massage, then finishes up with a men's manicure or pedicure. Other, more salon-like items such as waxing are also available.
Spa Studio at The Lanesborough, Hyde Park Corner. Call +44 (0) 20 7333 7700, or visit www.lanesborough.com.

NEW YORK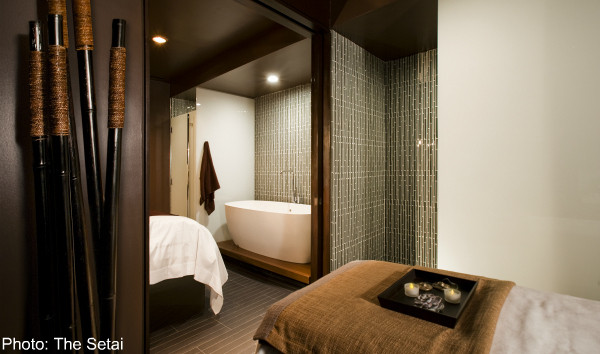 The Setai Club & Spa, Wall Street
Discreetly tucked away and not far from the NYSE, this exclusive club prides itself on the sort of luxury that is simple yet opulent, all at once. The private fitness club lends itself to the relaxing oasis of the spa, boasting offerings such as the personalized 3-hour Serenity Suite Ritual ($695), which comes with your own suite and includes a bath, a shower, a changing room, and a massage bed, of course. And guys, fret not: The Wall Street Retreat ($475), a men-only service, offers a three-hour appointment comprising of a 90-minute sport massage, a Power Facial, and a Grooming Manicure.
The Setai Club & Spa, 40 Broad Street. Call (212) 792-6193 or visit www.setaiclubnewyork.com.
Shibui Spa at The Greenwich Hotel

This boutique hotel in Tribeca, co-owned by Robert De Niro, prides itself on its quietly elegant environment. 75 unique rooms and 13 suites, each done up in their own style with pieces sourced globally (Tibetan rugs, English setees, Italian Carrara marble) are augmented by the Shibui Spa and its authentically Zen atmosphere. Four separate treatment rooms specialize in treatments ranging from shiatsu, a Japanese bathing room, wraps and scrubs, and massages/facial treatments. Should you decide to stay, a private pool and gym are also available.
Shibui Spa at The Greenwich Hotel, 377 Greenwich Street. Call (212) 941-8900 or visit www.thegreenwichhotel.com.
Keep an eye out for our continuing series of City Guides, coming soon!