City Guide: Go Out (New York below 14th St.)
12.22.2011
We're bringing you our City Guide series once a week, and today's Go Out guide takes you below 14th Street in Manhattan. From boozy dive bars to sexy wine scenes, this little chunk of New York is the reigning champ for pints, shots, and vino.
FINANCIAL DISTRICT

The Growler Bites & Brews
55 Stone St., near William St.
The Poulakakos boys are doing it again, bringing a beer-heavy menu with plenty of brats and other bites to the street that has their fingerprints all over it (Ulysses, Harry's, Vintry Wine & Whiskey, and even Financier Patisserie all belong to the same family). With a list of beers that rotates daily and some tasty variations on bratwursts, sausages, and even some good ol' hot dogs, this newly-opened joint boasts a warm atmosphere and plenty of seating.

Porterhouse Brewing Co. at Fraunces Tavern
54 Pearl Street | 212.968.1776 | www.frauncestavern.com
Its massive selection of brews, both draught and bottled, are hands-down the best in this area, with beers straight from the Porterhouse Brewing Company in Dublin, Ireland. The food isn't too shabby, either: check out their Tavern Burger, bangers & mash, and sweet potato fries. Wash it all down with their house Oyster Stout, follow it up with a Plain Porter, and thank us tomorrow.
Vintry Whiskey & Wine
57 Stone Street | 212.480.9800 | www.vintrynyc.com
Those seeking a more grown-up environment can duck past a wooden door, some velvety curtains, and into this dark, sexy bar, with high tables lining one wall and a peep into its extensive wine and whisky cellar along the other. Carrying bottles that range in the five figures, some rare finds, and aged single malts, Vintry's expert bartenders (mixologists, really) craft delicious whiskey cocktails–this writer loves their take on the Old Fashioned and a drink called the Peach Smash…don't be fooled by the somewhat girly name; it packs one hell of a punch. Hors d'ouevres are delicious: check out their cheese plates and shrimp with chorizo skewers.
Pound & Pence
55 Liberty Street | 212.716.1140 | www.poundandpence.com
With two levels, this English pub prides itself on its roots, with British pilsners on tap, Boddingtons in a can, and beer-battered fried foods. Booths, tons of seating, a working fireplace, and a full-size pool table on the second floor are sure to turn what was meant to be a happy hour into an all-nighter.
TRIBECA
Nancy Whiskey Pub
1 Lispenard Street | 212.226.9943 | www.nancywhiskeypub.com
This dive on the corner of West Broadway and Lispenard hasn't changed much despite being in a "glam" neighborhood. With plenty of been-there-done-that grizzled locals who've probably been drinking all day, bartenders who know everyone's name, and a dark old interior, you'll love imbibing here, playing shuffleboard (!), and, best of all, not worrying about looking cool.
Brandy Library
25 North Moore Street, #1 | 212.226.5545 | www.brandylibrary.com
Don't take this bar's name as any kind of play on words. Its walls, lined with shelves carrying all sorts of booze, make this place quite literally a brandy library (staff actually have to climb the ladders, library style, to retrieve your requested bottle of spirits). The bartenders are serious about their liquor: cocktails proving this abound, as do leather chairs, warm wooden trim, and–of course–a Spirit School to teach the uninitiated exactly what the difference is between a scotch and a bourbon.
GREENWICH VILLAGE & WEST VILLAGE

Blind Tiger Ale House
281 Bleecker Street |  212.462.4682 | www.blindtigeralehouse.com
Microbrews: check. Shared plates: check. Small, cozy atmosphere: check. Bring your love for unique beers and check your attitude at the door: this corner pub will seat you elbow to elbow with other beer lovers, and it's best to be prepared to get to know some strangers as you have one tasty beer…and another…and another (this writer loves the Left Hand Milk Stout from Colorado, on tap, and the Sam Smith Nut brown, bottled).
The Otheroom
143 Perry Street | 212.645.9758 | www.theotheroom.com
As sexy as its siblings are (The Room in SoHo and Anotheroom in Tribeca), this member of the family manages to exude down-to-earth simplicity and effortless allure, all at once. The interior, all exposed brick, reclaimed metal, and cushy leather, invites patrons to hushed conversations and relaxed drinking.  Its menu is limited to beers and wines, but that's just as well–those seeking trendy throngs, a wild night out, or a place to practice pickup lines need not apply.
Corner Bistro
331 West 4th Street | 212.242.9502 | www.cornerbistrony.com
Just as it's silly to write up a Going Out guide without mentioning this iconic spot, it's also silly to venture into this neighborhood without stopping by for at least a burger and a drink. Hang out at the bar and chat up the bartender if he's not too busy; be sure to check out one of their simply-made but somehow absolutely delicious bacon cheeseburgers while you're at it.
SOHO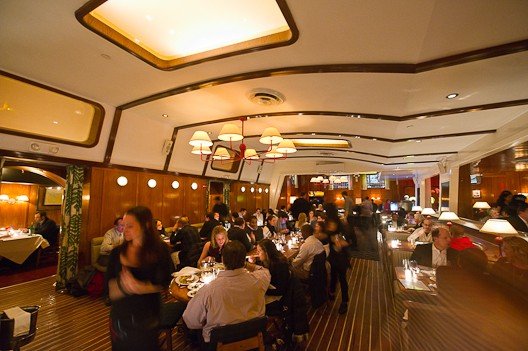 Lure Fishbar
142 Mercer Street | 212.431.7676 | www.lurefishbar.com
Sunk partially underground on the corner of Mercer and Prince streets, Lure will indeed lure you in: themed to look like the inside of a yacht (and to reflect its seafood-heavy menu), happy hours here often include free-flowing drink specials and a lively bar–be sure to order a round of oysters to shoot along with that booze. For the seafood-averse, ask the staff for their secret, off-the-menu item: The Burger Bash, a meaty mayhem of flavor that's partially induced by the bacon jam they slather inside it. Again, thank us later.
Boqueria
171 Spring Street | 212.343.4255 | www.boquerianyc.com
When hungry for small plates and wine or beer, do as the Spanish do. Steeped in its roots, this warmly lit restaurant and bar will do right by you, with its house-made sangria (heady, sweet, punchy) and a menu that ranges from deliciously creamy, spicy chunks of fried potato to slices of chorizo and meats so meltingly savory, you just may leave thinking you're on a street somewhere in Barcelona.
Burger & Barrel
25 West Houston | 212.334.7320 | www.burgerandbarrel.com
Newly opened this year by the same folks who own Merc Bar and Lure Fishbar (above), this burger, wine, and beer-centric bar and restaurant prides itself on its extensive drinks menu and funky, seasonal burgers. This writer is dying to try their seasonal white truffle with truffle aioli burger…and their lamb burger…and their prime rib dinner…
EAST VILLAGE & LOWER EAST SIDE
Welcome To The Johnsons
123 Rivington Street | 212.420.9911
When you've had your fill of Jadis (see below), re-calibrate yourself to your neighborhood surroundings at this spectacularly 1970s-era, ultra-tacky pub. An homage to basement hangouts of years gone by–hence the bar's name–this place will remind you of what the Lower East Side is (used to be?) all about: grunge, a massive dose of chill, $2 PBRs (you read that right), dirty lounge chairs, and a fun atmosphere without that self-conscious trendy hipness. Soak it all in, tilt back that cheap can of beer, and admit it: it's kinda fun.
The Back Room
102 Norfolk Street | 212.228.5098
Accessible via a small, inconspicuous gate that leads down some stairs, through a dimly lit tunnel, past a dingy alleyway, and a heavy metal door, this speakeasy presents itself as, well, a surprise. An interior lined with tapestries, old mirrors, and large paintings lead up some stairs to an open, working fireplace and large, plush chairs. While guzzling your draft beer out of a mug, your bottled brew out of a paper bag, or your cocktail out of a teacup (hello, speakeasy!), check out the bouncer standing by what looks like a wooden bookshelf: he's actually guarding a back room said to occasionally host bigshots like De Niro and Jay-Z.

Jadis
42 Rivington Street | 212.254.1675 | www.jadisnyc.com
Not all of the LES is made of dive bars and dingy dance halls: this little wine bar serves up an unpretentious dose of  French countryside, with lots of happy hour specials from 5-7 p.m.–$4 Stellas, $4 wines (reds, whites, rosé) and $5 proseccos, anyone? We love the $4 Sancerres here, which typically go for $12 per glass on average in other places. Treat yourself to a reasonably priced plate of cheeses or charcuterie, and pat yourself on the back for being an adult in a sea of downtown madness.
Liking this Go Out guide? Keep your eyes peeled for the next part of our City Guide series…coming to you next week!