Craft Beer: A Family Affair for Chicago's Two Brothers Brewery
12.14.2011
Brothers Jim and Jason Ebel helped pioneer craft beer in the Chicago area, and by expanding with two successful restaurants and a thriving craft beer distribution arm, they continue to further evolve the landscape.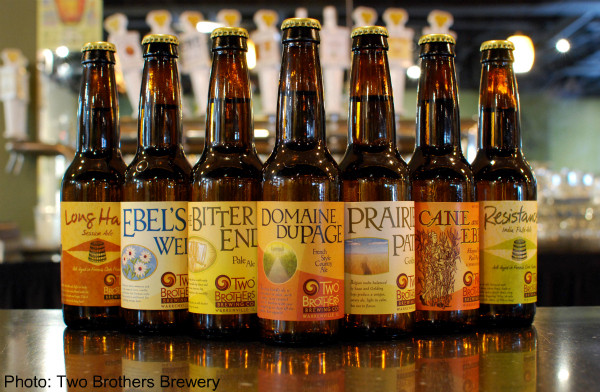 Going Dutch
For Jason Ebel, it all started in Brussels, at a hard-to-miss bar on the Grand Place called Manneken-Pis, found across the way from an iconic statue of the same name (it means "Little Man Pee" in a native Dutch dialect). It was the early 1990s, and Ebel was studying abroad in Paris to complete his bachelor's degree in architecture, just as his older brother, Jim, had done.
"When I was living in France, Bud and Miller weren't very prominent over there yet,"–Ebel pauses for my inevitable laughter–"so we were forced to drink local produced beers, and gosh, they were very flavorful. The first beer I ever had there—I distinctly remember because it was my 'a-ha!' moment—was a Belgian lambic."
With that raspberry Belgian lambic, suggested to him by two Parisian friends, the seed was planted ("raspberry in beer? I've never heard of such a thing"). Ebel, curiosity stirred, traveled to Belgium the next weekend and found himself confronted by a completely different world of beer. What happened next was mind-changing.
"I just thought, 'I've gotta try this out', and then I pulled this 'stupid American' kind of move. And I laugh at myself now, but yeah—I walk in [to Manneken-Pis], and in perfect American English, I say, 'I want your most authentic lambic'. So there I was, expecting this raspberry, kind of pink-colored, sweet-and-sour beer, right? Well, they give me this milky, straw-colored drink that looked nothing like the beer I had in Paris. They put a plate of sugar cubes next to it, and the bartender just stares me down."
After gulping down the pint (no sugar cubes) and wanting to throw up from its strength, Ebel left Manneken-Pis determined to learn all he could about beer and brewing: "I thought, 'If that, just now, is beer, and that raspberry stuff is beer, and what we have at home—the domestic light beers—are beer, then I want to find out more'".
Jim, similarly inspired by Europe's beers during his time studying abroad, had already started brewing on his own. After sharing some of his beers with Jason, the two began creating together in Jim's kitchen. Though they may not have realized it at the time, Two Brothers had already begun—in spirit, if not on paper.
Home(brew) is where the heart(land) is
In the early 1990s, Chicago (and for that matter, most of the country) didn't have much of a craft beer scene. Aside from domestic beers, most import beers were Mexican, with the occasional Heineken mixed in, or maybe a Sierra Nevada craft beer. In lovingly indulging their passion for homebrewing, the Ebels had begun to take small steps ahead of the curve, though starting their actual brewery was still years away. After graduating from University of Illinois in Urbana-Champaign in 1994 with a B.S. in architecture, Jason moved to Denver, Colorado to fulfill his dream of becoming an environmentally friendly architect.
"Unfortunately, in the early 1990s, that job didn't exist either. Or maybe it was fortunate! I couldn't find a job, but I knew the president of the homebrewer's association…and he knew someone who had just opened a brewery."
Jason spent his days as part of the brewing team at Tabernash Brewery, just outside of Denver in Longmont, Colorado. The work was physical, grueling, and obsessively sanitary. It was, after all, an integral part of the brewing process: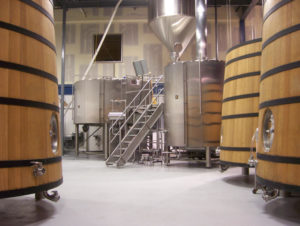 "Working at that brewery was eye-opening. I loved it from the minute I started. There is always a glorified version of what a brewer is, but the reality—and my guys hate it when I say this—the reality is that we're really just glorified janitors. Brewers clean all the time. Sanitation is important."
Indeed, that is a large part of the appeal of a good craft brew–its organically induced flavor. Because the majority of these beers are what's called "live", there will always be a point after which, if kept too long, the beer's flavor profile is changed by the microbes and oxygen inside the bottle or keg. Ebel explains that for some beers—higher in alcohol and full of hops, perhaps—shelf life is longer, while less alcoholic, more delicately composed brews tend to degrade in flavor relatively quickly (at Two Brothers, there are two full-time technicians who focus solely on monitoring and calibrating brew quality).
Meanwhile, back in Illinois, Jim was running his own homebrew store, called Brewer's Coop. After Jason returned to join his brother in minding the store, as it were, talks of starting their own brewery intensified.
"We'd get together for family dinners on Sunday, and that's all we'd talk about. Eventually, our mother said, 'You either need to do this, or shut up, because you're driving me crazy!'" And so, with that encouragement, the brothers drew up a business plan; initially, it was for a brewpub, but after realizing that such a venture would require even more money (and that they didn't know much about running a restaurant), Jim and Jason settled on the idea of a brewery. While convincing family to invest in their startup, the brothers also received a fortuitous donation of equipment: old milk and cream tanks from their grandfather, a recently retired dairy farmer.
In describing their beginnings in 1997, Jason points out that it wasn't at all easy: "It was a very exciting time, and looking back on it, I think we made a lot of the right decisions. But there were a lot of times when, if I weren't so damned stubborn, I would've quit. The beer world was really different back then, so it was a major uphill climb."
Brewing up an audience
As if the actual work of making beer weren't enough hard work, the Ebel brothers threw themselves into the exhausting entirety of running Two Brothers, too: Jim, having just begun law school ("He is a lawyer by degree," Jason proudly explains), would start the brew early in the morning, go to classes, then return to the brewery in the evening to attend to business. Jason, having designed the brewhouse, oversaw daily operations.
Finding a drinking audience was, at first, a monumental challenge for the startup brewery. In those small beginnings, the brothers did not have a bottling line (that would come a year later, in 1998), which meant initially selling their beers in kegs.
"We contacted every distributor in the area, and nobody would pick us up…so we had to do everything: go out, meet the accounts, sample the beers out, try to get folks to buy beer, and then deliver it ourselves, in our cars." Jason had a two-door Honda Prelude, and he recalls strapping a keg into the passenger seat while his wife hunched in the back to help him deliver their goods.
Securing a bottling line did not necessarily make things easier: still lacking a distributor, the brothers spent every weekend in local liquor stores, "trying to get our beers into people's mouths", as Jason put it. Eventually, Two Brothers' quality craft beers—they started out with Hefeweisens—generated a following, and John's Buffet, in Winfield, Illinois, was the first to ever carry Two Brothers' brews (as another indication of the brothers' enterprising natures: having experienced the difficulty of finding a craft beer distributor, the Ebels now also run their own distribution company, one that is dedicated to carrying craft beers only to the Chicago area). With their passion and drive, the brothers helped spark the craft beer movement in Chicago—and then evolved it.
"The beers and the distribution have made a major impact on the Chicago beer scene. It used to be 'Well give the beer to me for free and I'll put it on'. Now it's all about flavor, and price is very secondary. So it's been a big change."
Two Brothers, one family

In all of its 15-year existence, Two Brothers has been completely family-owned, and the Ebels intend on keeping it that way.
"I've got kids, my brother's got kids, and we look forward to the day that they'll be able to take it over. That excites us a lot. My son is the oldest of all the kids, and he cannot wait, because next year he gets to start cleaning kegs here. He's got to start at the bottom!" Jason exclaims. "I started off scrubbing kegs for someone else, and he's got to do them for me now, so that when he takes over, he'll know, inside and out, how to run the place."
The brewing business has been going so well for Two Brothers that they've revisited that initial business plan of theirs: after having opened Taphouse, a wildly successful brewpub connected to their main brewhouse, they've recently acquired Roundhouse, a gastropub that focuses on beer-and-food pairings and, like Taphouse, has a locally-sourced, seasonal menu. At Roundhouse, live music and football (Bears football, naturally) come standard, while at Taphouse, weekend waits often extend to an hour. Indeed, on popular foodie rating website Yelp.com, both Taphouse and Roundhouse have earned four stars out of five—quite a feat in the world of picky Yelpers.
For the Ebels, the creative passion of brewing up new kinds of beer still burns brightly. "We do one-off beers, artisan releases, and that's when it's exciting—we love creating beers! Trying new stuff, seeing what else we can do out there, it's the fun part for us." As Two Brothers rolls into its 20th year, it appears that their main ingredients for success—passionate creativity, a drive to evolve, the focus on quality, and familial teamwork—can only continue to further their growth.
Visit Two Brothers Brewery at www.twobrosbeer.com to find directions to their brewery, the Taphouse, and Roundhouse.
Want to find Two Brothers Beer in your city? Visit BeerMenus.com's Beer Finder. This writer plans on having more of Two Brothers' Imperial Stout at Rattle & Hum in New York. See you there!