Drink Beer, Do Good: Brooklyn Brewery Hosts Fundraiser This Saturday, April 28
04.26.2012
On Saturday, April 28, Brooklyn Brewery will play host for the fourth year in a row for the International Rescue Committee in an event called "Sowing Hope, Growing Communities". Dedicated to assisting newly arrived refugees seeking asylum, this particular IRC benefit seeks to raise funds specifically for the New York Community Garden and Urban Farming Project. The IRC, whose Overseer is former Intel CEO Andy Grove (himself a Hungarian refugee rescued in 1956 by the IRC), has cultivated this program, known as New Roots, for the past decade as a part of their broader mission of helping refugees through all facets of life, from education, to healthcare, to economic assistance.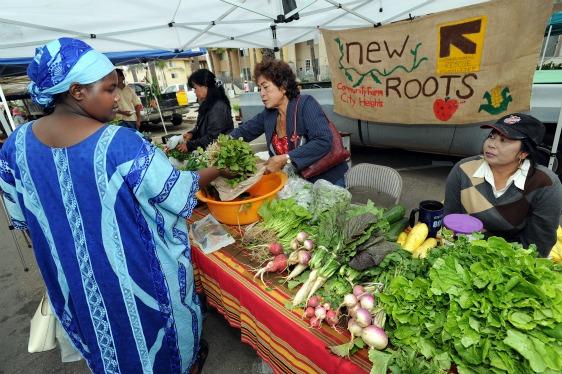 Photo credit: Peter Biro / IRC
New Roots, which helps refugees re-settle into an otherwise unfamiliar environment, aims to provide newcomers with an opportunity to support themselves through local and community gardening and farming by providing food for their families and by earning an income through selling their fresh goods at local farmer's markets. The program has grown exponentially throughout the country, with New Roots community farms cropping up in San Diego, Boise, Idaho, and, perhaps a touch unexpectedly, in Salt Lake City, Utah. In New York's New Roots community, Drew Gardens in the Bronx has flourished, celebrating its fruit and vegetable crops with a harvest festival every September.
This Saturday's Brooklyn Brewery event will further the growth of this initiative, with full proceeds from each $45 ticket going toward New York's New Roots efforts. The IRC has rounded up some locally acclaimed Williamsburg restaurants to donate food to this event, and the Brewery itself will have several of its beers on tap, ranging from its Lager, Pilsner, Pale Ale, and Pennant Ale, some of its special Brewmaster Reserve brews, its special Sorachi Ace, and even a special beer brewed by someone other than Brewmaster Garrett Oliver.
Tickets are still available for this Saturday's event and can be purchased for $45 per person online at IRC's event website. Door tickets are also available for $50 per person.