Fancy Rooftop Bars?
05.09.2016
By Rupveen Arora (Mademoiselle Wanderlust), Head of Lifestyle
Ask Mademoiselle. Follow on Instagram
---
The last week in NYC was nothing short of depressing. The rain. The clouds. The cold, oh my! I was literally shouting from the rooftops for some sun to allow the for the breathtaking views to be coupled with some fine adult beverages, rooftop style!
Now that the clouds have broken (at least for now), I will be sure to be visiting some of my old spots on the NYC scene, stat.
So, whether you're a Wall Street trader wanting to drown your sorrows or an M&A banker closing a deal or Fintech whizz kid creating her own new concoction, these venues are sure not to disappoint.
1 – Press Lounge at Ink 48
Hell's Kitchen
This lovely rooftop bar is situated in my old stomping grounds. Not only do you have 360 degrees of breathtaking views of Manhattan, up to the GW and down to Statue of Liberty, the sunsets are not to be missed and the best part is that this place's encased glass area means it can be enjoyed year-round.
2 – The James Hotel
SoHo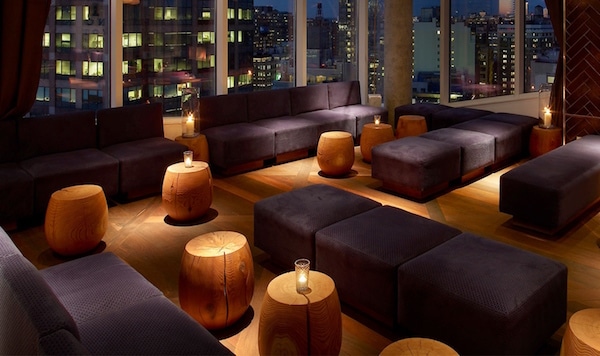 Downtown. Beautiful views. Beautiful people. Beautiful drinks. Go.
3 – The Kimberly
Midtown East
The retractable roof offers a little protection from the absurd heat of NYC summer days.  That said, this is a very quaint yet rustic spot for a great brunch accompanied with none other than Veuve.
4 – The Ides at The Whythe Hotel
Williamsburg
The vibe in Williamsburg is what you'd expect from a hopping Brooklyn neighborhood. The view is one you can only see from across the way of that Spectacular Manhattan skyline. I recommend this spot.
5 – Gallow Green
Chelsea
Still one of my favorite rooftop bar's atop the McKittrick Hotel (if not my absolute favorite), this magical garden amidst 'train tracks' welcomes you to pure enchantment and big ladle ALCOHOLIC punches served in copper bowls surely pack a punch. Have a couple of drinks and make a night of it with 'Sleep No More' (if you haven't yet caught this British production). Oh, and ROOFTOP BRUNCH.
Pick a Saturday (soon!) and dive right into a drink-filled, sun-filled, alcohol-filled rooftop hopping Summer Funday! I'll join.
Happy Roof-topping.
Featured image by Vladimir Kudinov/Pexels