Exchanges Enter New Era
06.14.2012
A smorgasbord of connectivity and data products are turning the traditional exchange model on its head.
The role of financial exchanges are being redefined as they expand beyond their historical roots as physical trading venues become full-service providers of information services and technology.
"Exchanges looking for other ways to make money from their customers are offering other products and services," said Kevin Carrai, head of connectivity services at stock exchange operator Direct Edge. "They're doing anything to help customers trade more efficiently and create a stickiness that doesn't exist when you're talking about just straight transactions. Order flow is very portable."
Like many financial institutions, exchanges are under pressure to find new ways to add value to their services and provide support for ever more demanding market participants.
"Clients now look to exchanges to be their advisor and their solution provider as well," said Carrai.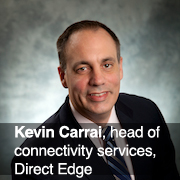 The new model extends the traditional exchanges business model, which revolved around buyers and sellers of securities, into one where the exchange retains a pivotal role as a central market for securities transactions but also sells its own products and services.
As an example of the changing revenue dynamic at exchanges, take NYSE Euronext, the world's largest exchange by market capitalization. NYSE Euronext's revenues from information services and technology were $490 million in 2011 (10.7% of total revenues), up from $363 million in 2009 (7.7% of total revenues); with company executives now aiming for $1 billion of annual technology revenue alone.
Vendor Relationships
Exchanges are now working closely with technology providers to jointly develop new technology and systems.
"Exchanges that have invested heavily in technology—i.e. trading engines—have turned themselves into technology providers for less developed markets," said Alfredo Guillen, chief operating officer for equity markets at BMV Group, the Mexican exchange operator.
BMV Group operates cash, listed derivatives and OTC markets for multiple asset classes, including equities, fixed income and exchange traded funds, as well as custody, clearing and settlement facilities and data products for the local and international financial community.
BMV, or Bolsa Mexicana de Valores, Mexico's only stock exchange and the second largest bourse in Latin America, is rolling out a new front-end for the BMV equity marketplace powered by front-end trading technology provider RTS Realtime Systems Group.
The launch enables members of both BMV and MexDer, the Mexican Derivatives Exchange, an options exchange housed in the same building as the Mexican Stock Exchange, to access the equity and derivatives markets and their market data on one exchange-provided trading screen.
It also provides the ability to utilize RTS risk management technology to control access to all available asset classes.
"This is a great example of successful collaboration between a technology vendor and exchange staff to introduce the seamless integration of multiple trading platforms on to one screen," said Jorge Alegria, head of market operations at BMV Group.
RTS has provided next generation trading technology for more than three years to MexDer, the Mexican Derivatives Exchange owned by the BMV Group.
The RTD Tango Trader system will enable members of BMV and MexDer to trade spreads not only between those two markets but also the markets of CME Group, as part of the south to north order routing agreement established between BMV Group and CME Group, the U.S.'s biggest futures exchange operator.
New Revenue Streams
Exchanges are now repackaging the information they produce into value-added products of structured data, including pricing and tick data, trade analytics, reference data and other commercially-sourced information.
TMX Group, Canada's biggest exchange operator, for example, provides equity and derivative data feeds, historical reference and corporate actions data products, which are delivered according to pre-defined data/functional specifications.
In March, TMX Datalinx went live with an enhanced historical market data website to provide faster access to and delivery of online market data products and custom data queries, and an increase in historical quotes to 12 months from three months.
Exchanges in the Asia-Pacific region are also expanding their offerings of data feeds as they look to convert assets into revenue-generating products.
Hong Kong Exchanges and Clearing (HKEx) this year launched Orion Market Data Platform to deliver market data for all securities and derivatives traded by HKEx in a common message format.
Orion Market Data Platform will provide a suite of market data product feeds with content, market depth and bandwidth requirements tailored to suit the needs of different types of customers.
The platform, which will be capable of distributing more than 100,000 messages per second at microsecond latency, will be rolled out for HKEx's securities markets towards the end of the second quarter of 2013, with a remote distribution hub in mainland China and integration with HKEx's derivatives markets to follow.
HKEx has selected NYSE Technologies' Exchange Data Publisher (XDP) to drive the HKEx Orion Market Data Platform.
XDP, an ultra-low latency platform to collect, integrate and disseminate real-time market data, gives exchanges the opportunity to better control the packaging of their data and to offer this to participants directly as an alternative to, or in parallel with, traditional market data vendors.
"XDP provides very fine-grain control of how the data is packaged and transmitted to market participants so that the maximum use can be made of the bandwidth available," Nick Thornton, global head of market solutions at NYSE Technologies, told Markets Media in March.
As exchanges seek to market their data to a global client base, this bandwidth efficiency becomes ever more important.
"The fewer steps needed between the exchange, as the source of market data, and the broker or trader, as the user of market data, the faster and more efficient price discovery and order submission can become," said Thornton. "Today's high frequency and algorithmic trading systems depend on low latency market data to keep their pricing models and order books accurate and to comply with their regulatory and compliance obligations."