A Grand Slam Brewery
09.25.2013
Being one of only a few breweries in the United States to use whole flower hops, Victory Brewing Company already sets itself apart from the rest. The use of whole flower hops rather than (the latter) pelletized hops conveys better flavor and aroma to the craft beers. The brewmasters behind Victory Brewing Company–Ron Barchet and Bill Covaleski– both trained in Germany, have a keen sense for artistically crafted beers.
In 1996, Victory Brewing Company opened their home base in Downingtown, Pennsylvania, on what was once a Pepperidge Farm factory. The brewery held a 144-seat restaurant, and a 70 foot long bar. The local popularity forced them to expand their restaurant to now hold 300 seats. The success of the company skyrocketed from producing 1,725 barrels of beer in their first year, to producing 93,196 barrels in 2012. "As students of brewing in German," explains Covaleski, "Ron and I were exposed to a world of traditional flavor and methods. We opened Victory to allow our American creativity and exuberance to expand upon what we had learned. Fortunately, an appreciative audience found us along the way and their desire for innovative and exciting flavors allows us to follow through on our dream." With the beer in such high demand, Victory Brewing Company made the important decision to expand their company to include another brewery just 17 miles away in Parkesburg, Chester County.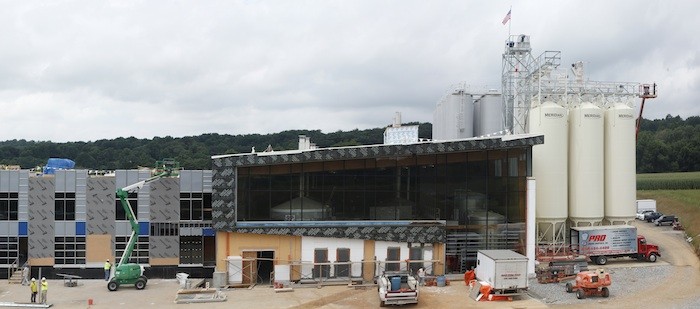 The need for expansion was evident, as the home factory was only able to brew 105,000 barrels. The Parkesburg location was chosen because of its similarities to the Downingtown brewery. The home brewery is located 14 miles from the headwaters of the east branch of the Brandywine Creek, where the mineral composition is exactly identical to the new brewery, which is just 17 miles from the headwaters of the west branch. The close proximity to the creek is important because of its high quality water, which is blended in with the German malted barley, European and American whole flower hops, and 45 yeast strains to foster the brews unique taste.
The introduction of a new brewery will increase employment opportunities within the company, as well as drive production for new flavors, providing its loyal customers with more locally loved beers. Covaleski shared that "once construction is complete at our new, state-of-the-art brewery in Parkesburg and we transition our primary brewing and bottling operation there later this fall, we will have plenty of headspace to continue the delicious experiments and seasonal offerings that our longtime fans have enthusiastically supported, out of both brewery locations."
"providing its loyal customers with more locally loved beers"
Although it was necessary for the company to expand, this was not an easy decision to make. The expansion cost the company $30 million, and a five-year set back in profits. While the company wishes to keep to their "locally brewed, locally loved" motto, the need to grow their audience is essential to their success. Craft beer accounts for just 5% of the U.S. beer market place, so Victory Brewing Company must rise to the challenge. The new brewery will be able to brew more than twice the number of barrels than the current brewery allows. Victory Brewing Company is confident that the increase in productivity will help drive their sales to reach more craft beer lovers. They already ship their beers to 30 states, Japan, and Singapore. "More than doubling our existing production capabilities" said Covaleski, " we expect to be able to continue to expand our national distribution footprint, as well as extend our brewpub experience with new locations in Chester County and elsewhere."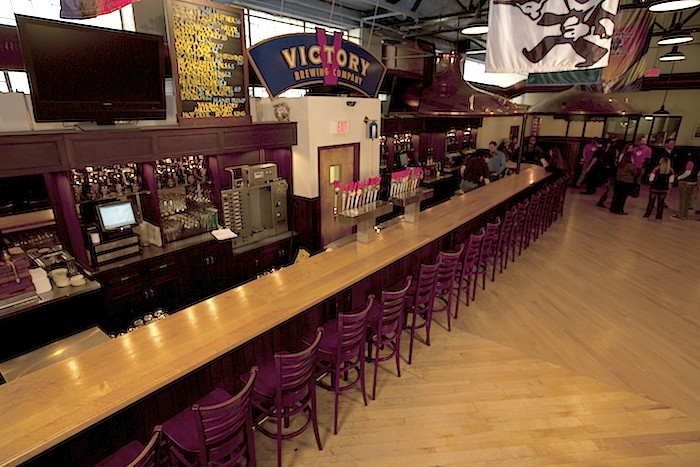 Victory Brewing Company prides itself on setting their brews apart from the rest. With so many unique flavors, the brewery proves that mixing traditional brewing styles with innovative approaches produces great tasting beers. "Over our 17+ years in this business," Covaleski explains, "we have always emphasized innovation (ie: HopDevil, originally an English style which we chose to brew with whole flower American hops and German malt). We are an experimental bunch and enjoy delivering new and nuanced flavors to our fans, especially at our brewpub in Downingtown, where we feature more than 24 different drafts."
"locally brewed, locally loved"
Among the most popular beers are the HopDevil Ale, Headwaters Pale Ale, Golden Monkey and Prima Pils. According to Covaleski, those 'flagship' beers are the foundation upon which they built their brand, and they continue to be their most popular flavors. In addition to their regular flavors, Victory offers their customers a refreshing change with the introduction of seasonal beers. The success of their seasonal brands—such as the Summer Love Ale and Festbier—suggests that their fans also look forward to experiencing new flavors throughout the year, Covaleski explains. They just announced the release of their new seasonal beers for Winter and Fall. A description of three of Victory Brewing Company's new seasonal flavors are given below:
The DirtWolf Double IPA contains two-row German malts, whole flower Citra, Chinook, Simcoe, and Mosaic hops. With an 8.7% abv, this brew contains a refreshing combination of citrus aroma and fruity flavors, with earthy characteristics.
The Winter Cheers is a wheat ale that is light in body, and combines German wheat, barley malts, oats, wheat, whole flower Tettnang and Citra hops. With a fruity flavor, and soothing texture, spicy hints of banana, clove, and citrus, this brew provides a warm holiday feeling, at 6.7% abv.
Victory's Old Horizontal will be released again this year. This brew is at 11% abv, and contains floral, fruity aromas, and flavors of candied and citrus fruit. A crowd favorite, Victory's Old Horizontal will be released this time in 22 oz.