Growler Greatness: Get Yours in NYC, Boston, Chicago
04.30.2012
For an avid beer drinker, there's nothing better than a fresh brew from the tap, taken home via growler—ah, the flavor. As a note to the uninitiated: growlers are those massive, half-gallon bottles that hold your fresh, fizzy beer, and they've been around for about 200 years, ever since someone had the brilliant idea of going to the corner pub for a take-home filler-upper.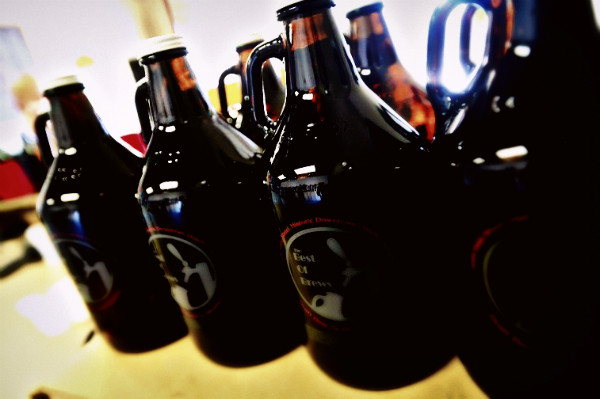 Jam jar: fresh draft beer is just one take-home, super-sized bottle away.
These days, the growler bottle itself–reusable, of course–will set you back anywhere from $4-$6 (each gallon bottle holds 5 to 6 American pint glasses' worth of beer). The actual cost to fill 'er up depends on, well, what kind of beer it is–we've refilled ours in New York for $13, getting a delicious craft stout for what amounts to about $2.50 per tasty glass, cost of growler excluded. The beer itself has a shelf life of about 1-2 days, but with a growler, you're likely to share it with some friends, anyway. Pick up a few, and you've got yourself a far improved poker night/barbecue/playoff screening.
Whether you're in Boston, Chicago, or New York, here's where to get–and refill–your growlers.
BOSTON
1. Harpoon Brewery. Aside from touring the brewery and snagging lots of free samples, Harpoon will also let you take home their beers (check out their kicky IPA) in a growler…just in time for dinner. 306 Northern Avenue | 617-574-9551
2. Boston Beer Works. They've got good bar food here, and some of their homebrews sound downright delicious: fill up on their Blueberry Beer or their Barley Wine. 61 Brookline Avenue | 617-536-2337
3. John Harvard's Brew House. This is–of course–in Harvard Square. With a massive beer selection, any of which you can lug out the door with you, this pub's sometimes raucous crowd instantly becomes worth the trip. 33 Dunster Street, Cambridge | 617-868-3585
4. Dara's Wine & Spirits. With a vast menu of microbrews and extra-large growlers, Dara's–and the friendly staff–could be your next regular. While you're there, pick up a nice whiskey to go along with the beer. 750 Huntington Avenue | 617-566-4850
CHICAGO
1. Revolution Brewing Company. These folks have a house full of their own brews, and you can fill up on 22 of their beers. Note: Revolution's founder started up this place by making cask-aged beers…so expect lots of character and flavor. 2323 N. Milwaukee Avenue | 773-227-2739
2. Haymarket Pub & Brewery. As testament to Chicago's strong craft beer culture, Haymarket stands as another spot that serves up its own creations, along with a nice food menu. 70–yes, seventy–beers are on tap, so good luck choosing which to take home. 737 West Randolph Street | 312-638-0700
3. Goose Island Brewpub, Wrigleyville. One of the area's more well-known breweries, this location serves up 11 varieties on draft. We recommend their Nut Brown Ale and their Imperial Brown Goose. 3535 North Clark Street | 773-832-9040
4. Rock Bottom Brewpub. This pub serves up 11 of their house brews on draft, along with hearty, beer-friendly dishes.  1 West Grand Avenue | 312-775-9339
NEW YORK
1. Whole Foods Market, Tribeca and Lower East Side. For those who haven't noticed, we'll play Captain Obvious: this food mecca is also a beer mecca. Up to 6 selections of beer are in their Beer Room, and you can safely nestle your growler in the shopping cart along with your fresh, grass-fed t-bone. 95 East Houston Street and 270 Greenwich Street.
2. Chelsea Brewing Company. After an hour at the driving range, take a brewery tour here and then fill up on a couple of their beers to continue at home. Chelsea Piers, Pier 59 | 212-336-6440
3. Good Beer. Aside from tasting flights, rows of fridges full of bottled craft beers, and adecent little food menu (charcuterie, sausages, cheese), you can also take home any of their 9 or 10 drafts, which change up according to season and availability. 422 East 9th Street |212-677-4836
4. City Swiggers. Newly opened in the Upper East Side, this tasting room/craft brew store also offers up a wide range of 14 beers on tap, some local (Brooklyn Brewery), and some from N'Awlins (Abita). 320 East 86th Street | 212-570-2000
5. Rattle N' Hum. Aside from being a killer bar with tons of craft beers on tap and a delicious menu full of bar food and more gastropub-like delicacies, this place also plays host to Craft Beer Week and puts on specials for Oktoberfest. Of course, you don't have to stay. Fill up on any of their draft beers to take home. 14 East 33rd Street | 212-481-1586