HBO Bryant Park Summer Film Festival
06.22.2015
By Stephanie Oh, Markets Media Life Correspondent 
If Hollywood blockbusters aren't your bag, you may want to find a picnic blanket and head over to Bryant Park every Monday starting this week. Presented by Bank of America, the HBO Bryant Park Summer Film Festival caters to the cinephiles all over New York City. Get ready to enjoy open-air screenings under breezy summer nights throughout Jun 22 – Aug 24.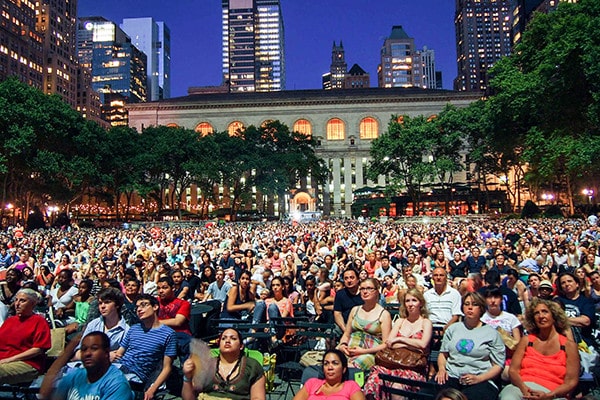 Now entering its 25th year, the festival takes place on the public midtown landmark where people meander across the park, still in their work clothes and toting take-out food they are going to enjoy during the movie. The HBO Bryant Park Summer Film Festival will kick off with the 1980s classic Ghostbusters, in which Bill Murray, Harold Ramis, and Dan Aykroyd turn their paranormal gears up to exterminate the marshmallow man invading the Big Apple. It will also feature films like The Killers (1946), a typical neo-noir film Chinatown (1974), and the return of our old mate Doc Brown through the screening of Back To The Future (1985).
The Lawn area opens at 5 pm – get there early to claim a premium spot! You are more than welcome to bring good cozy take-out food but please be a good citizen and clean up your space before leaving. The fest will last until the Labor Day, so there is plenty of time to bring your old friends, make some new ones, and enjoy some great classic films under the silky noctilucent clouds.
Jun 22 – Aug 24
For the extended list of schedules and film screenings, click here.
Free Admission.
Featured images via BryantPark/UniversalPictures