How To: Super Bowl Beer Cocktails
02.03.2012
Beer: you can't have a Super Bowl without it, so make the most of the occasion and raise your game with some easy add-ons to your pint glass. A shot of whiskey here, a dash of Tabasco there, a simple stir, and you're on your way to raising a glass worthy of your team's massive win. Whichever team it may be…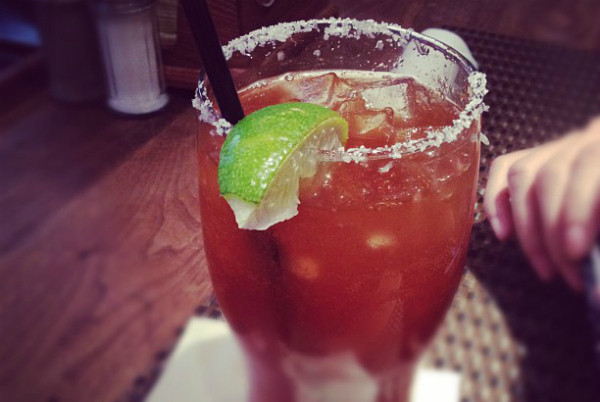 This michelada brought to you by Tighe, bartender at Harry's Cafe & Steak on Stone Street, NYC

Shandy. Nearly as easy to make as it is to crack open a can of beer. Pour equal parts lemonade and beer into a pint glass–preferably an uncomplicated lager or ale. We like Stella Artois, Boddingtons, Sam Adams Boston Lager, or Long Island's Blue Point Toasted Lager, but a Budweiser or Coors works too. Add ice if you so desire. Variations include ginger ale, ginger beer, or sparkling lemonade, but either way, you end up with a simple, fresh cocktail.
Groundskeeper. It's like a boilermaker having a beautiful baby. Instead of having your shot and then a beer, put the two together in a glass. Bonus points for using Bud and tossing in a strong, smoky, peaty scotch, like Laphroaig, or a Caol Ila. Amount of whisky to be determined by your preference (or how well your team's doing at halftime). Add ice if preferred.
Black Velvet. Stout and champagne–a nice way to celebrate a Super Bowl (possible) win. Pour bubbly halfway up a glass (your call on the type of glass), and then pour stout over a spoon to layer the drink, much like you would a Black & Tan. We like: Guinness (of course) and Goose Island Oatmeal Stout.
Snakebite. It's winter, and it's the biggest game of the year. What does that add up to in beverage form? This cocktail, made of equal parts apple cider and your favorite beer. Some recommend a stout, but we also like Smithwick's with this or a crisp Killian's Irish Red.
Michelada. Think bloody mary, but with beer and a spicy kick in the head instead. Pair this with a pale lager, like a Corona or a Landshark. To make the base, combine tomato juice, a lime wedge, a dash of Worcestershire sauce, hot sauce (add to taste), and a dash of Maggi seasoning, if you can find it in an exotic food aisle near you (you're fine without it). Salt the glass rim, pour in the tomato mix 2/3 of the way up, fill with beer, top with ice. Not a fan of tomato juice? Make a chelada, a variation on the above recipe that excludes the tomato juice but still has the refreshingly spicy kick.
Caribbean Night. Feel like indulging your sweet tooth without looking…well…less than Super Bowl-like? Pour a nice, creamy stout, such as a Young's Double Chocolate Stout, a Sam Adams Black & Brew, or Brooklyn Brewery's Black Chocolate Stout, and toss in an ounce of coffee liqueur (Kahlua, or your own homemade version consisting of brewed coffee or espresso, vodka, vanilla extract, and simple syrup, made to taste). Feeling adventurous? In lieu of coffee liqueur, throw in an ounce of Patron XO Cafe Tequila.