Japanese Whisky Showcase Comes to NYC on March 14
03.09.2012
Next Wednesday, March 14, a slew of rare and unique Japanese whiskies comes to Chelsea's HP Black Gallery, some blended, some single malt, along with a jazz crooner and some of the city's top photography on display.
That's right–the Japanese variety is spelled "whisky". More closely related to Scotch whisky rather than Irish whiskey, Japan's creations are made the Scottish way, with malted barley and double-distilled (Ireland likes to use a mix or raw and malted barley, and their whiskies are triple distilled, making for a lighter style overall). A broad range of styles are made in Japan, from the peat-smoked Islay-types to the Speyside region's light, floral varieties.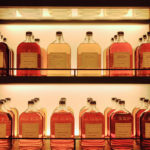 Primarily consumed in Japan for many years–the Japanese began producing their first whiskys in 1870, at around the time it began opening its doors to the western world, but did not produce commercially until the 1920s–the country's native whiskys are increasingly making their mark on the global stage, with flavor profiles that are often compared to their Scottish counterparts (though interestingly, The Macallan's biggest market is in Asia, especially Japan, mostly because brands from whisky's spiritual home are considered to be a status symbol in the Asian market).
In next Wednesday's event, HP Black Gallery, a chic, dimly-lit Chelsea space featuring works from New York's top photographers, will also host jazz singer Ella Kromah, who will be crooning in the background as guests taste their way through the best and most rare whiskys produced in the land of the rising sun. As a complementary accompaniment to the evening's smoky, spicy, fruity, and floral whisky offerings, the event will also provide a tasting selection of rare European hams, amongst other hors d'ouevres.
Interestingly, Japanese whisky production has taken on its own characteristics over the decades. Distilleries often also produce single-distillery blended whiskys–hence making for a more concentrated (others might say limited) flavor profile, and it is not uncommon for a distillery to produce a varied cornucopia of styles, whether it be smoky, sherried, or light and floral. As this small island nation continues to develop its own culture of whisky, one can expect to see more of it, as its unique nature becomes increasingly embraced, rather than treated as of lesser quality.
Within the past century, the Suntory and Nikka brands have emerged as the giants in Japanese whisky, and their rare bottlings can be expected to make a showing in this event. Tickets are $75 per person, with the event running from 8 p.m. to 10:30 p.m. this coming Wednesday, March 15.
To purchase tickets online, visit Table Hopping NY.