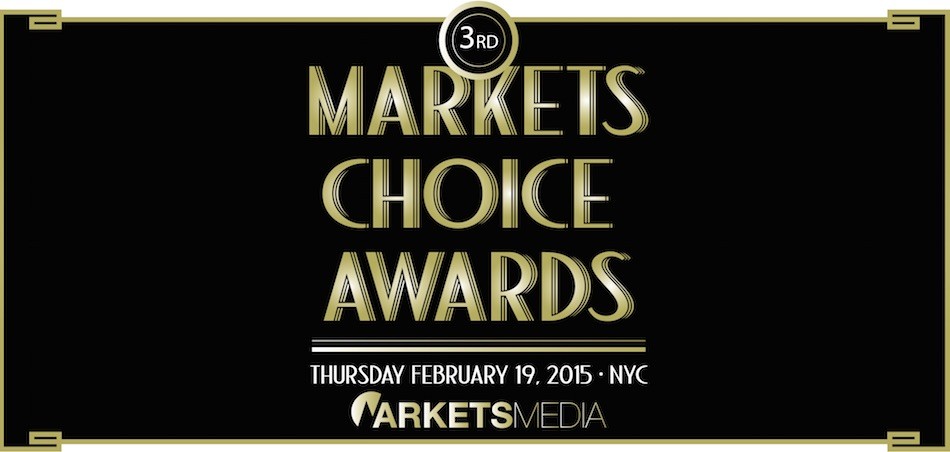 The 2015 Markets Choice Awards are coming soon!
We are working diligently to determine which companies and individuals deserve recognition. We've wrapped up the self-nomination stage, and we're now conducting one-on-one interviews with senior executives across the buy side and sell side, exchanges and technology providers to glean deeper insights. We will then craft shortlists of nominees and open up MarketsMedia.com to voting in early January.
For our working list of categories, see below.
The awards event will be held in New York on Thursday, February 19.
Watch this space for further developments…
Categories
Lifetime Achievement
Most Influential Person
Best Company
Best Public Pension Plan
Best Asset Manager
Best Buy-Side Trading Desk
Best Bank
Best Hedge Fund
Most Innovative New Product
Best Co-Location Facilities Provider
Best Dark Pool
Best Buy-Side Dark Pool
Best Futures Exchange
Best Multi-Asset EMS
Best Buy-Side EMS
Best Fixed-Income Trading Platform
Best Algorithm Provider
Best Exchange Technology
Best Data Provider
Best Options Exchange
Best Commodities Trading Platform
Best Swap Execution Facility
Best Inter-Dealer Broker
Best Cloud Service Provider
Best TCA Provider
Best Back-Office Service Provider
Best Fund Administrator
Best ETF Trading Desk
Best Risk Management Provider
Best Cybersecurity Provider