Markets Media to Host 6th Annual Global Markets Summit
11.05.2013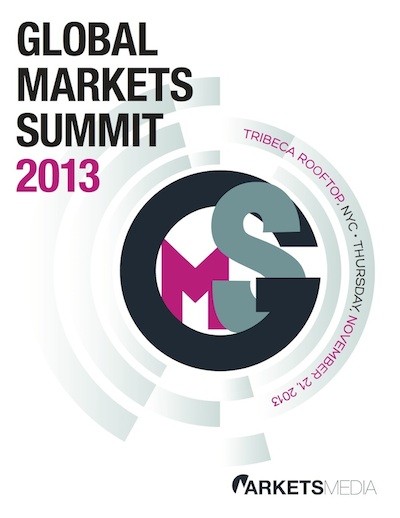 Markets Media is pleased to present its 6th annual Global Markets Summit, bringing together leaders across institutional markets to debate the issues most pertinent to trading and investing in stocks, bonds, and derivatives. This year's GMS will take place Thursday, November 21, at the TriBeCa Rooftop in NYC.
Conference participants will include buy-side institutions AllianceBernstein, Schroders, and Eaton Vance; sell-side banks Credit Suisse, Deutsche Bank and CIBC World Markets; exchange-operator Direct Edge; and trading-technology provider Portware. Anthony Scaramucci of SkyBridge Capital will give a special presentation.
The morning's Main Debate will break down across Institutional Investing, Fixed-Income Trading, and Equity Trading. A signature GMS session, the Main Debate is known for its unique and highly interactive format.
An afternoon highlight will be The Meetings, a series of intimate and highly informed yet informal roundtable sessions, organized across sectors and asset classes with some of the most influential leaders within their respective fields of expertise. This year's Meetings will include Investors, Fixed Income, Equities, Foreign Exchange, Alternatives, Technology, Banks, Exchanges, Around the World, and Wealth Management.
Participants can expect a jam-packed day of top-notch content and unparalleled networking, while enjoying panoramic views of the Hudson River and downtown Manhattan at a chic and non-standard venue event.
Registration:
Lindsey Diana
(646) 442-4655
ldiana@marketsmedia.com
Sponsorship:
David Griffiths
(646) 442-4643
dgriffiths@marketsmedia.com
About Markets Media
Markets Media covers the market ecosystem and its institutional participants: exchanges, broker-dealers, institutions, hedge funds, proprietary traders, technology providers, and regulators. Content is delivered across a synergistic platform of digital, print, and events.
Follow @marketsmedia on twitter and follow the latest updates on GMS via #GMS2013