A New Kind of Online Dating: Brains Required
06.24.2014
Founded in England in 1946 by Roland Berrill (barrister) and Dr. Lance Ware (scientist and lawyer), Mensa is the society for bright people. The sole qualification for membership is a high intelligence quotient. Anyone is welcome into this elite society, that is as long as you're an anyone with an IQ is in the top 2% of the population. So about 1 of 50 Americans are eligible.
Mensa means table in Latin. To translate, it indicates a roundtable society, where race, color, creed, national origin, politics, age, social or educational background are irrelevant. Mensans can range from age 2 to 100+, however most are between 20 and 60. Occupation wise, they can range from truck drivers to scientists to laborers, some of which may have obtained multiple doctorates. Some are millionaires, some on welfare and some high-school dropouts. Typically, one wouldn't join Mensa to convey their smarts, rather the appeal is to set yourself apart from most; as one member stated, apart from the 'mundane'.
Match.com, founded in 1995, forever changed the way many couples meet and potentially fall in love. Dating has never been the same. Now serving over 24 countries and hosting sites in over 15 languages, the way in which you seek your significant other is more technological than simple visual attraction, or lack thereof, at your local watering hole. Based on algorithms and profile matching, one can easily find multiple daily matches as they log into their account. In an era when people simply don't have the time to meet, court and 'see where it goes', Match.com alleviates the idea that 24 hours a day is clearly not enough and allows for a method in which you can easily swipe on your 'Favorites', say yes or no thanks, E-mail, call, text, or set the time and date for your rendezvous without ever changing out of your pajamas, and from which technical gadget you so choose. This too, without ever having to insult any potential suitor face to face with the rejection that may make the entire interaction, just awkward. You can reject them without ever having to deal with the consequence of doing so.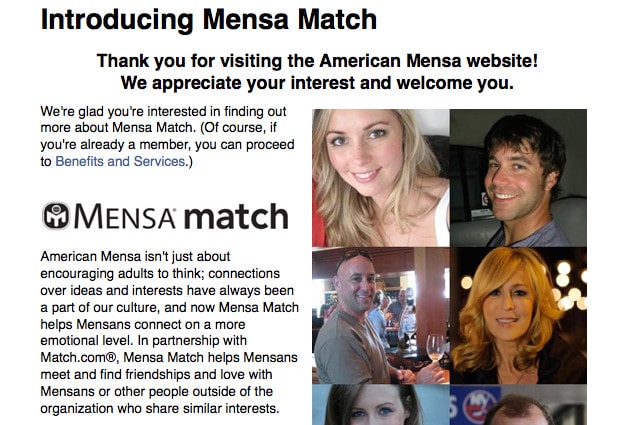 Put two and two together, and if folks are too busy and too smart to find one another, what do they do? They turn to MensaMatch.com, a new joint venture between American Mensa and Match.com. This week, members of the elite brainiac's club can enter the realm of online dating and stay within their elite 2% club. Members on Match.com who want to connect with another genius such as themselves can indicate so by adding a special Mensa badge to their online profiles.
80% of singles find it very important to be with someone of the same intelligence level, according to Match's data.
Mensa and Match.com included a heat map of the U.S., listing where the smartest singles live, based on the highest percentage of Ivy League graduates on the dating site. The top 10 cities are dominated by college towns such as Durham, North Carolina; Ithaca, New York; Ann Arbor, Michigan; Boulder, Colorado; and Charlottesville, Virginia.' "Our members expressed a very strong interest in having a relationship site specifically for Mensa. The reaction from our members to teaming with the leader in dating services has been overwhelmingly positive. We are excited about it," said Pam Donahoo, Executive Director of American Mensa.
The bottom line, according to most members who are eagerly anticipating meeting their potential partner on this newly formed platform is that they find an even playing field in terms of likes, wants and similar interests. One doesn't have to state what they are looking for. There is simply an automatic filter. That filter for these new members, is the commonality of a particularly high IQ level and beyond that, factors they need to determine is what they are in fact, looking for.
If you do not currently have a Mensa score or would like one, you can take advantage of the newly found partnership/launch from June 23 – July 6, and take the Mensa practice test for $1.
Are you optimistic about founding a 'Smart' love on MensaMatch?
http://match.com/cpx/en-us/partner/mensa/channel
---
By Mademoiselle Wanderlust, a regular contributor to the Markets Media Life section.