One in a Million – Roger Kohli
02.18.2014
Men's fashion is ever-evolving, and as men increasingly care about their appearance, style and overall sex appeal, I wanted to learn more from an expert. So while in Las Vegas recently, I approached one of the hottest booths at a men's trade show and introduced myself to Roger Kohli of One in a Million. Kohli's brand epitomizes true style, as it's unique to his own eclectic mix of classic, clean and simple lines yet fashion forward. Impressed with the treasures I found at his booth (I would like to see my man don his pieces!), I wanted to get inside the mind of the creator. So please follow me as I excitedly inquire what it is that inspires one to create a look that men want to drape themselves in and women want to visualize on their men.
Roger entered the U.S. from Delhi, India in 1982 with $35 USD (approx. 300 rupees). He said he had no idea what he wanted out of life, but fortunately for all of us who appreciate great fashion, he ended up as a designer.
Markets Media Life: How did you get started in this business?
Roger Kohli: Accidentally, in fact. I have had a passion for yarns and fashion for quite some time. I was initially a buyer for jewelry for my sister's business and was attending trade shows in NYC. I would stumble upon samples within apparel and purchased them for my personal use at that time. Having been personal shopping at said trade shows, I fell in love with the industry, apparel and what I could perhaps do with it.
MML: What was the fist thing you designed?
RK: I made a U-turn from where I began. Change is important in our business. I believe in change — a new look keeps you happy everyday from silhouettes to bodies. I noticed these changes and looked for a gap on the street…what's not there? I feel so confident with the bodies I choose I send them straight from the prototype into production. I began with the 'urban wear' look, and people were looking for chief petty officer jackets which exploded in my line of work back in the early 1990's. That line was actually written up in WWD, fashion's Bible as we all know. Additionally, MR magazine voted our jacket "Best Item of the Season" circa '99.
MML: Where does your inspiration come from? What is the process from A-Z to produce?
RK: Women! Looking at how beautiful they are, how do I (we, men) impress them? Men need to feel good about themselves. I allow for them to achieve the confidence that a wardrobe can provide without you knowing it.
-Process of garment making (men's jeans/pants/shirts)
1 –  Season color story
2 – What is the fit based on the fabric?
3 – What is the feel to touch after wash?
4 – What are the trims? Hang labels? Patches? Zippers? Buttons? Inside linings? Lining is matched per pattern. Per color, per style.
5 –  A) Prototypes B) Fitting sample C) Pre-productions sample
6 – Production
7 – Voila!
MML: What is your biggest challenge, and what is the best thing in your realm?
RK: Nothing is a challenge for me. It's my business and I do what needs to be done — If it's a loss, it's a loss and you move on however I do not see it as a challenge.
The best thing about it is accepting it as a learning process whereby I get to meet people, see the same people I've built strong relationships with and see how they have grown.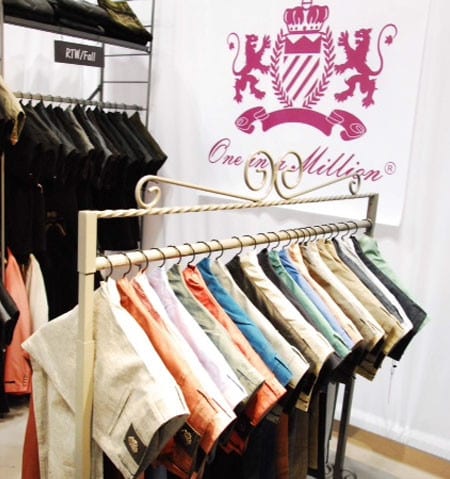 MML: Who is your icon?
RK: I don't necessarily have an icon. I'd say that I am inspired by hard-working people without being condescending to the ones that 'have it all' (not to delineate hard work of one vs. another, simply interested in more laborious task workers). I want to see how a taxi driver spends his day moreso than a Bill Gates would.
Successful people 'lie' based on the legacy they'd like to leave behind. By that I mean, they reflect on what they do, what to say, how to act, etc.
MML: What fabrics do you use? Where are they made? Where is menswear going in the next 12-18 months?
RK: The base fiber is cotton, some (fabrics) are blended. The product is made in the Far East whereby using Italian fabrics from multiple suppliers. The yarns are a process of creative engineering ranging from herringbone, jacquards, dobbis, and at least seven or eight different types of washes. The laundry and chemicals have to be of the highest quality in the world.
The fit of the garment is critical. In fact my buyers try the samples prior to purchase and order placement.
This is a two-part business and is divided in very strong way among buyers as its very fast paced:
1 – The hipster/contemporary look is one
2 – The traditional and classic look is sustained because retailers/buyers/merchants do not wish to take chances. They prefer sticking to what they are doing.
A new look you shall see on the market this year are my digital imaging t-shirts which no one in the market has done. Stay tuned for more…
MML: What is your ideal look?
RK: The ideal look is anything a man feels comfortable in.(T-shirt and jeans, if you can feel sexy in it, why not)
MML: Three words which are most important to you?
RK: Nina, Zoey, and Arjun (His wife and 2 boys)
MML (to Nina and RJ): What about Roger's occupation do you like most?
Nina: I get to follow him everywhere he goes for travel (or I'm forced to). He has always broken away from the conventionalism of fashion and disrupted the norm, thus I coin him, FASHIONDISRUPTOR (not distributor)!
AJ: It's unique and none of my peers are creative or interact with people constantly as well as being at the office. He shows dedication and is hard-working.
Photo courtesy of One in a Million
---
Mademoiselle Wanderlust is a regular contributor to the Markets Media Life section.