PARIS FASHION WEEK: Make Fashion Not War!
10.15.2015
Pouring rain the night before could not put even a small damper on the Chanel Show, which commenced at 10 am on October 6. As the sun poked through the clouds, today's hottest supermodels strutted their stuff down the catwalk in the Grand Palais.
Perhaps this was just a fitting tribute to Karl Lagerfeld, the legendary fashion icon of Paris Fashion Week, whose insight transformed the main gallery of the Grand Palais into an airport departure lounge showcasing his spring 2016 collection for all flying Chanel Airlines.
The show opened with a global traveler, and models rolling suitcases, wearing multi-colored pant suits. The rest of the show featured a vast array of color, mixed prints and textures, and the just the right amount of Lagerfeld's signature color blue – from the light blue of the sky to midnight blue in his florals.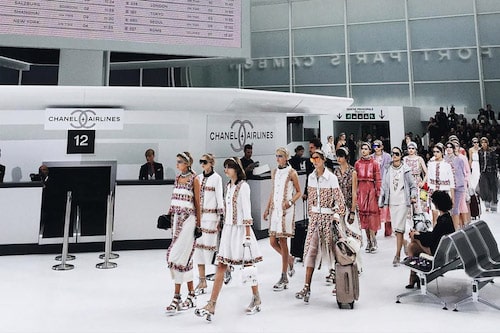 Up close and personal amongst the Chinese paparazzi was tennis star Maria Sharpova, who seemed to of recovered from her recent injuries, plus many celebrities, and front row of course, Anna Wintour.
At the finale, Mr. Lagerfeld strolled slowly down the runway, greeting the audience in a typically triumphant manner. He did stop to pick up a scarf, which was apparently dropped by one of his models.
It's obvious to us that women who wear Chanel are bold, strong, feminine most of the time but masculine when the time calls for it. One thing for certain is that Chanel reflects this in all its designs, ranging from featured double-breasted blazers and boxy jackets, cuffed oversized trousers and bold tones.
At Chanel's Finale Runway show culmination in Paris, led by the one and only Mr. Lagerfeld and supermodel extraordinaire Gisele Lundchen, Cara Delevingne and Mick's daughter, Georgia-May Jagger strutted their best stuff down the catwalk as they walked in protest. Most held their big signs proudly while some of the models got more vocal utilizing their megaphones chanting slogans that many had written on their signs, "Boys should get pregnant too" – "Make Fashion Not War" and "Tweed is better than tweet." Well, no one got hurt, maybe a few startled, but the show went on and Fashion Paris Week ended on a high note.
So why go political? I guess a free-spirited Chanel gal does not care about being in the social norm and sometimes just needs to roar.
Photo by CHRISTOPHE KARABA. All rights reserved