Q&A: Executive Chef Matthew Oetting, Quattro at Trump SoHo
11.29.2011
This Wednesday, November 30, Markets Media is hosting its fourth annual Global Markets Summit at the Trump SoHo in Manhattan. Who's making lunch? Matthew Oetting, the Executive Chef for Quattro at Trump SoHo, of course. With its focus on Northern Italian cuisine, seasonal menu, locally sourced ingredients, and freshly made pastas, Quattro has earned praise for combining modernity with tradition. We caught up with the Chef last week..and then he graciously whipped up a delicious plate of wild mushroom papardelle (pasta made by hand that day in Quattro's kitchen).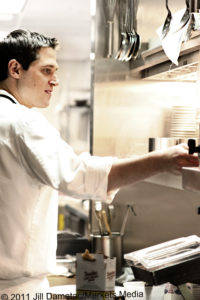 MM: Chef, you've said that your early culinary experiences at Union Square Café had an "influential" impact on you. How so?
Oetting: In my time at Union Square Cafe, I had the privilege of working for numerous incredible chefs, including Dan Silverman (currently the Executive Chef at the Standard Hotel, New York), Michael Ramono (Corporate Executive Chef for Union Square Hospitality Group), and Sandro Ramono (currently Chef de Cuisine at the Modern, New York). Working with these chefs impacted my perception of modern culinary arts, and it also strengthened my dedication to the craft.
MM: How have your various experiences at restaurants—Union Square Café, Judson Grill, Barbuto, The Modern inside the MoMa, STK, Scarpetta—influenced your current role as Executive Chef at Quattro? What philosophies or techniques have you carried with you?
Oetting: Each restaurant has taught me different techniques and cuisines. For instance, at the Modern I experienced classic Alsatian French cuisine executed using modern techniques. I use these techniques in dishes such as my Blueberry Poached Pear Stuffed with Foie Gras and served with a Lemon Emulsion. My menu is a reflection of everything I have learned along the way.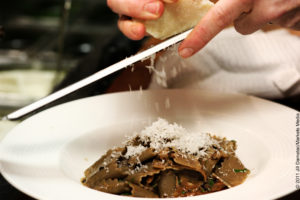 MM: Starting out as a chef, were you drawn to any particular cuisines? When and how did you become more involved with Italian cuisine?
Oetting: When I started off as a chef I practiced classic French cuisine and techniques. As I progressed, I became drawn to seasonal American cuisine and later developed a love for Italian cuisine during my time working at Scarpetta.
MM: How would you say you've grown as a chef here at Quattro? What has been your most valuable lesson in terms of bringing food that diners will remember and will want to experience again?
Oetting: Not only am I a chef in a restaurant, but also a chef in an award-winning hotel. Working for the Trump Soho has taught me great leadership skills that has molded me into an Executive Chef that my staff looks up to. The most valuable lesson I have learned is feedback. I care deeply about what diners and peers feel about my food. It gives me great pleasure to receive positive praise for my dishes and suggestions for food to come.
MM: Quattro's menu prides itself on quality sourcing, local products, and seasonal offerings. What on your menu are you most excited about for this upcoming winter season? What would you recommend that diners try?
Oetting: This season, I'm really excited about my Pumpkin and Ricotta Raviolo with amarretto cookies. The filling is made with local sugar pumpkins and imported sheep's milk ricotta. This is a great dish for diners to sample.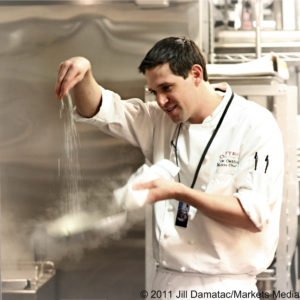 MM: Markets Media is hosting its largest event on November 30 at the Trump SoHo and is very excited to bring its VIP guests to Quattro for lunch. What do you have in store for our guests, and how do you maintain that fresh, artisanal quality in your cooking when serving so many people?
Oetting: I'll be featuring a fantastic Eggplant Parmigiana. It has imported Parmigiano-Reggiano and our homemade tomato sauce. It's one of our guests' favorites. These will be assembled the day of the event and baked off just prior to serving to ensure that they're fresh, piping hot, and easily served to 100 guests at once.
MM: What are some items on the Quattro menu that you yourself love to eat? What's your favorite dessert?
Quattro: My favorite dish at Quattro is the Spaghetti alla Chitarra with mini meatballs. It's a nice comfort food that guests love. My favorite dessert right now is the Pumpkin Budino with a Black Currant Sorbetto–very seasonal and very delicious.
Experience Chef Oetting's seasonal Northern Italian cuisine at Quattro Gastronomia Italia inside the Trump SoHo. 246 Spring Street, New York, NY. (212) 842-5500.
Photos: Jill Damatac, Markets Media