At Rare Cuts, Ranch-To-Table "Meats" Simplicity
06.11.2012
Finding that perfect cut of meat can sometimes be elusive or challenging, even in cities such as New York or Chicago: not everyone has the time or the wherewithal to trek to the nether regions of town to pick up the freshest hunk of rare Wagyu beef for dinner, and sometimes, they're meant to be sold in wholesale quantities only (and not everyone has that kind of appetite).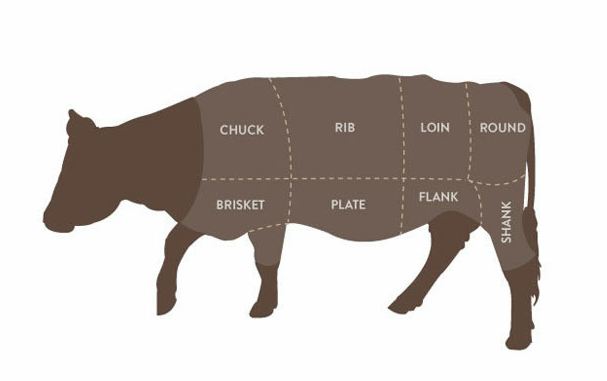 Have a cow (chicken, goose, venison and lamb), man: Rarecuts.com delivers the freshest meats straight from the ranch.
Enter Rarecuts.com, meat lover Henry Albert's ode to carnivorousness in online retail format. After developing his passion for quality cuts during his time at Tulane University, Albert began a quest to discover the sources for the best meats–the kind that are found in high-end restaurants rather than at the local grocer's. By 2010, he had developed relationships with ranches, farms, chefs, industry experts, and top purveyors, going on to open his flagship brick-and-mortar store in New Orleans. As of today, Albert has three physical locations thriving in its meat-loving glory.
With Rarecuts.com, business enters the global atmosphere of online retail–and then some. Going beyond merely selling great cuts of meat, Albert's website offers recipes, guides to meat (see photo above), a blog and video tutorials, all for the sake of ensuring that customers' premium meat purchases are enjoyed to the fullest. There's even a mouthwatering rubric displaying the various cuts of beef available on the site, along with the ability to filter down according to what the customer is seeking.
Our picks:
Visit Rarecuts.com for all products, recipes, tutorials, guides, and blog.