Restaurant Check-In: Flex Mussels
04.16.2012
Flex Mussels–the very name states the restaurant's mission: to exhibit the oh-so-many ways to cook up a bivalve, whether it be in a stew, a broth, or a cast-iron concoction. And flex its culinary muscles, it does…26 different mussel dishes serve as the pillars to Flex's menu, ranging from the Classic–a simple, yet subtle broth of white wine, herbs, and garlic–to the more complex and uniquely exotic Thai recipe, a jubilee of curry coconut broth, lemongrass, coriander, lime, garlic, and vinegar.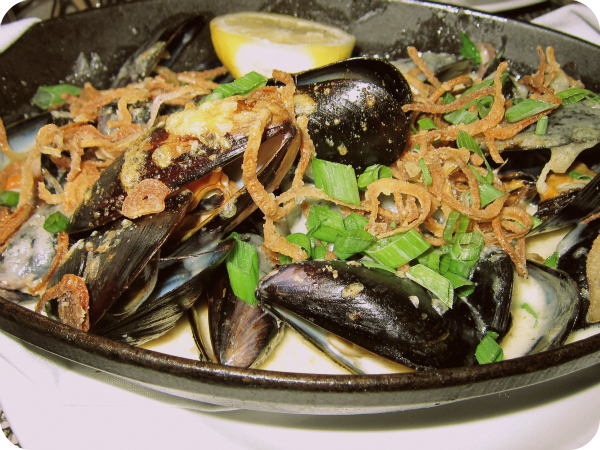 This wouldn't be our first visit to Flex: like anyone who's ever ventured above Manhattan's East 79th Street for a meal, this stalwart stands as a neighborhood favorite (its brand-new sister location in Greenwich Village has been a hit, too), and rightly so: the place demonstrates both reassuring consistency in its offerings–no sudden menu changes, no wild experiments to throw off addicted regulars–while offering up a widely varied cornucopia of experiences for the palate. And so, like most regulars, we have our beloved menu favorites (the Parma, the Funghi, and the Maine, please) and have taken stabs at flavors we might never choose (Bombay, New Marseille) if we weren't completely secure in the knowledge that our favorites would forever stand by, ready for our next visit.
The mussel is more than just a neutral slate for the menu's bounty of flavors, however: lest we forget, these particular bivalves–the blue mussel, to be precise–hail from Prince Edward Island. Noted for their rich flavor and soft, grit-free flesh, these mussels are raised naturally using a longline system, which suspends them in the sea, free to feed on plankton and other marine nutrients, far away from the abrasive sands and predators that lurk down below. So while the up-front flavors of each Flex dish feeds the need for more, it's the ultimately smooth, subtle flavors and gentle texture of the mussel that beckons for another spoonful (and dinner reservation). Truffle fries on the side nicely round out the palate.
Its beer and wine menu is equally solid and abundant. Canadian, German, Belgian, American, and even Japanese beers are well represented, with many small, weekly or daily surprises tossed in (just ask the bartender). The massive wine list is home to 35 white wines alone. Choose from bubblies, fruit and mineral wines, more full-bodies whites, and a rose, or gander at the 16 reds or 6 sakes. If we were mathematicians, we'd set off calculating the plethora of beer/wine/mussel permutations Flex has, but since we're merely food lovers, we'll stick to eating our way through each pairing–and we doubt we'll ever get bored. Indeed, far from becoming another one of those tired, complacent Manhattan constants, Flex maintains its aura of simple, varied–yet singular–culinary joy. And one more thing: have their donuts for dessert.
Flex Mussels has two locations: 174 East 82nd Street, and 154 West 13th Street. Visit www.flexmusselsny.com to reserve a table.