Restaurant Check In: Maharlika's Filipino Fare is Fresh and Reimagined
03.27.2012
In the East Village, on First Avenue, a swath of restaurants lie in wait, dedicated to introducing the splendors of Filipino food to the mostly uninitiated public. Maharlika Filipino Moderno, the newest kid on the block, seems to have done just that, and in record time, too, as its whimsically chic space and inventive, yet authentic, interpretations raise the bar for (and the profile of) the cuisine from that smattering of islands in the South Pacific.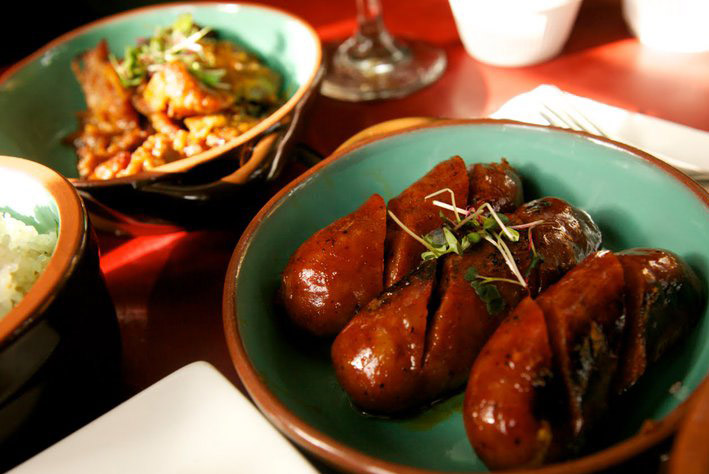 It all began as a series of weekend pop-up brunches around lower Manhattan, Maharlika simultaneously dipping its toes into the waters while slowly injecting itself into the average New York foodie's lexicon: there, before your Saturday morning-hungover eyes, lies a plate of Eggs Imelda, a gorgeously heaping arrangement of poached eggs, softly warm, sweet-yet-savory rolls of bread, garlic rice, grilled prawns, hollandaise made with kalamansi, a Filipino mini-citrus fruit, sweet potato home fries, and a medley of vegetables dressed with coconut-sugarcane vinegar dressing. It's a presentation rivaled only by the most ambitious of Irish breakfasts, and Eggs Imelda has it beat with flavor, creativity, and style. The islands have arrived, and they're on a plate. There is also Longsilog, Tapsilog, and Tocilog, and all that means, really, is that you get to decide what meat comes with your garlic-fried rice and choice of eggs: sweet pork sausage, salt-cured strips of beef, or sugar-and-salt-cured tender slices of pork (and for the daring, there is also Dasilog, a whole fried fish accompanying your dish). Take your pick here–all are savory, rich, complex, and hearty while still maintaining a lighter air…one that can easily be washed down with a selection from Maharlika's cornucopia of cocktails (more on that later). Mango-stuffed French toast and Fried Chicken with Ube (purple yam) Waffles and Young Coconut syrup are not to be ignored…and are perfect for the discerningly sweet-toothed diner.
With the astronomical success of its pop-up weekend brunches, Maharlika, owned by the effervescent Nicole Ponseca and her partners, Noel Cruz and Enzo Lim, made its move to brick-and-mortar, opening in September 2011 to great success. Witty, modern, and still with a sense of respect toward the motherland, the restaurant space exudes a thoughtful, warmly hodgepodge charm, all clean lines and graphical murals mixed with pieces that can be found in any good Filipino's household (check out the large, carved native wooden utensils on the wall, and ask to see the restaurant's brilliant take on The Last Supper). To the side of the generous bar is a massive chalkboard, proclaiming the Tagalog Word Of The Day.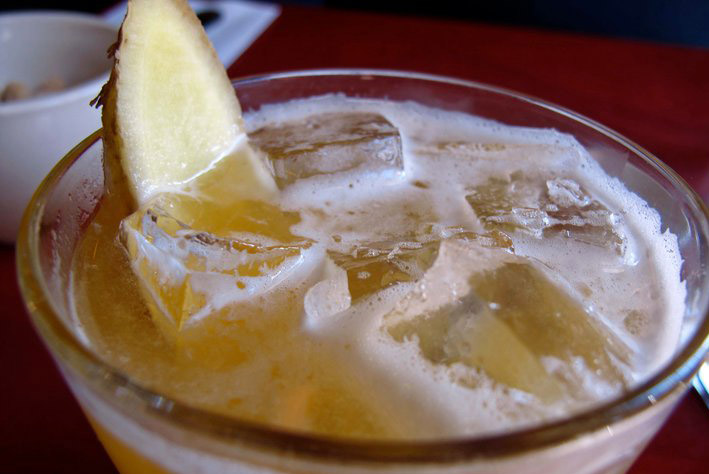 Speaking of the bar–a hint: partner Enzo Lim (of Minetta Tavern) has masterminded most of the house specialty cocktails, most of which are made with some kind of native ingredient. The Pacquiao's Punch is an absinthe-laced, pineapple rum, and lemon wonder, and a giant stick of raw ginger doubles as a stirrer. No word on how many of these it takes to get one singing karaoke as Manny Pacquiao himself does, but it shouldn't be too many. The Baguio Breeze, named after the strawberry jam muddled in the gin (Baguio is the northern region of the islands that specializes in strawberry jam and honey), is airy and sweet without being cloying. Rizal's Ruin, a brilliant beer cocktail of house-made tomato mix salted with patis, a fish-based sauce (minus the fishiness), cures all and any hangovers with its cold, fizzy savoriness. For brew lovers, there is, of course, San Miguel, the country's biggest beer brand.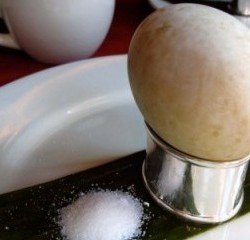 Maharlika's lunch and dinner menu (it all blends together, really, as you can have the brunch menu at any time), refined to perfection by Chef Miguel Trinidad, is equally satisfying: staples such as lumpia, a deep-fried, thin egg roll dipped in sweet and spicy sauce, starts off on the right foot, while intriguing, fully Filipino entries such as Spam fries are, when dipped in banana ketchup, lusciously tasty, at once crisp, soft, and hot. The most well-known of dishes, chicken adobo, braises the bird's meat, bone-in, in a sumptuous mix of soy sauce, sugarcane vinegar, and swarthy heaps of garlic and ginger. There are no wrong ways to go at this hip, modern, yet groundedly Filipino restaurant: whether you start at the gateway of adobo and pancit (pan-fried glass noodles tossed with vegetables and chicken) or venture into the brave world of sizzling sisig (pig snout, ears, cheek, and belly finely chopped and seared crisp in a cast-iron pan) and balut (a fertilized duck egg eaten whole), Maharlika's restrained, yet thoughtfully creative takes on what can sometimes be an overwhelmingly varied and rich experience increasingly brings what has been a relatively obscure cuisine onto a broader stage.
Maharlika Filipino Moderno is on 111 First Avenue (at 7th Street). Reservations are encouraged, but not required. Contact the restaurant at 646-392-7880, or visit its website.
Photos courtesy of Maharlika Filipino Moderno's website.