Restaurant Check In: Minetta Tavern, New York
01.12.2012
Manhattan restaurateur Keith McNally and meat purveyor Pat LaFrieda continue to consistently sizzle up the city's best burger…and strip steak…and côte de boeuf…and, well, nearly everything else with beef in it.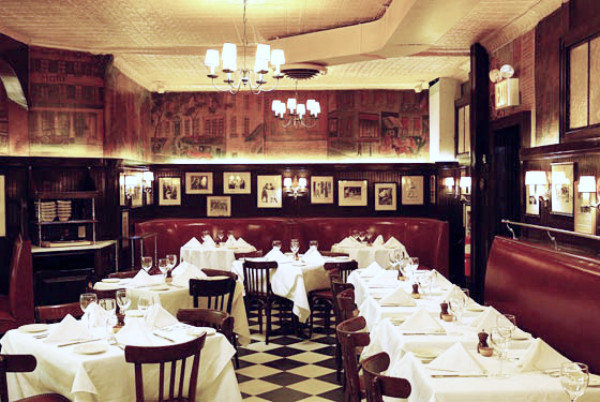 Still in its original Greenwich Village location since it first opened in 1937, the restaurant was given new life in 2009 by McNally, a Londoner who's been credited with molding the downtown Manhattan scene–places such as Balthazar, Pastis, Schiller's Liquor Bar in the Lower East Side (this writer's all-time favorite place), the West Village's Morandi, and Pravda in SoHo are his, too.
On the particular evening of our visit–reserved a month in advance, as Minetta's calendar is often packed to the gills–the front of the restaurant was already full of patrons, some of whom, impatient for a Black Label burger (more on that in a minute), eagerly supped at the bar. The space, full of dark woods, red leather, tin ceilings, framed pictures of celebrities over the decades, is set off by a cheery, vintage checkered floor.
After pondering over an extensive wine, beer, and spirits list, as well as cocktails both classic and new, we decided to start with a Malbec and a Belhaven Stout to set the tone for our beef-laden meal.
While waiting for food to arrive, we checked out our surroundings. It's retained its old-school Manhattan charm from the pre-McNally days, windows lined darkly with curtains, swinging' jazz playing in the background, and the feeling that this is the kind of place that Frank, Dean and the rest of the Rat Pack would be in till the wee hours. Courteous, efficient waitstaff milled around, and we particularly liked James, our waiter: friendly, but not too intrusive.
All of this was well and good, but it was soon forgotten as our first courses arrived: roasted bone marrow, dressed in shallots and accompanied by crispy slices of baguette, fills the mouth with savory, silky, tender flavor that just as quickly melted off in a smoky, buttery finish. Our oxtail and foie gras terrine were just as immensely satisfying.
And then, and then: our Black Label Burgers and côte de boeuf for two arrived. As James gently carved up the roasted beef (also accompanied by more of the incredible roasted bone marrow), we dug into our burgers, rare and medium-rare. It's actually a bit unfair to call it a burger, as it's actually a secret recipe of LaFrieda's that is some combination of skirt steak, hanger steak, and brisket. Really, it's more like ground up steak than a burger.
Suffice to say that the Black Label Burger, if you haven't already had one, provides one of those rare moments of culinary insight: this, your brain tells  you, is how a burger is supposed to be. Flooded with rich, meaty flavors, simply adorned with caramelized onions, and housed within a hot, golden-toasted brioche bun. The accompanying fries are quite good, as well: we recommend staying away from punchier flavors like the standard ketchup for the fries in order to maintain your ability to taste the richness of the burger itself. If we balked at the $30 price tag before ordering, we were most definitely not balking any longer.
Just when we thought the burger was enough, we sunk our teeth into the côte de boeuf: gorgeously marbled and pink in the center, an homage to how a proper roast should be. As we luxuriate in this, both my companion and I are certain that nothing–higher cholesterol when we're older, the inevitability of losing teeth–will ever stop us from returning to this place and having the same exact meal, every time. It is during a meal such as this that one realizes why it's so much better to be an unapologetic carnivore.
Dessert–a Grand Marnier soufflé–conspired with the rest of the meal to make Minetta one of this writer's more memorable restaurant visits. If you have yet to experience it, book up a table (you just might luck out and snag something earlier than the usual month-long wait). If you just can't hold out, have your meal at the bar and chat up the cool bartenders, one of whom happens to own his own restaurant. That, however, is another review for another day…
113 MacDougal St., New York (btw. Bleecker & W. 3rd Street)
212-475-3850