Restaurant Check-In: Socarrat Paella Bar, Chelsea
05.31.2012
The time of year has come for the kinds of meals that invite the outside–not quite sitting outside, but more like lounging around a table with friends (both old and newly made), sharing stories, pitchers, small plates, and large pans of food. Socarrat Paella Bar, in Chelsea, is one such place, and its warm atmosphere is so convivial, it nearly eclipses the authentic sublimity of its food.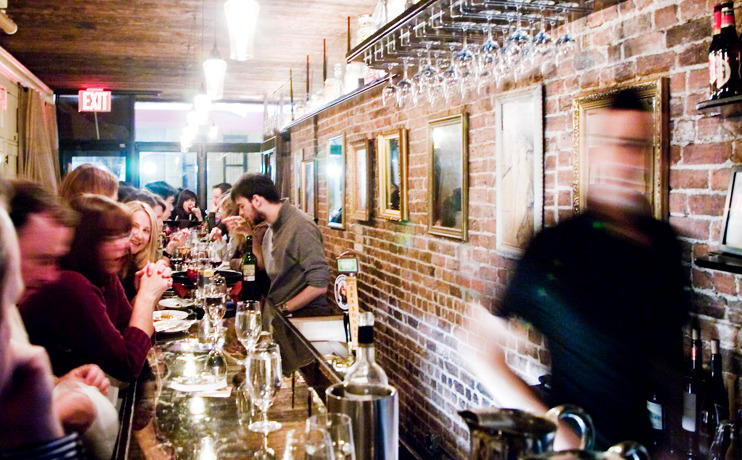 Named after the sticky-crunchy crust that lines the bottom of a perfectly cooked pan of paella, Socarrat accepts no reservations, and, even with its room-spanning communal table packed to the gills, it is impossible to overstay one's welcome. Owned by Jesús Manso, a Spaniard who was once a sailor, the restaurant's menu is heavily Valencian, with tapas lining one side of the menu and its signature paellas on the other.
Chef Felipe Camarillo, formerly of Marichu, the Basque-inspired restaurant near the U.N. (now closed), executes each dish with verve and savory authenticity. Each of our tapas plates carried generous helpings: a well-rounded, nicely seasoned dish of Spanish olives and almonds helped whet appetites; the spicy chorizo, warm, with hints of sweetness under the heat and pork, paved the way for our first sip of the red sangria, which was altogether lightly sweet, spiced, and coolly fruity, with a clean berry finish. Our final tapas plate, Socarrat's Jamon Iberico, showed its age–all 24 dry-aged months of it–all at once rich and subtle, its savoriness muted by its mellowed fattiness.
And then came the evening's main event: the paella. Our first round came in the form of simple meat paella, a vibrant mix of pork, chicken, duck, and chorizo. The crust, crisped by the meats' fat, bore a delightful blend of gamey, porky flavor; followed by a mouthful of sangria to cleanse the palate, each bite was fresh in its entirely un-vegetarian glory. Not to be outshone, the seafood paella followed, a heady blend of shrimp, codfish, cuttlefish, scallops, cockles, and squid (with a bit of smoky squid ink here and there). And outshone, it was not: each bite transported us out of our urban surroundings and into what felt like a summer night's dinner, outdoors, on a patio overlooking the Valencian waters. A brief glimpse of the Spanish coast, all in a spoonful.
Not a cuisine for those seeking lightness or subtlety in flavor, Socarrat's offerings of opulently savory Spain, along with its house sangria and gorgeously friendly atmosphere, should be your next Sunday evening dinner with friends.
Socarrat Paella Bar has locations both in Chelsea and Nolita. For further information, visit www.socarratpaellabar.com.