Robert Motherwell: Early Collages, Now Open
09.27.2013
Another body of work focusing on American mid-century art is on display. Robert Motherwell: Early Collages opens September 27th at the Solomon R. Guggenheim Museum ( 1071 5th Ave, New York, NY 10128). On display are 50 pieces detailing the first decade of Motherwell's career which starts with surrealism and ends with abstract expressionism, of which he is considered one of the founders in America. By 1951, the point at which the exhibit ends, Robert Motherwell cuts his ties with surrealism and wants no part in it, being fully emerged in the American Abstract Expressionism movement.
Organized by Susan Davidson, Senior Curator, on display are Robert Motherwell's papiers collés, which he described in 1944 as "the greatest of our [art] discoveries." The exhibit examines the critical role that the collage technique played in the development of his artistic style and career. A multitude of found object, such as textiles, patterned paper and sand are used to create texture and movement. As the exhibit progresses, we see the evolution of his style from contained to violent and back to a contained style. Most colors are reminiscent of California, where Motherwell grew up. The yellows of the valleys and blues of the sky play a prominent role in his pieces. Especially in Collage in Yellow and White, with Torn Elements, 1949 where there's an obvious departure from clean and restrained to more powerful ripped paper, only tamed by the colors of the Californian landscape.
Around 1950, Motherwell starts using cut paper in his collages, raising the question of his relationship to Matisse. Although Motherwell saw Matisse's exhibit in Palo Alto in 1933, according to Susan Davidson, there is little relationship between Matisse's cut technique and Motherwell's.
Blue with China Ink (Homage to John Cage), 1946, another collage using the Californian color landscape with additions of crimson leads us to question the relationship between the two and what influence the composer had on the artist. According to Danielle Haxall, associate professor, Kutztown University, the piece "sheds light on the relationship between Motherwell and Cage by celebrating shared interests that ranged from Zen Buddhism and Mallarméan poetics to aleatory operations and paratactic compositional structures. Collage proved an appropriate means for Motherwell's tribute because both men have been considered pioneers of the medium."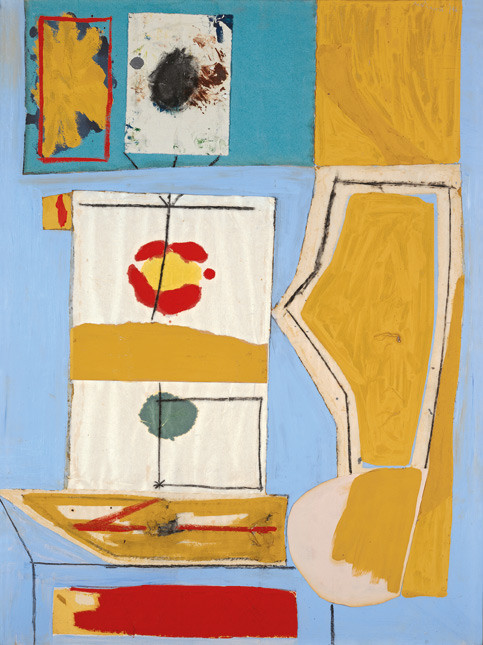 Robert Motherwell: Early Collages will be on exhibit September 27, 2013 through January 5, 2014 at the Solomon R. Guggenheim Museum (1071 5th Ave, New York, NY 10128).