Where To Get Your Seafood Kicks in NYC
03.30.2012
The arrival of April brings not just showers and May flowers, but also daydreams of the hot weather months: the green, the haze, the sand, the sea…and seafood. Don't bother waiting much longer–get thee to the nearest seafood joint for that much-anticipated taste of summer. We list places to check out, sorted by goal: are you looking for happy hour, a meal, a meal meal? If it's seafood you're going for, here are our picks.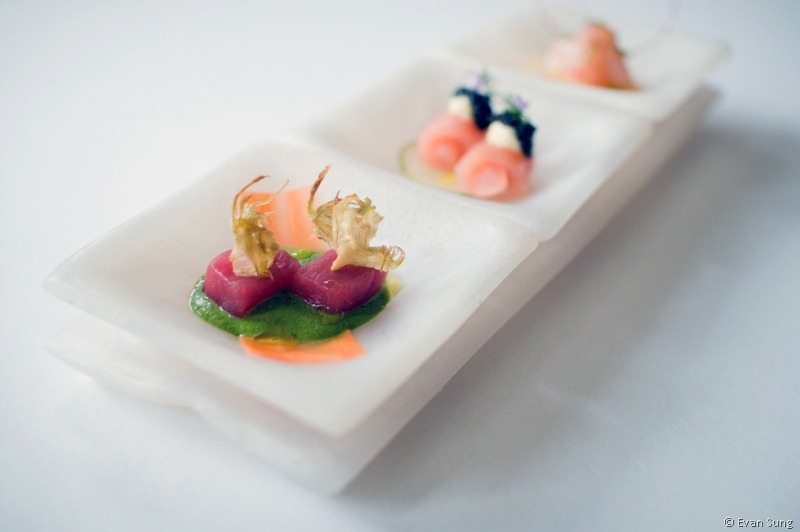 Crudely fine: Chef Michael White turns out seventeen (17!) types of crudo at Marea.
The Goal: Happy Hour
Ah, oysters. Not only are they good at making pearls–they're also great to have with your choice of swill: whether it be whiskey, wine, or a tall, cold brew, these gooey little guys are your post-office hours friend.
$1 Oysters at Essex. That's right: from 5 p.m. to 8 p.m., Sunday to Friday, this Lower East Side joint offers up drinks at half price, accompanied by plates of oysters at a dollar each. Yes, we said plates. You weren't thinking of just getting half a dozen, were you? 120 Essex Street (at Rivington).
$1, $2, $3 Oyster Mondays at Desnuda. This sleek, narrow, dimly lit space in the East Village has a Monday night special few can resist: from 6 p.m. to closing, Blue Point oysters are $1 each, Hama Hamas are $2 each, and Wellfleets are $3 each. Get your taste of Long Island, Washington State, and Cape Cod here. The same special runs every Sunday, too, from 2 p.m. to closing. 122 East 7th Street.
$1 Oysters at City Crab. One of Union Square/Flatiron's more beloved seafood places, this restaurant has an oyster happy hour from 4 p.m. to 7 p.m., with its freshest catch available at the bar from Monday to Friday for $1 each. And just like Desnuda, this spot has the same Sunday happy hour, from noon to 7 p.m. 235 Park Avenue South.
$1 Oysters at Jo's. A cozy bistro tucked away on Elizabeth Street, Jo's has an irresistible Sunday to Friday happy hour deal: from 5 p.m. to 8 p.m., enjoy the bar's drink specials (when we went, there were $4 beers and $7 Sancerres on the chalkboard–of course, we partook) along with its super-fresh oysters. 264 Elizabeth Street.
The Goal: A Meal.
Whether for lunch or dinner, these seafood-centric restaurants consistently serve up delicious platefuls and good service. Of course, there are non-seafood options on these menus, too.
Lobster rolls and po' boys at Mary's Fish Camp. This airy, tiled, casual-cool restaurant has the best lobster rolls in town, period. Its owner, Mary Redding (formerly of Pearl Oyster Bar), knows a thing or two about seafood: whole fish are prepared simply and combined with market-fresh vegetables. To try: pan-roasted Walleye Pike with dirty rice ($20), 1.25-lb. Maine lobster, grilled, boiled, or chilled with sweet pea pancakes ($24), market fish tacos with pico de gallo, chipotle aioli, and pickled jalapeño ($17). 64 Charles Street (at West 4th St).
Clam chowder, grilled whole fish, and sushi at Lure Fishbar. Designed to look like the inside of a yacht, this half-sunken space evokes summertime nautical cool matched only by the high quality of its creative seafood dishes. After trying out their oysters (Lure has oyster happy hours too, but watch out for a packed bar), have a bit of juicy, generously cut sashimi to start, then move into the entrees: seared yellowfin tuna is served with soba noodles, peanut sauce, and lotus root, an earthy take on the sea ($27), while roasted sea scallops and bucatini pasta are accompanied by chorizo sausage and chive, a buttery, savory melting pot of hearty flavor ($26). 142 Mercer Street.
Alaskan King Crab & Maine Lobster Cioppino at BLT Fish. Its sibling restaurant, BLT Prime, specializes in meat, meat, and more meat; similarly, this spot has a laser-like focus on seafood, with whole fish priced per pound (currently ranging from $29 to $37 per pound) and dishes on the menu such as the deliciously unearthly king crab and lobster cioppino with grilled country bread ($48) and our favorite: grilled Atlantic halibut with roasted oyster mushrooms and–be still, our growling stomach–black truffles ($35). 21 West 17th Street (btw. 5th and 6th).
26 Mussel Recipes at FLEX Mussels. With a new location on West 13th Street to accompany its Upper East Side flagship, FLEX continues to boil up Prince Edward Island mussels like no one's business: there are 26 different ways to cook up these hearty, chewy oceanic bivalves, and may you be at your leisure to try them all, potful by delicious potful. Our favorites: Thai curry mussels made with lemongrass, curry coconut broth, coriander and lime ($19), the Funghi, made with wild mushrooms, double-smoked bacon, garlic, and heavy cream ($20), and the Parma, with Parmigiano cream, Meyer lemon, scallions, toasted garlic, and shallots ($21). And don't miss the Brandy, made with lobster bisque ($24). Make sure you have the doughnuts for dessert, too–and don't forget to revel in their massive beer and wine menu. At 174 East 82nd Street and 154 West 13th Street.
The Goal: A Meal Meal.
Maybe it's a special occasion, or maybe you'd just like to have a seaworthy treat of a meal. Skip the usual ultra-fancy choices of the pack and go for a restaurant that rated highly by critics but still has its feet firmly on the ground. You'll get to enjoy the (bigger servings of) food on your plate, to boot.
Mediterranean magic at Milos Estiatorio. Key words here include: "super fresh", "simple preparation", and "high quality". This upscale Greek staple, located on West 55th Street, specializes in high-end ingredients whose qualities are never overshadowed by overly fussy preparation: their octopus appetizer is fresh, softly chewy and charcoal broiled only, served with revythada ($27.25); the day's freshest catch is served and varies daily, depending on the season and based on the best available stock. Two methods prevail: grilled on charcoal with olive oil and lemon sauce, or cooked in sea salt, with olive oil and lemon sauce (pricing varies per day; additional $15 for sea salt preparation). Big-eye tuna is served only raw or blue ($50 per pound). 125 West 55th Street.
Crudo galore at Marea. Chef Michael White focuses on one thing, and one thing only: seafood, prepared beautifully and simply, the Italian way. Seventeen varieties of crudo (think tartare, but more roughly chopped) exist on the menu, ranging from raw fish to shellfish: Pacific langoustines ($19), marinated razor clams ($18), and Hawaiian Striped Marlin ($19) are not to be missed; neither are pasta dishes such as the Gramigna, a delectable serving of in-house handmade pasta with squid ink, shrimp, and sepia ($29) and seasonal whole fish entrees such as the Spada, a grilled swordfish dish with mushrooms, endives, and barley ($41). For a complete experience, try the Four Course Prix Fixe ($97).  240 Central Park South.