Seen on The Street: Patrick Fisher, Saxon Strategic Funds
12.08.2011
We went for a stroll by the NYSE with Patrick Fisher, Senior Analyst at Saxon Strategic Funds. Patrick showed up in an ensemble loaded for bear, wearing a grey, made-to-measure J Crew Aldridge suit in Italian wool, a light blue, slim-cut Brooks Brothers shirt, and a strikingly textured silk lavender tie.
MM: Dude! Nice tie. Where's that from?
Fisher: (sheepish smile) Hermes. It's one of my favorites.
MM: I like this combination you've got on–it's a good mix of high-quality pieces at different price points. But what's the best thing in your closet? As in, if your house was on fire, what would you take with you?
Fisher: I have a nice Dolce and Gabbana grey suit that I would grab…if nothing else, I could sell it for the most money!
MM: Ha! Speaking of houses…you work here, by Wall Street, and have just moved to a much hipper part of town–the West Village. Are you sensing any change in your style so far, just from living there?
Fisher: Yeah, for sure. The West Village is edgier, hipper, more experimental with style. So I sense some of that creeping in–on the weekends, for example. But just a little bit–you won't be seeing me in skinny jeans anytime soon!
MM: You grew up in Pittsburgh and went to college in Boston. How has your style evolved since you've moved to Manhattan?
Fisher: I guess my style is more on the casual but sophisticated side. I try to look crisp–that's my 'How To Make It In America' reference–some days, I may be in a jeans, button-down, and sweater. I just make sure that clothes aren't baggy and that my shirt's always tucked in.
MM: Your job requires a lot of meetings and conferences. What's your suit situation like?
Fisher: Generally, I prefer a slimmer, leaner cut, and navy blue or light grey are my favorite colors for suits. I actually just had a tailor come to my apartment this morning, and she measured me for a suit I want taken in…it's a really nice light grey wool suit from my brother's wedding last month. It just needs to fit my body a little bit more. I'm definitely getting into the tailored, urbane look.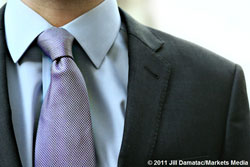 Liking it? Get the look:
1. Louis Purple made-to-measure suit: Based in New York, this made-to-measure clothier will cut you a high-end suit that fits your proportions and preferences, all for moderate coin. Don't forget to check out our article on Louis Purple for a special deal offered to Markets Media readers.
2. Charles Tyrwhitt shirt: Whether you're built like an ironing board or like a stack of boulders lashed together by barbed wire, this shirtmaker will have something straight off their shelves that will fit you just so. | www.ctshirts.com
3. Paul Smith tie: Bridging the gap between trendy and classic with its colorful assortment, Paul Smith's ties have plenty of elegance for the office and just enough style to make you stand out after hours. | www.paulsmith.co.uk (site auto-adjusts for U.S. shoppers)
4. Salvatore Ferragamo Derby Shoe: Nothing says "gentleman" like a pair of sleek, leather-soled, calfskin black shoes in a classic shape with a modern finish. These Ferragamos get you there with minimal effort and maximum style. | www.ferragamo.com