To Stay: Bulgari London Hotel Opens This Month
04.18.2012
The posh London neighborhood of Knightsbridge just got a little bit fancier (if such a thing is possible): Bulgari brings its signature style and luxury in the form of an exclusive hotel that is to follow in the footsteps of its equally opulent siblings in Bali and in Milan, where the iconic brand first made its foray into hospitality.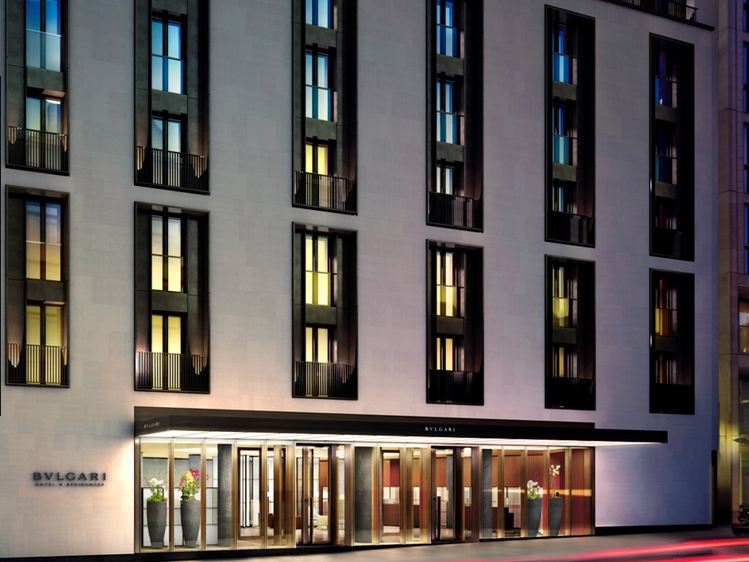 Set to make a glittering debut in April, the Bulgari London will have 85 rooms and suites, each of which will be appointed in the company's image; namely, it will have a silver color scheme and sleekly elegant aesthetics, meant to pay homage to the company's history of jewelry-making and adroit use of silver and steel with gold and jewels. While the hotel itself is to be run by Ritz-Carlton, its entirety bears the unmistakable stamp of Bulgari: rooms' bedside lamps are styled after its signature candlesticks, room curtains are patterned after iconic pieces of Bulgari jewelry, its 25-meter pool is tiled with a mosaic in the company colors, and every line and flourish (especially the lit silver staircase) carries the same look of bold modernity.
Amenities are, of course, top-notch: the building is also home to six private apartments, and both guests and residents can enjoy a 50-seat screening room, a full-service, 2-floor, 11-room holistic spa made of teak,  onyx, and Vincenza stone. Along with the mosaic pool, hydrotherapeutic steam rooms and Jacuzzi are also available, as is a 150 square meter fitness center.
Nor will there be a lack of things to do at The Bulgari London–as is custom of any hotel worth its salt, it has a cigar shop, a bar (called Il Bar) and an Italian restaurant (named Il Restaurant), both of which are also styled in the jeweler's classic aesthetics. A beautifully appointed, silver-burnished ballroom and meeting rooms (the hotel calls it a "business centre") also round out the pluses.
As is customary of exclusive hotels such as these, The Bulgari London is available only through Virtuoso, the elite travel and booking agency. To reserve a room or suite (the special opening rate for April is $697 per night), call Virtuoso at 855-570-3830, or visit www.virtuoso.com