Seen On The Street
05.01.2012

Adam Sadiq
Regional Sales Director, State Street Global Advisors
Consistency, versatility, and practicality are the name of the game for Adam. Through travel around Europe, the Middle East, and Africa, Sadiq's clean, fitted, yet luxuriously textured aesthetic remains intact. "Without compromising my style, I select clothes or accessories based on my agenda for that day or trip," Adam says. "I think carefully about the culture in the country I'm visiting or whether I'm meeting a prospect for the first time."
Compatible, neutral suits and shirts that can be mixed and matched are key, as is wrinkle-resistant clothing. Sadiq doesn't let such practicality get in the way of panache: "I try to maintain a unique, striking, and long-lasting first impression that is complementary to my personality…other than my passport, cell phone, and wallet, I do not travel anywhere without my Cartier watch. It goes with everything."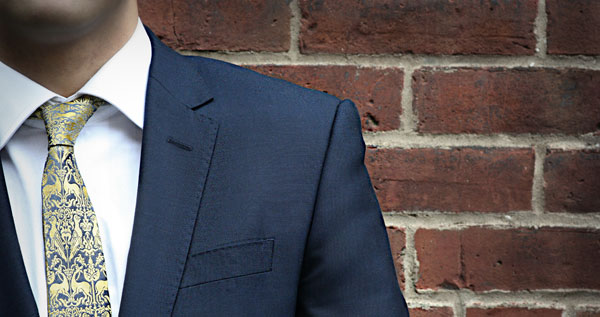 On Adam: Alfred Brown suit, Hugo Boss double-cuffed shirt, Liberty tie, Mont Blanc cufflinks, Gianfranco Ferrè scarf, Dune shoes, Savile Row socks, Cartier Roadster watch
Alex Tsirigotis
Analyst, Mediobanca
Work hard, play hard, dress easy. Like most professionals with grueling calendars, Alex's singular sartorial must is comfort — the threads need to work with his active lifestyle of football (or "soccer", as it's known in North America) and motorcycling (Alex rides to the office). It also influences his elegant, yet more relaxed, silhouette. "First impressions in my view are extremely important, so I select items in which I feel comfortable but will also project professionalism," Tsirigotis tells us.
As an analyst, Alex's days typically start early and end late, which means clothes have to be durable as well as stylish. As part of his arsenal, Tsirigotis deploys a trouser press at home to keep suits fresh, along with crisply starched shirts and sleekly comfortable shoes to keep up with his demanding schedule.

On Alex: Aquascutum suit, Charles Tyrwhitt double-cuffed shirt, Paul Smith tie, Aquascutum cufflinks, Valentino scarf, Oliver Sweeney shoes.
Mr. Sadiq and Mr. Tsirgotis appear here in a personal capacity and not on behalf of either State Street Global Advisors or Mediobanca